Gov. Scott Walker acknowledged Thursday his administration botched the rewrite of the University of Wisconsin System's mission statement in state law, blaming it on a miscommunication between his top aides and the state budget director's office — which pushed the changes through even as top university officials objected.
Walker said his chief of staff, Eric Schutt, learned Wednesday night from University of Wisconsin System officials that they had requested last month that the Wisconsin Idea language be restored before the budget went to final drafting.
But he said DOA staff declined to do so, in apparent response to a directive from Schutt to "keep it simple" when making final changes to the budget.
"Clearly, changing the Wisconsin Idea serves no purpose," Walker said in a statement Thursday, a day after attributing the change to a "drafting error." "It is not a change of heart. It was a simple miscommunication between the natural back and forth of this process."
Earlier Thursday, Walker told reporters, "The only discussion we ever had about mission was maybe adding something about career development. We never talked with my budget team about altering the Wisconsin Idea."
UW System president Ray Cross said he agreed with Walker's chronology of events, telling the UW System Board of Regents that Walker's statement "does a very good job."
Cross said he also got a call from a top Department of Administration official who apologized for the episode and that he accepted the apology.
State budget director Michael Heifetz took responsibility for ordering the changes to the language that serves as the foundation for the Wisconsin Idea, including removing phrases calling on public universities to "improve the human condition" and "search for truth."
"Governor Walker never intended for the Wisconsin Idea language to be changed," Heifetz said. "In this specific case, there was clearly a misunderstanding, and I take responsibility for this drafting error. I will work to fix this moving forward."
UW System officials saw the proposed changes and expressed concerns, according to records obtained by the State Journal under the state's open records law.
In a Jan. 29 email, John Yingling, a special assistant to Cross, wrote to Nathan Schwanz in the Department of Administration to say the System did not object to adding a reference to the university meeting the state's "workforce needs." But he requested that other, stricken parts of the university's mission be restored, including specifying the System's role in spreading knowledge to communities statewide and to serving and stimulating society and the passages about improving the human condition and seeking truth.
"We strongly urge that that stricken language is unique to depicting the character, mission and vision of the UW System," he wrote.
Rare statement
Walker introduced his budget proposal on Tuesday. By Wednesday morning, liberal advocacy group Center for Media and Democracy had discovered the changes to the university's mission statement, unleashing a storm of criticism.
Walker initially defended the language but later backtracked, blaming a "drafting error." He said he defended the change because he thought the only alteration was the addition of language adding workforce development to the Wisconsin Idea mission statement.
On Thursday he addressed the matter again with reporters in the morning, and hours later his office issued the statement remarkable for its length, acknowledgment of error, and detailed description of internal deliberations.
Democrats and other critics seized on the controversy to suggest the governor is paying too much attention to his rising national stock as a potential Republican presidential candidate. In the week before his budget address Tuesday he attended at least five private fundraising events across the country, addressed a Washington, D.C., conservative forum, talked about foreign policy on ABC's This Week and on the eve of his budget address conducted a conference call with Iowa voters, according to media reports.
The episode "raises serious questions about who is in control while he is busy running for president," said Senate Minority Leader Jennifer Shilling, D-La Crosse. "Wisconsin needs a full-time governor who is willing to take ownership of the budget deficit he created and address the challenges facing our state."
Sen. Janet Bewley, D-Ashland, said by not taking blame for the miscommunication personally, Walker "showed no integrity in how he handled it."
You have free articles remaining.
Register for more free articles
Stay logged in to skip the surveys
Walker said no one would be disciplined.
"It was a matter of confusion — a mistake that someone made," Walker told reporters. "People want to make a big deal about it. It's not a big deal."
Wisconsin Idea tradition
The Wisconsin Idea is the principle that the work of the state's public universities, particularly UW-Madison, benefit the entire state.
Developed by UW-Madison president Charles Van Hise in 1904, it is key to the university's identity and is often cited by higher education leaders nationally as a model.
Before Walker submitted his budget proposal on Feb. 3, the nonpartisan Legislative Reference Bureau followed its normal process of taking drafting instructions from Walker's Department of Administration and turning them into a formal budget bill draft.
The initial request to strike language from the Wisconsin Idea and insert new language establishing the university's mission as "to meet the state's workforce needs" was submitted by Schwanz, the DOA budget analyst, on Dec. 30, according to legislative drafting notes reviewed by the State Journal.
"Attached is some guidance on the mission, powers and responsibilities for the UW authority," Schwanz wrote to LRB senior attorney Mark Kunkel. "I hope it provides some additional guidance on those sections, if not, or if you have any questions about it, please let me know."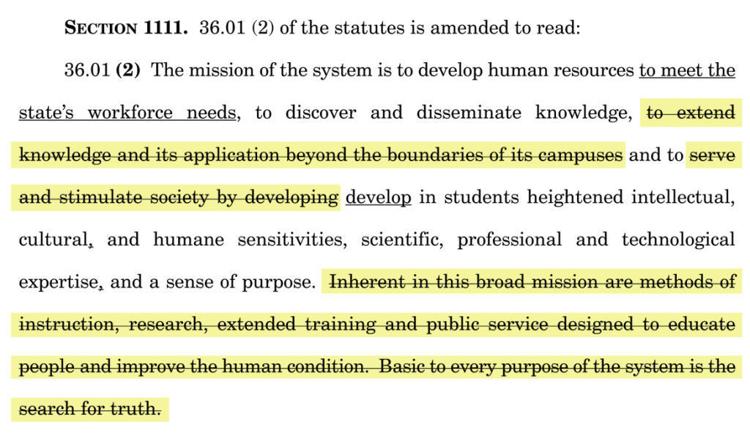 The attachment shows specific lines that were to be struck and new language that was to be added.
The first of six drafts of the related section of the budget bill struck the following:
"Inherent in this broad mission are methods of instruction, research, extended training and public service designed to educate people and improve the human condition. Basic to every purpose of the System is the search for truth."
Schwanz also instructed the bill drafter to strike from the UW's mission statement the phrases "to serve and stimulate society" and "which stresses undergraduate teaching as its main priority, which offers selected professional graduate and research programs with emphasis on state and national needs" and "which makes effective and efficient use of human and physical resources, which functions cooperatively with other educational institutions and systems."
It also added language to the mission statement specifying the universities' responsibility as economic engines, adding the line, "to meet the state's workforce needs" to a sentence about developing human resources.
On Jan. 12, Schwanz wrote again to Kunkel suggesting he strike the phrase "to extend knowledge and its application beyond the boundaries of its campuses."
"Disseminate means to scatter or spread widely," Schwanz wrote. "Therefore, I don't think it is necessary to basically define disseminate with the phrase" that he requested be removed.
— State Journal reporter Dan Simmons contributed to this report. Contact Matthew DeFour at mdefour@madison.com or 608-252-6144. Contact Dee J. Hall