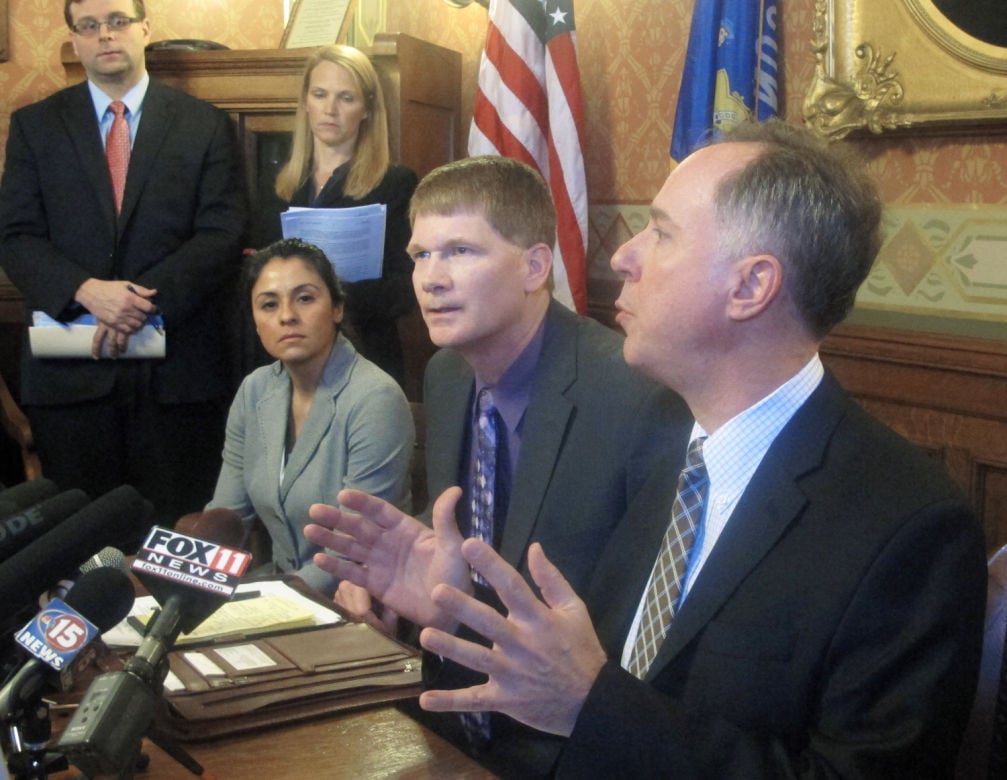 Gov. Scott Walker and the Assembly speaker are at odds over whether a school accountability bill needs to include sanctions for poor-performing schools, creating another roadblock to the proposal's passage.
Walker said Thursday he didn't think sanctions for public and private voucher schools were necessary, making clear a position he hinted at in his State of the State address two days earlier.
That's in direct conflict with the opinion of Assembly Speaker Robin Vos, R-Rochester, and the bill he backs that would force failing public schools to close and private schools to stop accepting voucher students.
"The most important sanction is giving parents objective, comparable information so they can make decisions about what's the best choice for their sons and daughters," Walker told reporters after an event at the Capitol. "I trust parents."
Vos said in reaction that without sanctions, the bill would be toothless.
"It wouldn't be accountability then," Vos told The Associated Press.
"It would just be political theater," he said.
"The Legislature owes it to the taxpayers that if schools are failing for years and years, there should be ramifications to protect their interests," Vos said.
Vos' spokeswoman, Kit Beyer, said later Thursday that Republicans remain committed to sanctions, but that other changes would be made to the bill.
The Education Committee hadn't scheduled a vote yet on the proposal, which had been on a fast track but now appears stalled.
Review boards weighed
Also, Thursday, the chief author of the Senate's school accountability bill said he'd consider dropping a proposal to create two review boards for Wisconsin schools.
The comments from Sen. Paul Farrow, R-Pewaukee, came after Rep. Jeremy Thiesfeldt, R-Fond du Lac, announced on Wednesday he was removing a similar proposal from the competing Assembly bill he authored.
Farrow said the Senate bill will likely change before a Jan. 27 hearing.
"I'm not going to say we're going to throw them out completely, but if that's something everyone says, we'll take a look at it," he said of the review boards.
Another change Farrow said is likely to be made is the bill's timeline for schools who are deemed to be "chronically failing" to appeal the designation.
Farrow said "artificial speed" has been applied to school accountability legislation moving swiftly through the Senate and Assembly this month, after Republican lawmakers and Walker promised to make it the new session's top priority.
"We had to get it out sooner than I wanted to, to make sure we were part of the conversation," Farrow said.
"I think it was moving faster than it should have," he said. "There's always the speed-over-quality concern.
"You want to make sure you have effective legislation," Farrow said.
Walker clarifies position
Walker's comments about sanctions came after he initially said he thought the Assembly bill that included the penalties was headed in the right direction. The Senate bill doesn't punish public schools, but would disallow future taxpayer-funded voucher students in poor performing private schools.
That's just one of many significant differences between the two bills on the matter of school accountability, which has been an impossible puzzle for the Legislature to solve in recent years. Advocates for public, charter and private voucher schools have been unable to reach agreement on numerous issues, including whether they all should take the same test to measure student performance, how that material should be presented, and whether any should face sanctions.
Instead of mandating penalties for schools — something public school advocates spoke strongly against at a public hearing Wednesday on the Assembly bill that went on for nearly 12 hours — Walker said pressure from those living in the district would be enough to force change.
The Senate bill also requires students at all schools receiving public money to take the same standardized test. The Assembly bill would require private schools to choose from up to four different tests.
Another change Thiesfeldt announced Wednesday is to include clear language regarding the Common Core State Standards — to either ensure school districts know they don't need to use them or to ask the Department of Public Instruction to adopt new standards altogether.
Farrow called that problematic.
"Bringing the Common Core component into this bill is questionable," Farrow said, adding that there has been discussion to introduce a separate bill dealing with the standards.
"I don't think it should be in both bills," he said.
But Farrow also said he favors providing schools with an option of state tests, like Thiesfeldt's bill provides.
He said the bill's co-author Sen. Luther Olsen, R-Ripon, did not like the idea so he agreed to take it out, but the proposal could return if he sees enough support for the option.
Olsen, chairman of the Senate Education Committee, said he believes Walker would sign the Senate bill.
"Our bill is a good bill and we're sticking with it," Olsen said.
Associated Press reporters Scott Bauer and Todd Richmond and State Journal reporter Molly Beck contributed to this report.