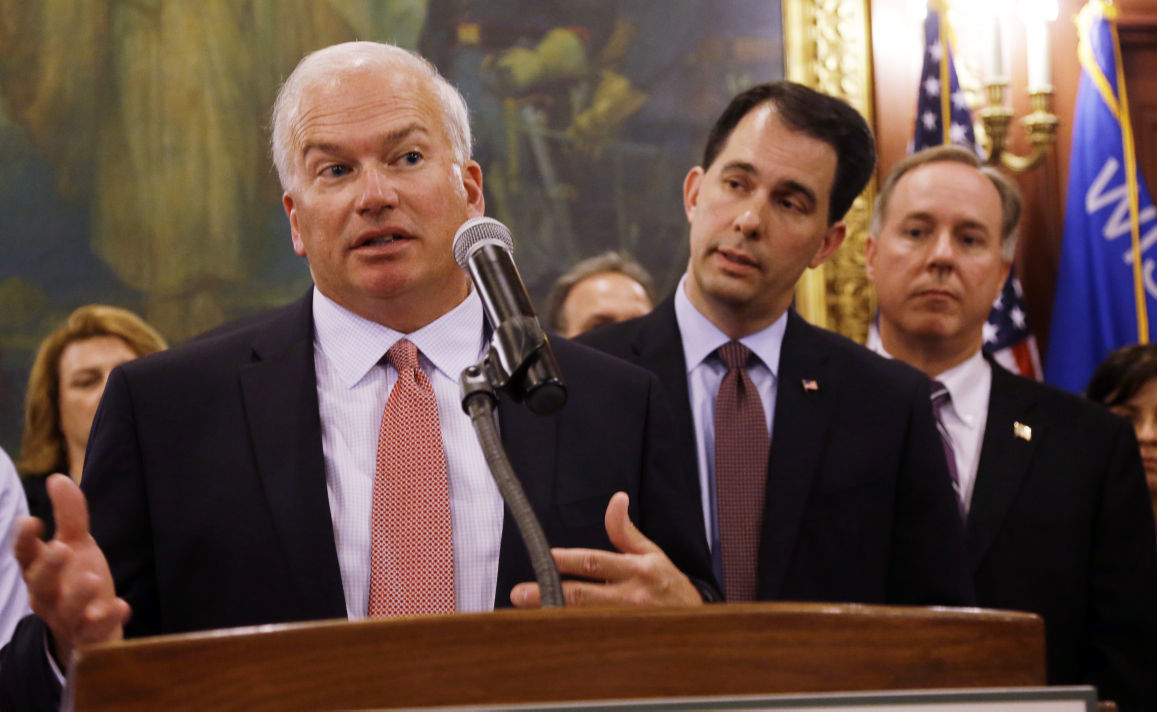 Gov. Scott Walker offered a change to his budget plan this week to Republican leaders feuding over how to pay for road projects in an effort to break a 20-day impasse, but it's unclear if it's enough to get both houses back to the negotiating table.
"There's no deal yet. That's for sure," Senate Majority Leader Scott Fitzgerald, R-Juneau, said Thursday after he relayed to his members the governor's offer to use $200 million slated for tax cuts for road projects instead, drawing down bonding levels.
But Walker's offer did win support from Assembly Speaker Robin Vos, R-Rochester, and Assembly Republicans, who in letters to Walker and Senate Republicans on Thursday said they accepted the governor's proposal and want to resume work on the 2017-19 state budget as early as next week.
"The proposal that you outlined yesterday is a positive step forward in our desire to find a long-term solution and we believe the leadership that you have displayed has bridged the gap between our two houses," Assembly Republicans wrote Thursday.
Walker's offer came as lawmakers Thursday wondered if a possible state incentive package for technology giant Foxconn would affect budget deliberations.
Assembly Republicans have been fiercely against Walker's and Senate Republicans' proposals to borrow millions in the 2017-19 state budget without increasing revenue sources to pay for the projects. Senate Republicans put forward their own budget proposal this week that included $712 million in new bonding for roads.
But Senate Republicans aren't yet ready to say they're on board. Fitzgerald told reporters he's still not clear what the details are of Walker's offer, and that Vos also this week floated the idea of taxing electric vehicles to bring in new revenue for road projects — an idea that should be discussed further.
Walker told reporters in Sturtevant on Thursday that he hopes Senate Republicans will come back with a "reasonable adjustment" to the offer, according to audio provided by Walker's office.
Walker's offer eliminates a $203 million tax cut that would instead be used to reduce or completely wipe out all new transportation bonding in the 2017-19 state budget, the governor told reporters.
"I hope we're getting close," Walker said. "Part of my role as a leader not just in my party but over all the state is to listen and try to figure out how to bring different interests together."
Fitzgerald said he doesn't yet know if he has enough votes to pass a new state budget. He said his members still want to do more to move toward eliminating the personal property tax in Wisconsin and some have concerns about other issues that need to be addressed including the budget's structural deficit and spending out of the state's general fund.
You have free articles remaining.
The Legislature's budget-writing committee hasn't met since June 15, and Fitzgerald said meeting next week — as Assembly Republicans have asked — may be too aggressive, but the committee could meet the first week of August.
He also said his members have a lot of questions about state officials' and lawmakers' work on crafting an incentives package to lure giant Taiwanese iPhone manufacturer Foxconn to Wisconsin, and whether that effort affects the current state budget.
"A lot of members want to talk about how the Foxconn thing folds into this and I (said) I don't have have any information. I know they're working on a (memorandum of understanding) but we don't have anything yet so I said just kind of keep an open mind on that," Fitzgerald said. "I still believe, and I think most of the members agree with me, that it should be a separate bill from the budget and I don't think there has to be any linkage necessarily to this budget in any way other than if there is a transportation issue on the (I-94) north-south and somehow that could be folded in."
If lawmakers settle on an incentive package, it won't be in the new budget, but moves to help fund the package could be part of current budget negotiations, Rep. John Nygren, R-Marinette, said in an interview with the Wisconsin State Journal.
"Foxconn is part of the long-term conversations about the budget," said Nygren, co-chairman of the Legislature's budget committee.
He said the potential incentive package is "not directly" affecting passage of a new state budget, which was due July 1, but he said lawmakers are considering how any incentive package could affect future budgets.
Nygren agreed that any incentive package for Foxconn would be contained in separate legislation.
Foxconn employs about 1 million people to assembly iPhones and smartphones for BlackBerry and Sony.
The company is considering building a $7 billion U.S. plant that could employ as many as 10,000 people to build display panels. Foxconn officials also are looking at building in Illinois, Indiana, Michigan, Ohio, Pennsylvania and Texas.
Fitzgerald told The Associated Press, which first reported about the incentives package, that lawmakers are talking about "huge, big numbers" to offer to Foxconn officials.
Fitzgerald's spokeswoman Myranda Tanck said that while Fitzgerald was aware of efforts to bring Foxconn to Wisconsin, "all negotiations with the company are being conducted with the administration and have not significantly included legislators."
Walker hosted a barbecue last week at his executive mansion in Maple Bluff with lawmakers and Foxconn founder and chairman Terry Gou.