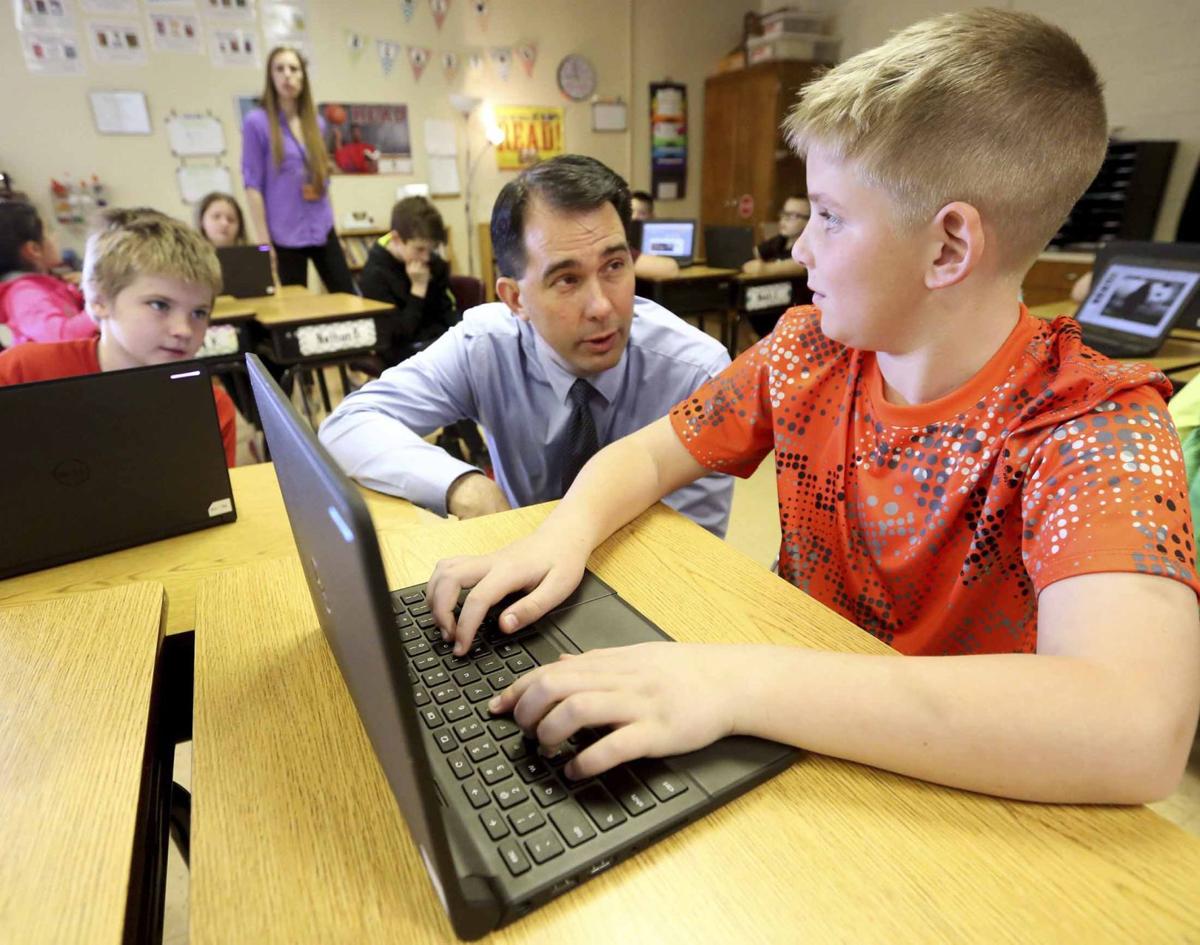 Gov. Scott Walker plans to tell Republicans at their annual convention Saturday that he is "ready" for four more years, eliminating any question about whether the governor would seek a third term.
"I'm ready. I'm ready to help lead Wisconsin forward for four more years. But I need your help," Walker plans to tell Republicans, according to excerpts of his speech provided to the Wisconsin State Journal by his campaign.
Walker has repeatedly signaled he would seek a third term but has said he will not formally announce his decision until after the 2017-19 state budget process is complete later this summer.
"We won in 2010 with a grassroots army of volunteers. We won with an even bigger force during the recall election in 2012. And we won with another grassroots flurry in 2014," Walker plans to say. "Now, we need your help again."
Walker's comments — his clearest statement yet that he plans to run again — come after several high-profile Democrats have announced they won't seek the office.
Just one Democratic candidate has announced he will run in 2018: 25-year-old Bob Harlow whose campaign is based in Madison. Mike McCabe, former executive director of the liberal-leaning Wisconsin Democracy Campaign which tracks campaign spending, also has expressed interest in running in 2018 but has not yet said whether he will run as a Democrat or Independent.
State Democrats pounced on the release of Walker's comments, saying Walker won't be able to win over Wisconsin voters a fourth time after unsuccessfully running for president in 2015 and "failing to find a long-term solution to fix our state's (fourth-)worst in the nation transportation infrastructure."
"While the Governor will rely on his wealthy special interest friends to buy another term we're organizing locally, with regional organizers in the field earlier than ever before, building a true grassroots operation that will turn our state around and give every Wisconsinite a fair opportunity to achieve the American Dream," Democratic Party of Wisconsin spokesman Brandon Weathersby said in a statement.
While Democrats also on Friday criticized Walker for struggling job growth under his watch, Walker plans to emphasize on Saturday the state's unemployment rate, which has dropped below 4 percent.
Also Friday, Walker named Joe Fadness as his campaign manager. Fadness worked for Walker's campaign in 2010 and over the past couple of years.
The latest Marquette Law School Poll found 45 percent approve of Walker's job performance, which is the highest approval rating Walker has received according to the poll since his re-election in 2014, but still below his 50 percent approval level in early 2013.
But after his approval rating tanked during a short-lived presidential run in 2015, he spent time last year hosting private meetings around the state and announced plans to ratchet up his campaign fundraising.
His announcement Saturday comes as lawmakers decide how much of Walker's 2017-19 spending proposal to keep in the state budget they pass.
His budget proposal includes millions more in funding for K-12 schools across the state than even requested by state Superintendent Tony Evers, who is supported by Democrats, and a boost in state tax money for rural schools, municipal and county road repair funding and broadband infrastructure — all appealing to voters in northern, central and western parts of the state where his approval rating has sagged.
He also has been crisscrossing the state visiting dozens of public schools to promote his proposed increase for schools — $649 million in new funding.
The governor has faced loud criticism from public school advocates and unions representing public school teachers since his signature legislation known as Act 10 effectively stripped away public school employees' collective bargaining rights and decimated teachers unions' cash reserves and influence.
The governor's budget proposal includes a targeted increase in the earned income tax credit and homestead credit and an income tax cut that makes the tax code more progressive, potentially blocking one line of attack from liberals.
But it also includes elimination of the prevailing wage, municipal project-labor agreements, government boards and commissions and a requirement that the Legislature approve agency rules with an economic impact greater than $10 million, cheered by conservatives.
Get Government & Politics updates in your inbox!
Stay up-to-date on the latest in local and national government and political topics with our newsletter.