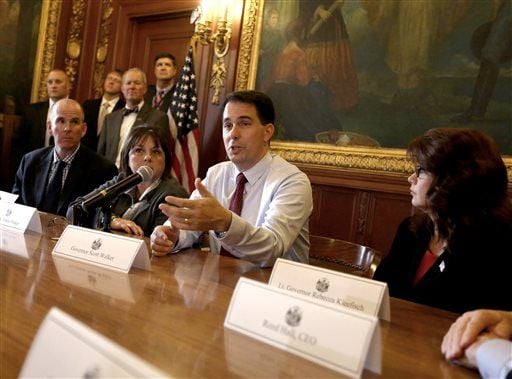 Gov. Scott Walker on Wednesday loosened gun restrictions in Wisconsin by signing a pair of bills that would make it quicker to buy guns and easier to carry them.
Under the new laws, off-duty, retired and out-of-state police officers will be allowed to carry guns on school campuses, and a longstanding 48-hour waiting period to buy handguns is eliminated.
The bills were passed by the Wisconsin Legislature before a high-profile shooting in a historic black church in Charleston, South Carolina, last week renewed a national conversation about regulating firearms.
Wednesday's signing was announced by Milwaukee County Sheriff David Clarke via Twitter, exactly one week after the shooting.
"If we had pulled back on this, I think it would have given people the erroneous opinion that what we signed into law today had anything to do with what happened in Charleston," Walker said at the ceremony, held at the Milwaukee County Sheriff's Office.
The governor said the country's focus should be on the families affected by the shooting and on condemning the shooter.
"We need to denounce not just the acts, but to denounce the beliefs that he had. This was a racist, evil man who needs to be called out ... this should be unacceptable in America," Walker said.
Nine people died when, prosecutors say, 21-year-old Dylann Roof entered the church on June 17 during a Bible study and opened fire after sitting with the congregation for an hour.
It's not clear how Roof obtained the gun, but he had received a gun from a family member through a legal provision that allows residents in 40 states to get guns through private sales without background checks. Roof also had a pending felony drug charge, which would have made him ineligible to buy a gun at a store.
Marquette Law School Poll director Charles Franklin said because the national focus of the Charleston shooting quickly shifted from guns to racism and efforts to remove the Confederate flag from in front of the South Carolina statehouse, Walker's unlikely to face much scrutiny, pro or con, over the gun legislation.
Walker has a top rating with the National Rifle Association and has long supported gun rights. On the stump, Walker often talks about his signing of concealed carry legislation and adding legal protections for homeowners who shoot intruders.
"In light of that I don't think it's surprising he chose to do a public rather than a private signing of these two bills," said Franklin. "It's certainly consistent with his pro-gun stump speech … clearly he wants Republican primary voters to know he has supported those elements of pro-gun legislation."
Amid an outpouring of public calls to stop flying the Confederate flag in South Carolina, Walker said over the weekend that the matter was a state issue that could wait to be debated until there was time to mourn those killed. On Monday, after Gov. Nikki Haley called for removing the flag, Walker tweeted that he supported the move.
Walker said at Wednesday's bill signing that he didn't initially offer his opinion because Haley had asked him to hold off speaking about it.
University of Missouri political science professor Peverill Squire agreed the guns bills won't likely hurt Walker but said the flag comments might.
"I am sure that, from the perspective of the Walker campaign, the timing of the bill signings is unfortunate," he said. "Combined with his flip-flop on the question of removing the Confederate flag from the South Carolina capitol grounds, Republican activists might start questioning the competence of his campaign organization. I do not think, however, the gun bills themselves will hurt him with Republican primary voters, particularly in the early voting states."
Kyle Kondik, managing editor of Sabato's Crystal Ball at the University of Virginia's Center for Politics, said "if anything, I think any pro-gun bills signed by Walker are probably a plus, no matter what the timing is. But ultimately these feel like rather small-bore bills, so I doubt they matter all that much in the grand scheme of things."
Wisconsin residents have been generally supportive of background checks for gun purchases in recent years, according to Franklin's poll data.
In 2013, not long after a shooting at a Sandy Hook, Connecticut, elementary school, 77 percent of Wisconsin residents polled by Franklin said they favored background checks at gun shows and for private sales.
Sixty-eight percent of poll respondents also favored U.S. Sen. Tammy Baldwin's support for background checks in a Senate gun bill at the time, while 57 percent disapproved of U.S. Sen. Ron Johnson's vote against them, Franklin said. In 2012, those polled showed about an even split on supporting concealed carry, he said.
The Associated Press contributed to this report.