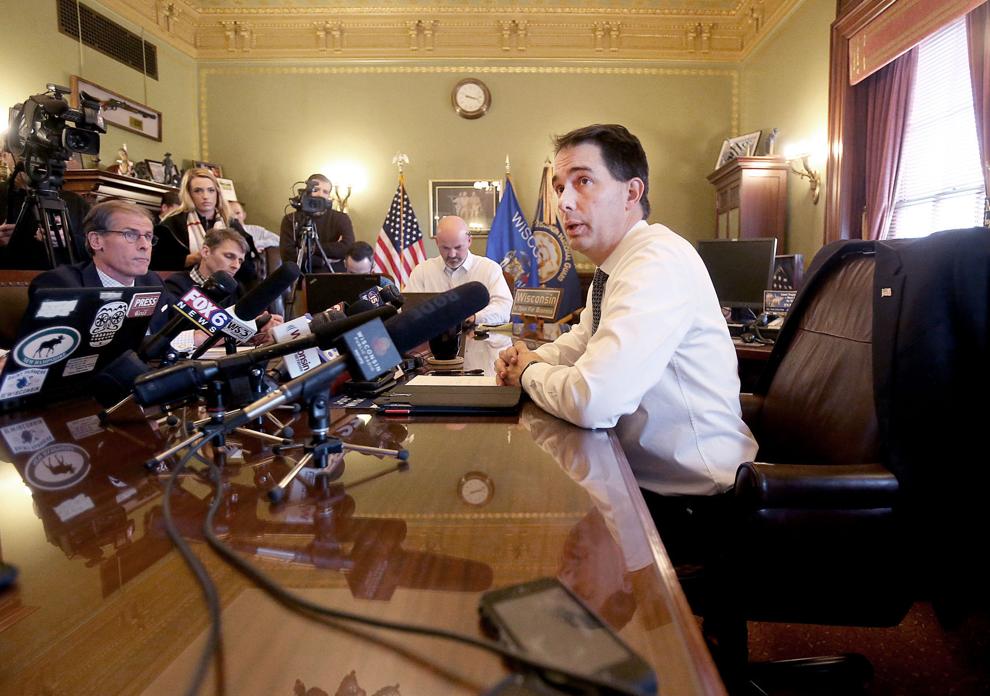 A conservative think tank and former Republican Gov. Scott Walker are asking the U.S. Supreme Court to hear a challenge to Democratic Gov. Tony Evers' decision to exclude the group's writers from press briefings, which lower courts have said is legal.
The John K. MacIver Institute for Public Policy filed the lawsuit in 2019 alleging that Evers violated its staffers' constitutional rights to free speech, freedom of the press and equal access.
A judge in 2020 rejected their arguments, saying MacIver can still report on Evers without being invited to his press briefings or being on his email distribution list. The 7th U.S. Circuit Court of Appeals in April unanimously upheld that decision.
Last month, the MacIver Institute asked the U.S. Supreme Court to hear the case. The conservative Wisconsin Institute for Law & Liberty on Tuesday submitted a brief in support, on behalf of Walker, whom Evers defeated in 2018.
Walker and his attorneys argued that the ruling in favor of Evers allows censorship because it permits picking and choosing which reporters attend press events that have long been open to reporters but closed to the general public.
The appeals court ruled earlier this year that Evers' media-access criteria was reasonable and he was under no obligation to grant access for every news outlet to every news conference.
"We cannot fathom the chaos that might ensue if every gubernatorial press event had to be open to any 'qualified' journalist with only the most narrowly drawn restrictions on who might be excluded," the appeals court said.
MacIver had argued that Evers was excluding its staffers and violating their free speech rights because they are conservatives. Evers said they were excluded because they are not principally a newsgathering operation and they are not neutral.
Evers' spokesperson Britt Cudaback referred to the governor's previous court filings when asked for comment on Walker's support for an appeal to the U.S. Supreme Court.
MacIver covers legislative meetings and other events at the Capitol as well as some Evers news conferences. But they sued after being excluded from a media briefing Evers gave for reporters on his state budget proposal in 2019. Evers wasn't present, but members of his administration provided information to reporters on embargo ahead of his budget speech to the Legislature that evening.
The appeals court noted that a limited number of reporters were allowed into the event. Reporters from The Associated Press, the Milwaukee Journal Sentinel and Wisconsin State Journal were among those present for that briefing.
Former governors, including Walker, also limited the number of reporters and news outlets that could attend budget briefings and other events.
"Governor Evers' treatment of the press presents unique First Amendment and Equal Protection concerns," said Wisconsin Institute for Law & Liberty attorney Anthony LoCoco in a statement. "The Court's review is warranted to ensure that government officials are not permitted to erode press freedom by restricting press access without sufficient justification."
Your letters to the Wisconsin State Journal: Press must have access to White House
Press must have access to White House -- Anne McGill
This letter to the editor is in response to the White House limiting press passes to "special credentialing," which means that only those members of the press approved or selected by the president or press secretary Sarah Huckabee Sanders will have access to the White House.
These press censures make us more like North Korea every day. Do you think President Richard Nixon wanted Bob Woodward and Carl Bernstein to write about Watergate? No. But Nixon didn't pull the Washington Post's press credential. That's because he knew that, according to the Constitution, we have a guarantee of a free press under the First Amendment.
Surely someone could have gotten President Donald Trump to read at least one amendment and explain it to him. Without the press and free speech, we would be citizens of Great Britain now. If you think Congress gets a lot of money, imagine how happy you would be paying for the royal family.
WASHINGTON — For the past 21 years, I have had the high privilege of holding a White House press pass, a magical ticket that gives the bearer …
Maybe instead of "MAGA" (Make America Great Again), the hats should say "MANK": Make America North Korea. In North Korea children are taught to never question the government. Anyone who speaks out against the government or his or her leader is subject to torture and/or death. These recent developments regarding the White House press corp should terrify you.
Leaders should seek peace with Iran -- Lila Hemlin
John Bolton, who has never served in the military (just like his boss, the president), is rattling the sabers again in the Middle East. He is itching for another war, this time with Iran, based on dubious intelligence. This would likely put more than 120,000 young men and women into harm's way.
President George W. Bush listened to Bolton, Vice President Dick Cheney and false intelligence, and we are still paying the price. Let's send in the old white men who have never served and who avoided Vietnam, and let's see how they like combat. Once soldiers experience combat, they remember and pay a price for the rest of their lives -- if they return.
Wars are imposed on younger men and women by those in power in the name of national security, and at times just for political talking points. For those in power, peace has never been as exciting as war.
But as St. Benedict stated more than 1,500 years ago, "Seek peace and pursue it." That's a quote we would all do well to heed in these unsettling times.
Rejecting Medicaid money bad for state -- Gary Tribbey
Assembly Speaker Robin Vos, R-Rochester, and other Republican so-called leaders have declared that taking Medicaid funding from the federal government will not happen. What happened to their so-called interest in reducing the tax burden on taxpayers?
Speaker Vos is opposed even though accepting the money will save Wisconsin taxpayers hundreds of millions of dollars, provide health coverage for 82,000 people and reduce the stress on emergency rooms. About 70% of people in a recent Marquette Law School poll support it.
Vos is opposed even though an actuarial study shows that premiums in the individual marketplace would decrease.
I thought our legislators were supposed to do the will of their constituents, not just what's in the best interest of the Republican Party. Do any Republican legislators have some integrity and a backbone to do what is right? Or are we going to be stuck with a bunch of bought-and-paid-for mindless Bobbleheads doing the bidding of Speaker Vos and special interests?
Maybe they should be less interested in trying to keep their jobs and more interested in actually doing their jobs.
Gary Tribbey, Sun Prairie
Government should not impose on faith -- Monte Knetter
The ability of religious people to determine the content of their faith and live it out free from government interference is a fundamental human right enshrined in our Constitution.
Orthodox Christians have always considered non-heterosexual and extramarital sexual activity sinful. For this reason, Christian organizations routinely require their employees to forswear fornication, adultery, homosexual activity and even the use of pornography.
A bill in Congress, H.R. 5, known as the Equality Act, if passed, would destroy the right of religious organizations to determine the content and expression of their faith by requiring them to accept the federal government's definition of gender and marriage when making hiring decisions. Their refusal to adopt our government's views on these issues will make them liable to civil and criminal penalties that will effectively force them out of existence.
Many Americans may disagree with Christian views of sex, gender and family. But the relevant question isn't whether orthodox Christians have the right or wrong view on these issues. It's whether or not the state has the right to determine the content of their or anyone's faith.