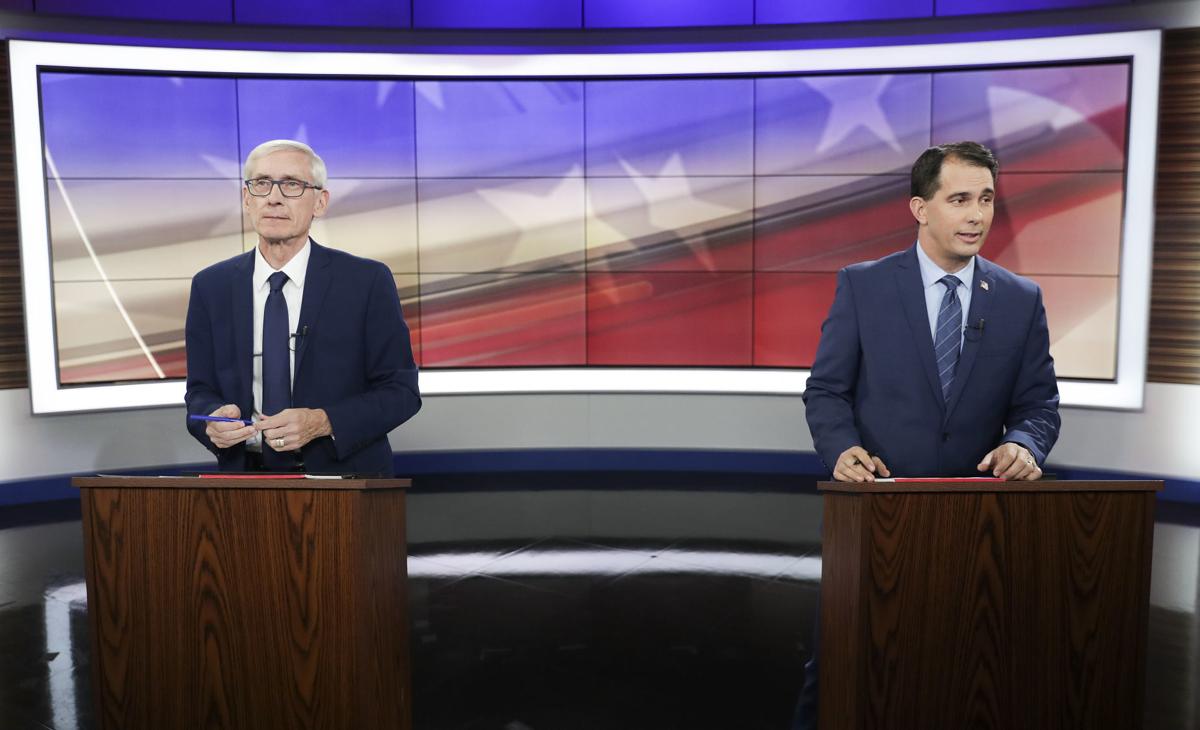 Republican Gov. Scott Walker said in a new campaign ad Tuesday that Democratic challenger Tony Evers wants "special treatment for illegals," bringing immigration to the forefront of Wisconsin's race for governor two weeks before the election.
Walker's ad comes a day before he was to campaign in Wisconsin with President Donald Trump, who has been escalating his immigration rhetoric at similar rallies in other states, falsely accusing Democrats of "encouraging millions of illegal aliens to break our laws, violate our borders and overwhelm our nation."
Polls show the race between Walker and Evers to be a tossup.
The latest Walker ad is based on comments Evers made during a debate on Friday. Evers voiced support for allowing in-state tuition for students who were children when their parents brought them into the United States without legal permission. Evers also said he supported allowing workers who are here illegally to obtain state driver's licenses to get to and from work.
"Do I think that we should have permits, driver permits for undocumented folks that are working in Wisconsin? The answer is yes," Evers said in the debate. "Undocumented folks are working hard at jobs all across the state of Wisconsin, paying taxes, paying into Social Security. They should have the opportunity … to have permits."
Walker opposes allowing people here illegally to get driver's licenses, saying federal law prohibits the state taking action.
Walker's ad ends with the narrator saying, "Tony Evers: special treatment for illegals, higher taxes for you."
Walker referenced the migrant caravan heading to the U.S. southern border when asked about his position Monday during a campaign stop in Appleton.
"Think about all the people who are marching towards this nation's border," Walker said. "Tony Evers would say, 'I'll give you free driver's licenses. I'll give you licenses to come and work and operate vehicles here in the state of Wisconsin.'"
Evers' campaign spokesman Sam Lau accused Walker of fear mongering.
"This is a sad, desperate attempt by a career politician to mimic Donald Trump to save his political career," Lau said.
The liberal group One Wisconsin Now called Walker's ad racist.
Walker has struggled to articulate his positions on immigration in the past. For years, Walker signaled that he supported a path to citizenship for people living in the U.S. illegally. But during his run for president in 2016, Walker abruptly shifted and said his view had changed and he wouldn't support that until there is greater border security.
When he was in the state Legislature in 2001, Walker voted for a state budget that included a provision to grant in-state tuition costs at state colleges to people living in the U.S. illegally who had graduated from Wisconsin high schools.
The law was eventually enacted by Democrats in 2009, and Walker as governor revoked it in 2011.
Earlier this year, Walker declined to comment on Trump's statement questioning whether detained immigrants should receive basic due process rights and Trump's policy of criminally prosecuting those entering the country illegally, which resulted in thousands of children being separated from their parents at the border. Walker said he wouldn't comment because those were "federal" issues.