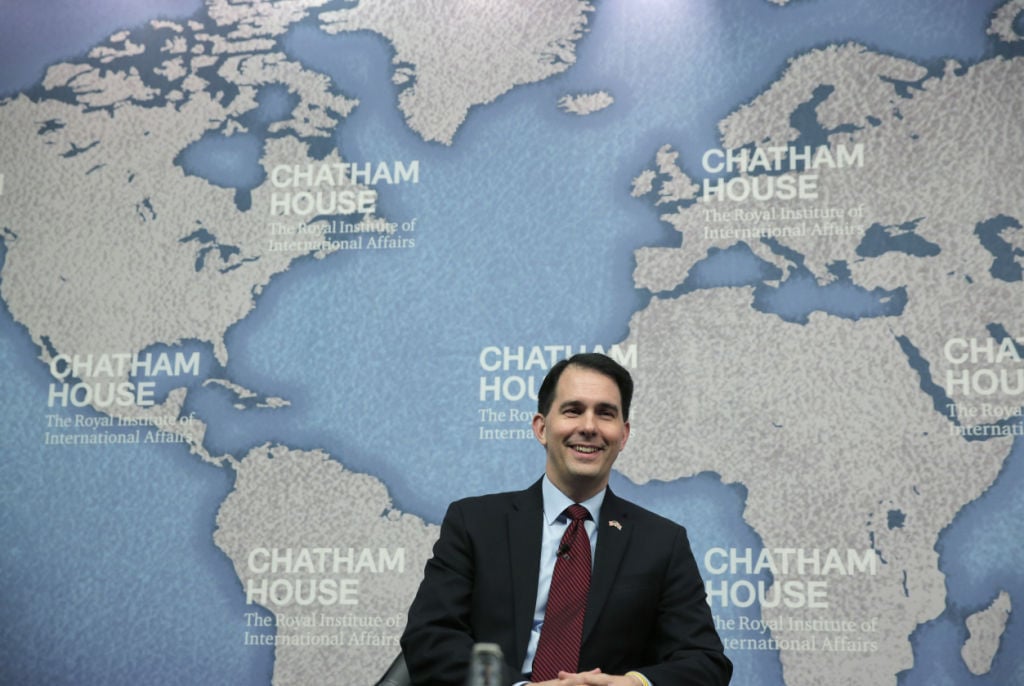 As Gov. Scott Walker faced ridicule Monday for calling the building of a wall on the Canadian border a "legitimate issue," his presidential campaign said he isn't pushing for the idea.
"Despite the attempts of some to put words in his mouth, Gov. Walker wasn't advocating for a wall along our northern border," Walker spokeswoman AshLee Strong said in a statement.
The campaign responded after Walker's comment was widely mocked, from a Democratic senator calling it one of the "craziest" ideas of the campaign so far to fellow GOP presidential candidate Sen. Rand Paul, R-Kentucky, saying building a Canadian wall is a "pretty dumb idea" and a "ridiculous notion" in an interview on Boston Herald Radio.
"Do you want to build a wall north of here too?" Todd asked, noting that Walker has talked about building a wall along the U.S.-Mexico border to deter terrorism in addition to illegal immigration.
"Some people have asked us about that in New Hampshire," Walker replied. "They raised some very legitimate concerns, including some law enforcement folks that brought that up to me at one of our town hall meetings about a week and a half ago. So that is a legitimate issue for us to look at."
The segment wasn't part of the edited interview that aired Sunday morning on Meet the Press, but it garnered plenty of attention after it was posted.
Canada Defense Minister Jason Kenney told reporters Sunday the country would "vigorously oppose any thickening of the border" and that "there are some American political actors who are not aware of the progress that has been made on continental security," Politico reported.
Sen. Patrick Leahy, D-Vermont, on Monday called it "one of the craziest" ideas of the presidential campaign. The head of a super PAC supporting fellow candidate Jeb Bush said on Twitter that Walker was "distracted" and "focused on his plan to build wall with ... Canada. #NotReady."
In the immediate aftermath of his comments, Walker didn't back down, tweeting on Sunday: "Law enforcement expressed concerns to me about border security. I won't ignore them."
The episode capped a brutal month for Walker's presidential campaign, including a lackluster debate performance, declining support among Wisconsin voters and in key presidential nominating states and reports of donor dissatisfaction as Walker has lost ground to surging Republican candidates Donald Trump and Ben Carson.
A Monmouth University poll released Monday found Walker's support in Iowa dropped from 22 percent in July to 7 percent in August, moving him from first place to fifth. The Des Moines Register also released a poll over the weekend showing Walker's support dropping from 17 percent in May to 8 percent in August, or tied for third with Sen. Ted Cruz of Texas behind Trump, the real estate mogul and reality television personality, and Carson, a retired neurosurgeon.
Meanwhile on Monday, the Walker campaign released a new online ad highlighting his foreign policy speech in South Carolina last week and taking a shot at Bush for not saying he would cancel the Iranian nuclear deal on his first day as president, as Walker has pledged.