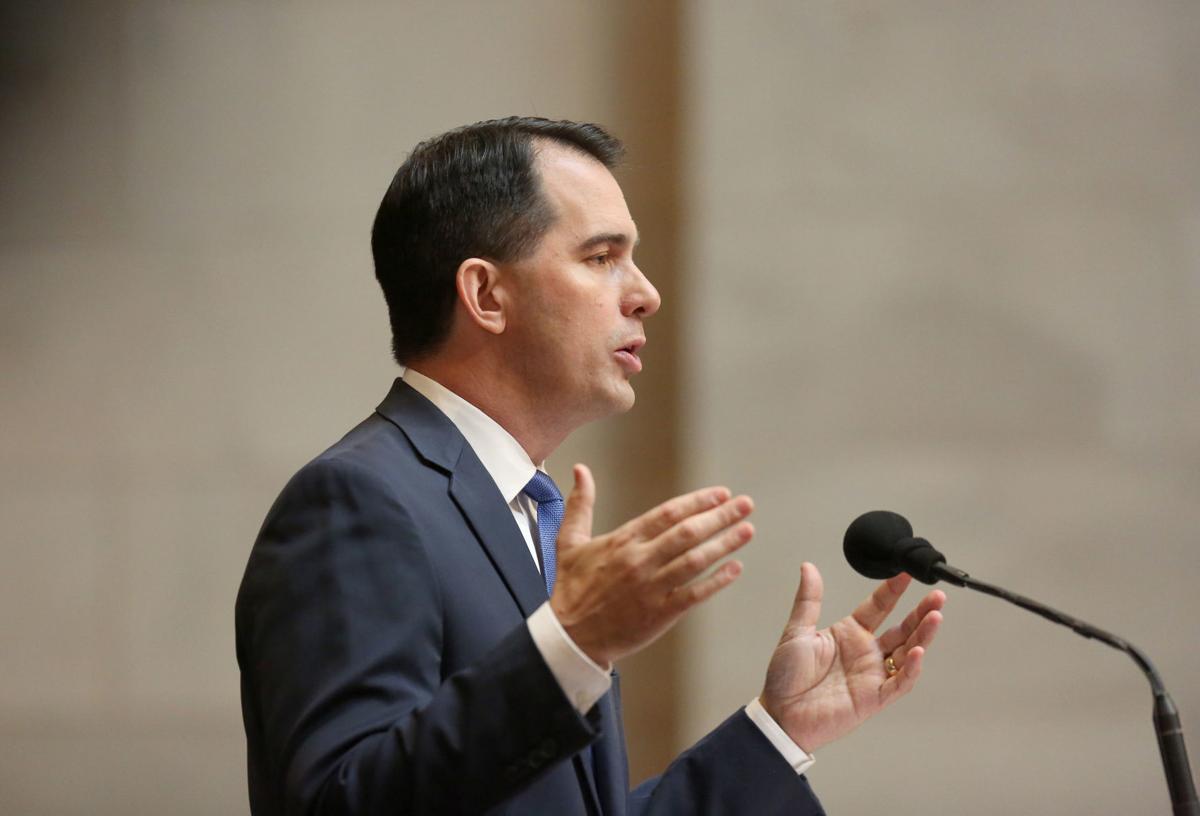 Gov. Scott Walker on Thursday called special elections to be held for two vacant legislative seats after three judges in the last week ordered the governor to do so.
Meanwhile, Senate Republicans have dropped their effort to pass a bill that would eliminate a provision in state law that requires the governor to promptly call special elections for vacant seats.
Senate Majority Leader Scott Fitzgerald, R-Juneau, on WTMJ 620 Thursday morning, said the bill would likely be challenged in court given the circuit and appellate court judges' decisions in the last week denying Walker's requests to delay calling the elections.
"We're boxed in," Fitzgerald said. "I cannot bring it to the floor at this point."
Fitzgerald said later in a statement the Senate won't be able to pass the bill now that the elections are under way and said military and overseas voters "will be potentially disenfranchised due to the Democrats' insistence to push forward with the elections."
He said the only reason the Senate would come back to act on legislation would be to pass an incentive package for paper producer Kimberly-Clark to keep jobs in Wisconsin. The Assembly has already passed such a bill.
"That will be contingent on the company and the union reaching a deal and whether or not there is a need for state legislation," he said.
Assembly Majority Leader Jim Steineke, R-Kaukauna, also said the Assembly would no longer meet Wednesday to take up the bill, as lawmakers had planned.
"There are no further plans to be in session," Steineke said.
On Wednesday, Walker decided he would not appeal to the Wisconsin Supreme Court an appellate court decision denying his request for eight more days to call a special election for the 42nd Assembly District and the 1st Senate District, which have been vacant since December.
Key dates: April 17,
May 15 and June 12
Instead, on Thursday he used an executive order to call a special election for June 12. If a primary is needed, it will be held May 15. Candidate nomination papers were eligible to be circulated as of Thursday and must be filed by April 17.
You have free articles remaining.
In a series of tweets Thursday, Walker noted the special elections will overlap with deadlines for the fall election, though much of that is the result of Walker's own actions.
The governor could have called the special election for June 5 with nominating papers due April 10, five days before the nominating papers begin circulating for the fall election. And if Walker had acted Wednesday, he could have called the election for May 29, two days before nominating papers are due for the fall election. His spokeswoman said he didn't select May 29 because nomination papers would have had to be turned in by April 3.
In arguing his case not to call a special election, and wait for the November election cycle instead, Walker cited concerns about the cost to taxpayers. Had the governor called the special election in late December, when Sen. Frank Lasee, R-De Pere, and Rep. Keith Ripp, R-Lodi, resigned to take jobs in Walker's administration, voting in those races could have been held concurrently with Tuesday's election.
On Wednesday, 2nd District Appellate Court Judge Paul F. Reilly dismissed Walker's argument that the court should allow time for the Legislature to rewrite state law that would effectively block the special elections. Reilly issued the one-page ruling hours after DOJ appealed two Dane County judges' decisions ordering Walker to call the special elections.
"Representative government and the election of our representatives are never 'unnecessary,' never a 'waste of taxpayer resources,' and the calling of the special elections are as the Governor acknowledges his 'obligation' to follow," Reilly wrote.
Last week, Dane County Judge Josann Reynolds ruled that state law compelled Walker to call the elections and set the Thursday deadline. On Tuesday, another Dane County judge, Richard Niess, denied Walker's request for a stay of Reynolds' order.
The lawsuit was filed by a national Democratic group led by former U.S. Attorney General Eric Holder. Democrats have argued that Walker delayed calling the elections over fear Republicans would lose them; Walker has said he was saving taxpayers money.
Walker's effort to delay the special elections from being held came after a Democrat won a state Senate seat in northwestern Wisconsin that had been long held by a Republican.
Shortly after Walker called the election, Door County Economic Development Corp. executive director Caleb Frostman, 33, announced he would be running for the District 1 Senate seat as a Democrat.
Two Republicans, Rep. Andre Jacque, R-De Pere, 37, and Alex Renard, 24, a De Pere operations manager at a family-owned manufacturer in Green Bay, had previously declared their candidacies for the Senate District 1 election in the fall. Both said Thursday they plan to run in the special election.
In the 42nd Assembly District, Republican Jon Plumer, a Lodi Town Board member and small business owner, announced his candidacy Thursday.
"As a father and grandfather of an ever-expanding family, I know the difference that good public schools, a strong economy, and affordable, quality healthcare makes as we seek to make our rural communities more attractive to younger families," said Plumer. "Through my leadership positions in the Lodi community, I have learned from friends and neighbors the things that make this community so special, and what needs to be done in Madison to allow our region to thrive."
Ann Groves Lloyd, a Lodi City Council member, is running for the seat as a Democrat.
"Like many of you, I was upset to see Madison politicians trying to deny us democratic representation in our capitol," Lloyd said. "The Wisconsin I love is facing some serious problems, and I feel it's my responsibility to step up and do something about it."