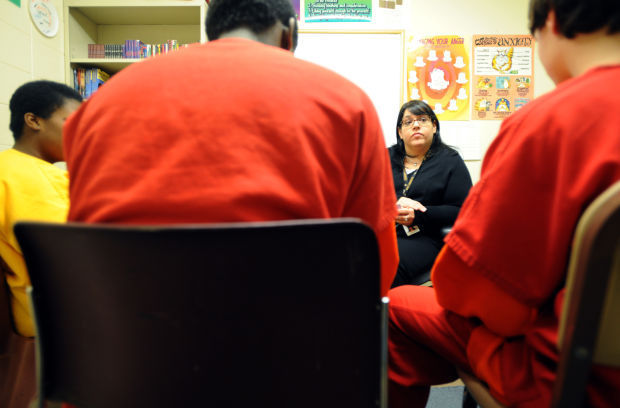 Amid calls to act more quickly, Gov. Scott Walker now says he wants lawmakers to pass legislation this year to implement his plan to convert the state's troubled youth prison into an adult facility and to build smaller facilities for young offenders around the state.
The push comes as Assembly Republicans are working on legislation that would remove the state Department of Corrections' oversight of the state's most serious juvenile offenders.
In a statement released early Tuesday, Walker said he plans to hire an architectural engineering firm next month to design five juvenile correctional facilities around the state as part of an effort to keep juvenile offenders closer to their homes. The current juvenile facility, the joint Lincoln Hills School for Boys and Copper Lake School for Girls, would be converted to house adult offenders.
Walker originally said he would include the changes in his 2019-'21 state budget, should he be re-elected in November. Proposing to do them sooner comes after repeated calls from several Democrats to shut down the youth prison in Irma sooner after years of allegations of inmate abuse there and unsafe working conditions for staff.
"We're dedicated to improving long-term outcomes for both juveniles and our staff working at these facilities," Walker said. "Both Republicans and Democrats collaborated on this plan and agreed it offers the best way forward. Together we can move this through the Legislature to improve juvenile corrections and treatment through transitioning to smaller, more regional corrections facilities and focusing on mental health and trauma-informed care."
Department of Corrections spokesman Tristan Cook said officials there would "meet any timeline passed by the Legislature and signed by the governor to implement changes to juvenile corrections."
Assembly Republicans were also moving quickly to draft a bill aimed at putting local county government officials in charge of housing the most serious juvenile offenders in their areas — a task now carried out by the DOC.
Assembly Corrections Committee chairman Michael Schraa, R-Oshkosh, said the legislation he is drafting with Assembly Speaker Robin Vos would likely allow county governments to have a say in the type of juvenile correctional facility built in their areas.
"I think the goal is to really have DOC out of it, and whether that's having (the Department of Children and Families) overseeing the program or what ... just so there is uniformity with regard to programming, but really handing it off to the counties," Schraa said. He said the legislation wouldn't preclude the state from building the facilities Walker has proposed.
You have free articles remaining.
"I think that would definitely be an outcome that could happen — (have the state) spend money up front to build and then let the counties do their thing," he said, adding he is seeking support from Democrats and that Assembly Republicans may discuss the proposal Tuesday. A spokesman for Senate Majority Leader Scott Fitzgerald did not respond to a request for comment on Walker's effort or the Assembly Republican proposal.
Kyle Christianson, a lobbyist for the Wisconsin Counties Association, said his members have been involved in "initial meetings regarding counties playing a new role in juvenile justice and (are) in the process of discussing options with county officials and staff," but they have not been briefed on details of the proposals.
"Counties would like to participate in the process surrounding the closure of Lincoln Hills," he said. "Therefore, counties hope that the process for closing Lincoln Hills and the development of new, regional facilities is done thoughtfully, includes input from counties and takes into consideration the various needs of the juveniles served."
A spokeswoman for Walker did not respond to a request for comment on the Assembly Republicans' idea. The DOC's Cook declined to comment.
After calling for the reorganization of juvenile corrections to be carried out before 2019, Democratic legislative leaders panned Walker's announcement and criticized him and Republicans for ignoring similar Democratic proposals.
"The governor's rapidly evolving stance on Lincoln Hills can be attributed directly to pressure put on the administration by legislative Democrats," Assembly Minority Leader Gordon Hintz, D-Oshkosh, said. "The Legislature should not end this session without action. The Republicans are already six years late acknowledging this problem. This legislation should not be crafted behind closed doors."
Rep. Evan Goyke, D-Milwaukee, has proposed legislation that would accomplish similar goals to the plan Walker proposed on Jan. 4. He also has helped write legislation that would shift oversight of juvenile corrections to the Department of Children and Families. Goyke endorsed Walker's plan but called for a quicker implementation.
Goyke's legislation came in response to allegations of inmate abuse that were reported to Walker's office as early as 2012. Those allegations have become the subject of a now three-year investigation headed by the Federal Bureau of Investigation. A number of federal lawsuits have been filed by current and former inmates against state Corrections officials since the investigation began, and prison guards have reported a number of incidents during which they were assaulted by inmates who they say feel emboldened by the scrutiny of staff.
Goyke in an interview said any legislation to overhaul oversight of juvenile corrections should preserve some state oversight to ensure juvenile offenders are placed in the facilities that best address their needs, even if they're not close to home.
He also called for a hearing on his own bill and suggested plans sought by Assembly Republicans or other lawmakers could be discussed as amendments to his plan."I've introduced a bill, the bill has bipartisan support (and) it mirrors in substantial form the governor's plan, so let's have a hearing on it," Goyke said. "If there's something that's disagreeable about that bill, let's do it through the legislative process rather than turning it into a partisan redraft."