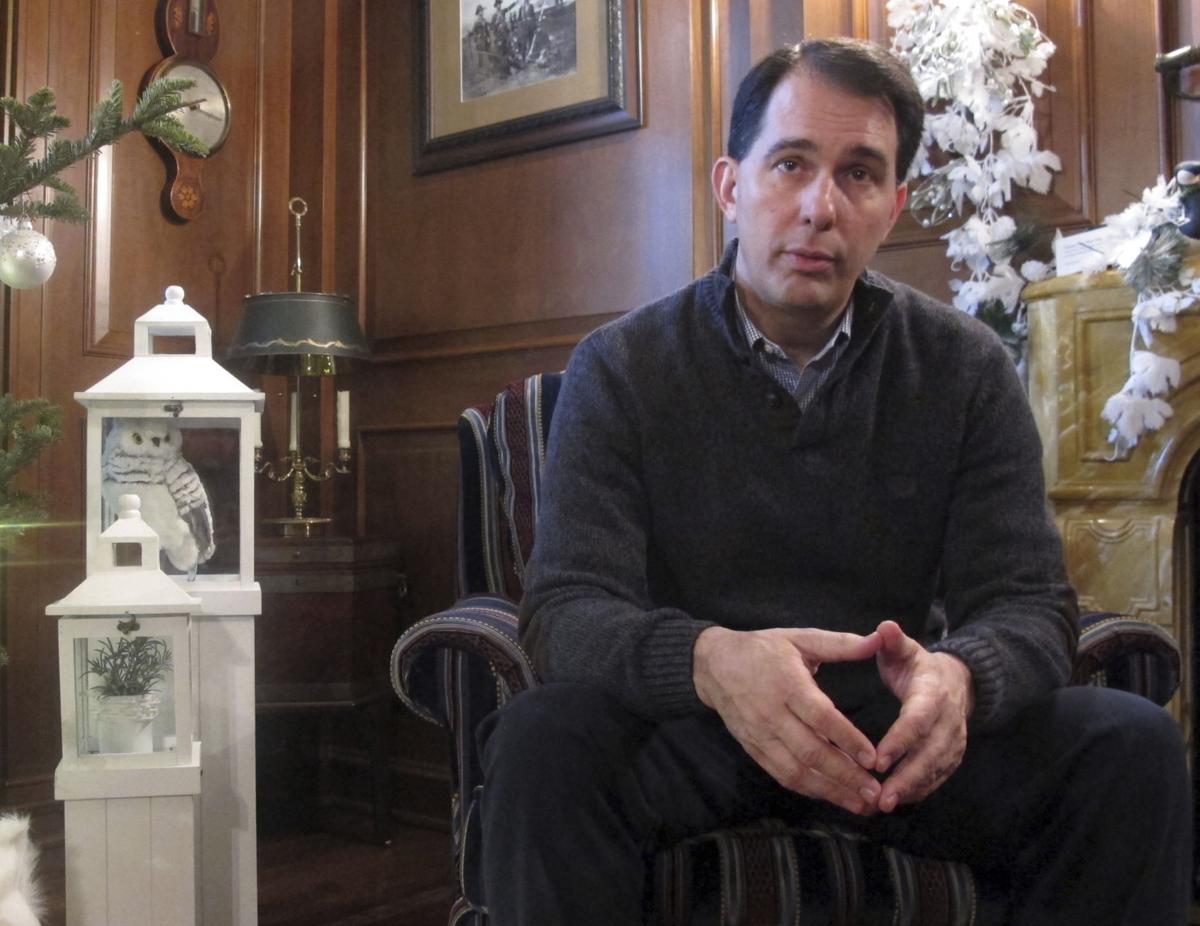 Gov. Scott Walker said Wednesday his 2017-19 budget will increase spending authority for public schools, include a $10 million back-to-school sales tax holiday and hike park fees for the second budget in a row.
In a year-end interview with the Wisconsin State Journal at the Governor's Mansion, Walker ruled out toll roads as an option in the upcoming budget to address a shortfall in the state's transportation budget, though he didn't close the door on that option for future budgets if Congress acts to allow tolls in the state. He said borrowing for roads will not exceed the $500 million included in the Transportation Department's budget request. He has previously said he doesn't support increasing the gas tax and other fees to pay for roads.
Walker also said he won't cut funding to the University of Wisconsin System in his next budget, but he may try to reduce tuition. And he rejected a Republican lawmaker's suggestion that the state withhold funding from UW-Madison if it doesn't drop a course on race relations called "The Problem of Whiteness."
"I could certainly as a citizen or as a father who pays part of my kids' tuition roll my eyes and raise concerns about some of the classes," Walker said. "But our focus in the budget should be on overall performance and not individual classes."
In the wide-ranging interview, Walker also maintained that he would not announce his decision about running for a third gubernatorial term until after the budget is finished. He ruled out any possibility of running for president in 2020 if he is re-elected and President-elect Donald Trump chose not to run for a second term.
Trump addressed Walker during his recent victory tour speech in Wisconsin and said "it's going to be your turn very soon," before adding "you and (Vice President-elect Mike) Pence are going to have to fight it out." Walker said he has heard nothing to suggest that Trump won't run for a second term in 2020.
"I just chuckle because that came out of thin air," Walker said. "I fully anticipate he's running."
Plan due in February
Walker's 2017-19 budget proposal is due out in February. Walker's task in presenting a balanced budget as required by state law won't be as challenging as two years ago when he proposed a $300 million cut to the UW System. Part of the reason for that is projections of continued tax collection growth and less growth in Medicaid costs, both due to the economic recovery.
The Legislature will take the proposal, make changes and send it back to Walker for approval for a late June deadline.
Walker said increasing funding for K-12 education is his top priority in the budget.
He said he will increase the state-imposed limits on school district spending and then provide enough additional state aid to cover those increases, in order to keep property taxes lower than they were in 2010. He didn't specify how much the increase would be, but said it would be lower than the $200 per pupil requested by the Department of Public Instruction.
Walker told the Associated Press public schools would see a "sizable increase" in state aid, and that he is specifically targeting rural schools for more money.
He also said he isn't interested in a proposal to randomly drug test high school students in extracurricular activities, a legislative idea the State Journal reported this month is under consideration.
Walker told the State Journal he has not made a decision yet on whether to lift the 1 percent cap on the number of students in a school district that can participate in the statewide voucher program in which taxpayers fund the tuition for students at private schools.
The sales tax holiday would establish a period of time in late summer during which sales taxes on certain goods would be lifted.
College costs an issue
Walker said one of the concerns he heard most during invite-only private meetings with business leaders, citizens and local elected officials around the state this year involved the cost of college.
The UW System has asked for a $42 million increase in funding, which Assembly Speaker Robin Vos, R-Rochester, said he would like to fund as much as possible. Walker also said he would like to increase funding, and while he didn't set an amount, he said he would like to tie it to performance measures, similar to what was done with the Wisconsin Technical College System in the previous budget.
Those measures could include, he said, how many students enroll and graduate, how long it takes them to get a degree, and the kinds of jobs they get.
Walker said he is eyeing a "modest increase" in state park fees in the $5 to $10 range. The Department of Natural Resources recently provided the Legislature's budget committee a list of possible revenue increases to address a deficit in the parks budget after Walker cut tax support for parks in the most recent state budget.
Walker said even a $5 to $10 increase would still be "one of the best bargains in the country." He also distinguished the fee increase from his reluctance to increase the gas tax.
"When I was county executive, some of the parks fees went up for boat slips and things like that because those are direct user fees and you don't have to use them, unlike a tax where you have no choice," Walker said.
Senate Minority Leader Jennifer Shilling said in response to Walker's proposals that Democrats plan to focus on lowering student loan debt, making child care more affordable and strengthening retirement security in the next budget.
"Rather than shifting more costs onto working families while expanding tax breaks for the wealthy, we should be working to grow the middle class and jump-start local job growth," she said.
Youth prison mistakes
Walker also told the Associated Press mistakes were made at the troubled Lincoln Hills juvenile prison, which remains under federal investigation. He said he doesn't know whether any charges should be filed.
He said "significant action" has been taken to improve the Department of Corrections since Jon Litscher took over as secretary in February. He also defended having never toured Lincoln Hills, saying he hasn't been to any of the prisons as governor.
"You don't see anything on a visit anything different than what you're going to hear about," he said.
He told the State Journal that he will not be proposing to close the facility in his budget and any decision to do so would have to be a long-term discussion. He said he doesn't support the state funding a juvenile facility with 36 beds proposed for Milwaukee County unless it's big enough to accommodate all of the county's juvenile offenders.
"I think to make it work it has to be all or nothing," he said.
Walker told the Milwaukee Journal Sentinel on Wednesday that he is considering a Republican lawmaker's proposal to divide the DNR into two separate agencies, one dealing with environmental regulation and the other with recreation.
George Meyer, director of the Wisconsin Wildlife Federation and a former DNR secretary, said splitting the agency would weaken it, create unneeded bureaucracy and cost taxpayers more money.
Two departments would mean double the number of top executives pulling in $100,000 a year or more while making it much harder for fisheries experts in one agency to work closely with water pollution regulators in the other, Meyer said.
Former DNR Secretary Scott Hassett said keeping both functions under one department has historically protected DNR from cuts because such proposals typically face opposition from both liberal conservationists and conservative hunters.
State Journal reporter Steven Verburg and the Associated Press contributed to this report.
"I could certainly as a citizen or as a father who pays part of my kids' tuition roll my eyes and raise concerns about some of the classes. But our focus in the budget should be on overall performance and not individual classes." Gov. Scott Walker on UW-Madison