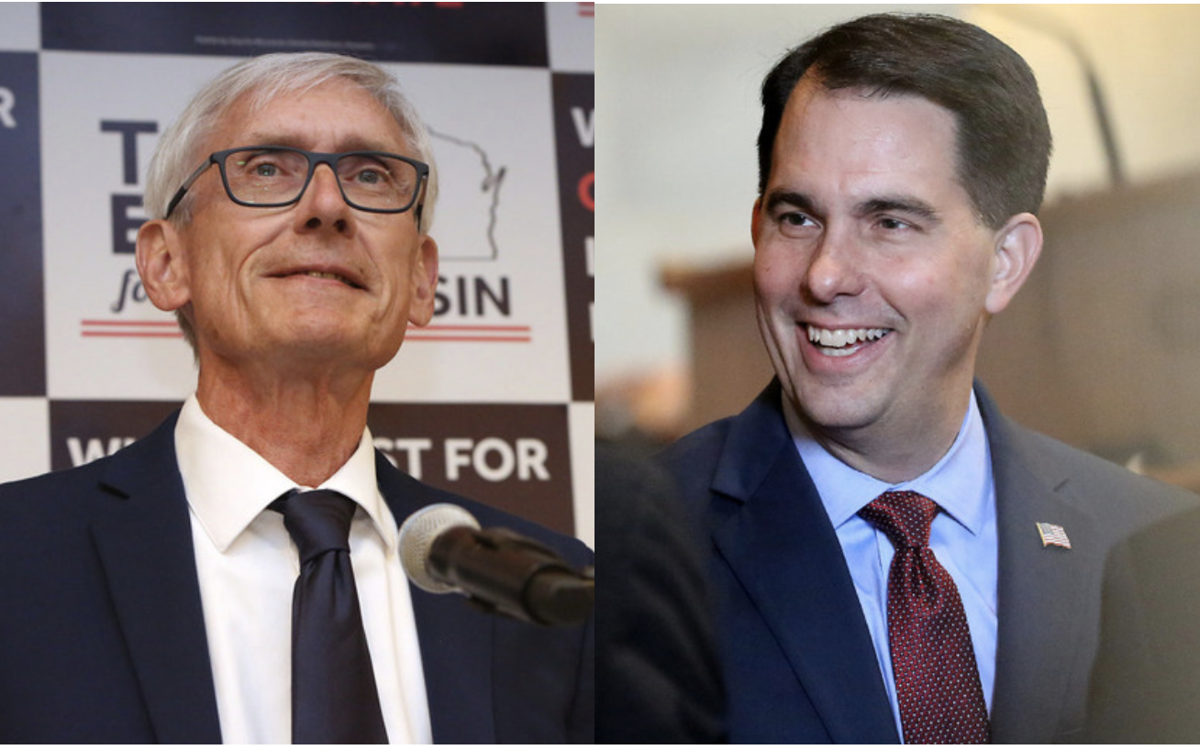 Gov. Scott Walker is proposing to restore the state's commitment to fund two-thirds of public school costs, matching a plan by his Democratic opponent, State Superintendent Tony Evers.
Walker and Evers also sparred Monday over preserving health coverage protections for people with pre-existing conditions. The exchange came amid a busy day of campaigning that included a Walker campaign stop in Milwaukee with former Gov. Tommy Thompson.
Walker also pledged Monday to boost state funding for town roads, and Evers said he would join a coalition of states focused on fighting climate change.
Walker's school-funding proposal would boost the state's share of education costs to a level not seen in more than a decade. A Walker campaign statement said he would honor the commitment, which by some estimates would cost as much as $1.7 billion over a two-year state budget cycle, while "continuing to cut taxes for hard-working Wisconsin families."
Evers has said if elected governor, he favors rolling back a tax break for manufacturers and farmers, is open to increasing the fuel tax to pay for roads and wants to raise limits on how much school districts can increase their property tax levies.
Evers dismissed Walker's education-funding proposal at a public event Monday, saying "he released no plan; he just said the words 'two-thirds.'"
Walker's campaign declined to address questions Monday about how he would accomplish his proposal without raising taxes and whether it would require spending cuts elsewhere.
Evers: climate change real
Walker, at his stop with Thompson, likened the choice voters have now to 1986 when Thompson first ran. He noted that the two-thirds state funding for schools commitment began under Thompson in 1996 and now Walker says he can bring it back without raising property taxes.
Walker's road-funding plan would boost state aid for town roads in the next state budget, which will be proposed in early 2019. Walker announced the plan early Monday at the Wisconsin Towns Association Annual Convention in Stevens Point.
Evers, at a Madison campaign stop, said he acknowledges the reality of human-caused climate change while Walker has ignored it.
"Clearly Scott Walker doesn't believe in it. It's not a belief anymore, it is a fact — we do have climate change," Evers said.
Evers said he would work with governors who have adopted state-level provisions of the Paris Agreement, an international climate change agreement, after President Donald Trump announced plans to withdraw from it. His campaign later said Evers was referring to joining the U.S. Climate Alliance, a coalition of 16 states, including Minnesota, and Puerto Rico that aims to uphold the agreement's goal of curbing carbon emissions.
Evers' Madison appearance was with former Kansas Gov. Kathleen Sebelius. As U.S. Secretary of Health and Human Services under former President Barack Obama, Sebelius helped oversee the implementation of Obama's health care law.
Sebelius said Walker has been one of the law's leading opponents. She and Evers said Walker's presidential ambitions likely prevented him from adopting some of its optional provisions in Wisconsin, such as its Medicaid coverage expansion.
"I'm not running for president, so you don't have to worry about that," Evers said.
Pre-existing conditions debate
Evers challenged Walker to remove Wisconsin from a group of states suing to have Obamacare overturned in court. An esophageal cancer survivor, Evers has emphasized his commitment to preserving the law, especially its protections against insurers denying health coverage or charging people more on the basis of their pre-existing health conditions.
"I'm a cancer survivor myself, and I could not imagine going through that struggle of trying to beat this beast that was inside me — at the same time trying to figure how in the world it's going to be paid for," Evers said.
Walker tweeted Monday that "My wife is Type 1 diabetic. My mother is a cancer survivor. My brother has a heart condition. Covering pre-existing conditions is personal to me. And it's the right thing to do. As long as I'm governor, people with pre-existing conditions will always be covered."
Walker later said he did not want to change pre-existing condition protections. He has since pledged support for a state bill to bar insurers from denying coverage or charging more on the basis of a pre-existing condition, provided the person has maintained continuous coverage.