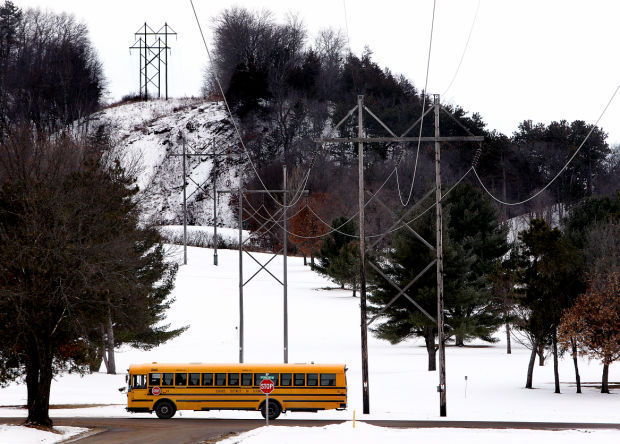 In a reversal, Gov. Scott Walker is backing a plan — similar to one he recently vetoed — to let some school districts raise property taxes without voter approval to pay for programs and services.
The proposal, championed by Rep. John Nygren, R-Marinette, also would send millions of dollars in new funding to more than 100 rural schools next school year.
The proposal would affect so-called "low revenue" school districts — those that spend less than most others.
In 1993, the Legislature imposed revenue caps on school districts, which limited the amount of money the districts could spend and raise through local property taxes without a referendum.
Many districts that were spending less per student at that time have been locked in at lower per-pupil spending levels, and leaders of such districts have said this has made it difficult to keep up with other districts that can spend more on teachers and programs.
"As a result of locked spending, these districts must play on an unlevel playing field, competing with higher spending districts," said Nygren, co-chairman of the Legislature's budget-writing committee. "This has a negative impact on the students and educators in those districts. Affording all students the same educational opportunities, regardless of geographic location is of utmost importance."
Walker last year vetoed a similar plan included in the 2017-19 state budget over concerns that it would raise property taxes in those school districts. The veto came after the Legislature reduced the amount of money Walker initially proposed in the budget to help districts in rural areas, where many of the low-revenue districts are located.
Tom Evenson, spokesman for Walker, said the governor is backing Nygren's new plan because it includes a provision that would prohibit school districts from raising taxes if voters rejected a referendum in the last three years.
"The budget provision would have allowed the increase even in places where voters voted down referenda," Evenson said. "This ensures accountability to local voters who have rejected revenue increases within the last three years."
Despite Walker's veto, there is enough money left in the state spending plan for the next two years to compensate for the additional $6.4 million increase Nygren is proposing for rural schools, Evenson said.
More spending allowed
Nygren's plan would allow school districts with the low-revenue caps to increase the amount they spend from the current $9,100 per student limit to $9,400 per student next school year. The limit would increase by $100 each school year until it reaches $9,800 per student by the 2022-23 school year.
According to the Department of Public Instruction, the proposal would apply to about 120 of the state's 422 school districts, including Mount Horeb, Baraboo, Milton, Portage, Prairie du Chien, Watertown, Westfield, Sparta and Tomah.
If all of the eligible school boards voted to take full advantage of the increase, property tax levies would increase by at least $22.5 million next school year, according to the Wisconsin Association of School Boards. Seven school districts would not be able to take advantage of the proposal because of recent referendum rejections including Chilton, Darlington, Howard-Suamico and Southern Door.
You have free articles remaining.
A spokesman for Nygren said he would begin seeking support from other lawmakers this week. A spokesman for Senate Majority Leader Scott Fitzgerald, R-Juneau, did not respond to a request for comment.
Kim Kaukl, who oversees the Wisconsin Rural Schools Alliance, said the plan is "definitely positive news for rural schools, if the legislation can make it through the hearings in both houses with support."
Kaukl also said he would like to see an expansion in the number of rural districts eligible for the special funding.
Bipartisan support
State Superintendent Tony Evers, who oversees the DPI and is running against Walker for governor, said the proposal is an answer to a longstanding request.
"Our rural and low-spending districts have been asking for this funding for many years. Increases to sparsity aid and the low revenue ceiling were in my budgets, and I am pleased to see them considered after the governor's veto cast doubt on their future," Evers said.
Sen. Howard Marklein, R-Spring Green, who sits on the Legislature's budget-writing committee and last fall expressed concern over the decision to reduce funding for rural schools, praised the new plan released Monday.
"The legislation ... demonstrates our commitment to find common ground among the legislature to support our K-12 schools," he said.
If approved by lawmakers, Nygren's plan would accompany an additional $649 million in new funding spread over this school year and next.
Election-year move
Walker announced support for the plan about two weeks before he is expected to give his annual State of the State address in the state Capitol. It also comes in a re-election year during which he is being challenged by Evers and more than a dozen Democratic candidates.
Senate Minority Leader Jennifer Shilling, D-La Crosse, called the announcement a re-election tactic.
"Republicans must think taxpayers have a short memory when it comes to their actual priorities," she said. "This is another hollow campaign gimmick from Gov. Walker to further his own political ambitions at the expense of local schools."
Assembly Minority Leader Gordon Hintz, who represents Oshkosh, a district that would benefit from the plan, said Walker was attempting to "to distract voters from the Walker administration's gross mismanagement of our public education system."
"With campaign season right around the corner, it'll be interesting to see what Gov. Walker changes his mind about next," Hintz said, referring to Walker's recent proposal to move juvenile inmates out of a troubled youth prison in Irma and open smaller facilities around the state, a plan long-proposed by Democrats.