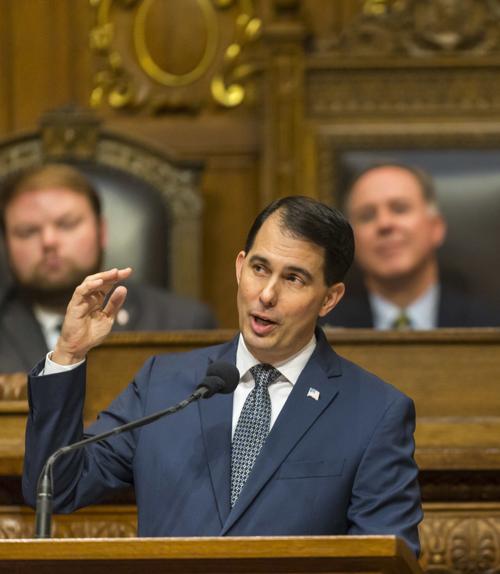 Gov. Scott Walker and Assembly Republicans have struck a deal to offer a one-time $100 per child tax rebate to parents and a sales tax holiday — rather than an ongoing child tax credit as the governor originally proposed.
However, the deal hasn't received the backing of Senate Republicans yet. Senate Majority Leader Scott Fitzgerald said he will discuss the proposal with his members Tuesday.
"I didn't feel confident walking out of the governor's office yesterday saying count the Senate in," Fitzgerald, R-Juneau, said Thursday.
He said the last time a sales tax holiday proposal was put forward a couple of Republican senators said: "Listen, it's not good public policy."
The proposal would cost roughly $172 million over the current biennium, drawing down almost half of an expected $385 million budget surplus.
"As I promised, when we have a surplus, we will give it back to you," Walker said in a statement announcing the deal. "It's your money."
Assembly Minority Leader Gordon Hintz, D-Oshkosh, called the proposal "an election-year bribe." Walker is running for a third term in November.
"The governor might as well save money on postage and just hand these checks out at polling places in November," Hintz said. "For seven years, Governor Walker has handed out favors to his donors and corporations to stay in power. Now, he's trying to do the same with voters, but they're not going to fall for it."
Under the proposal, families would receive $100 for every child living at home under 18 through a check in the mail this year. Parents would apply for the funds online and would have the option for direct deposit or to donate the amount to charity instead of receiving the money.
You have free articles remaining.
The proposal sets the sales tax holiday for Aug. 4 and 5. All consumers would be exempt from paying the state's 5 percent sales tax on all retail items in stores that cost $100 or less. More expensive items would still be taxed at the normal rate. Walker proposed a different sales tax holiday on specific school-related and electronic goods in his budget, but it was removed by the Legislature.
The exemption would not apply to the sale of taxable services, prepared food, motor vehicles, motor vehicle parts, tangible or intangible property used to access telecommunications services, tangible or intangible property provided by a utility, or alcohol and tobacco products, Walker's office said.
"We know that the hardworking taxpayers in Wisconsin deserve a break," said Assembly Speaker Robin Vos, R-Rochester. "It's great to be in a position that we can return the dollars that taxpayers overpaid."
In his State of the State address, Walker called for a $100 per child tax credit that would be paid out through a tax rebate check this year and then come through the normal income tax return process that wraps up in April every year.
That tax credit would have been refundable, meaning even families without an income tax liability would have been eligible to receive the credit, and those without children would not have been eligible. Republicans had expressed some concern about those issues.
The tax rebate check being discussed by Walker and Assembly Republicans wouldn't affect income taxes and the sales tax holiday would be available to anyone making purchases. It would not recur after 2018.
Dale Knapp, research director for the Wisconsin Policy Forum, said the bigger question lawmakers should answer is whether they should spend the budget surplus or use it to bolster the state's budget cushion.
He noted a recent analysis by the Pew Charitable Trusts showed as of June 30, 2017, Wisconsin had a large enough general fund balance to operate state government for 18.4 days, which ranked 15th lowest and below the 50-state median of 29.3 days.
"Our balances in both the general fund and rainy day fund are now better than most (years) over the past 15 years," Knapp said. "However, we still lag significantly compared to other states."
State Journal reporter Molly Beck contributed to this report.