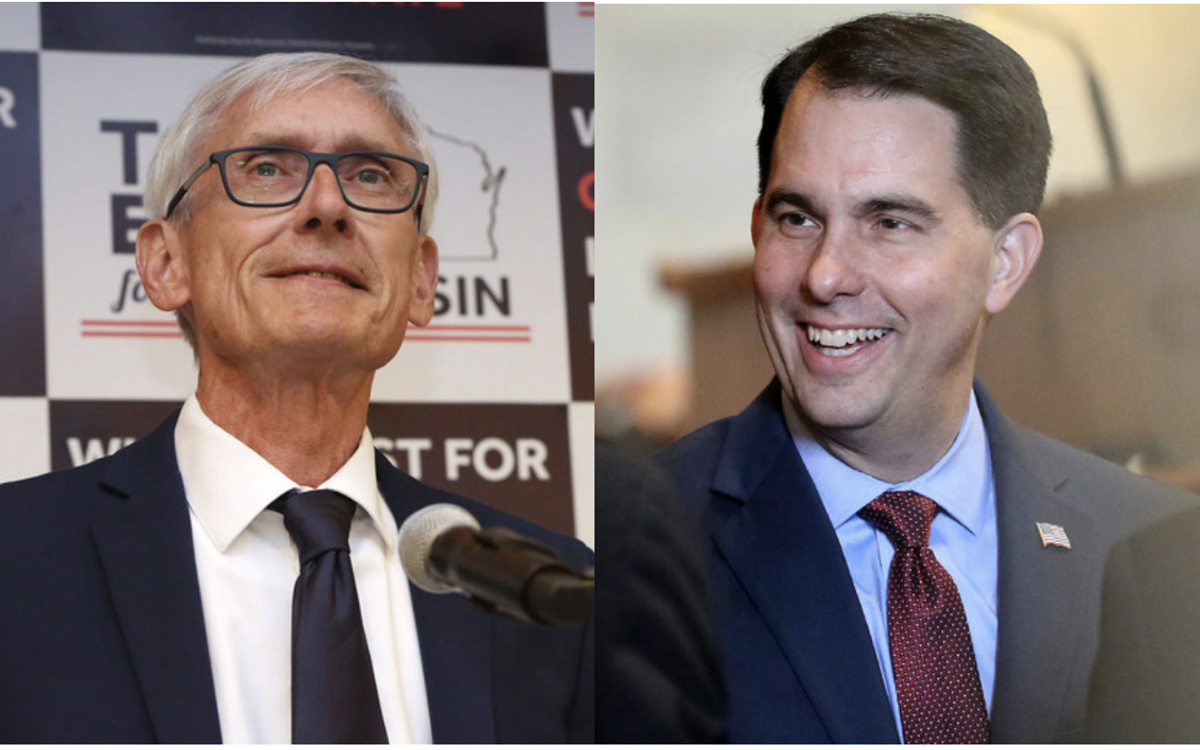 Days before Tuesday's election, Republican Gov. Scott Walker and Democratic challenger Tony Evers are tied among likely voters, according to the final Marquette Law School Poll of the 2018 campaign.
The poll also found U.S. Sen. Tammy Baldwin, D-Madison, continues to lead by double digits in her bid for re-election and Republican Attorney General Brad Schimel is in a very tight battle for a second term.
Walker and Evers, the state superintendent of public schools, each have 47 percent support in the poll released Wednesday. Libertarian candidate Phil Anderson has 3 percent, with just 1 percent undecided and 1 percent refusing to answer.
"This race could clearly tip either direction based on our data," poll director Charles Franklin said.
Franklin noted other public polls have shown Evers leading the race, though mostly by a narrow margin.
Baldwin, meanwhile, maintained what has been a consistent double-digit lead over Republican state Sen. Leah Vukmir in public polling. The Marquette poll showed Baldwin leading 54-43 among likely voters.
Self-described independent voters favor Evers over Walker, 49-42, and overwhelmingly back Baldwin over Vukmir, 59-37. Both races have seen virtually no movement since the previous Marquette poll earlier this month.
The poll found Schimel in an increasingly tight race with Democratic challenger Josh Kaul. Schimel has 47 percent support and Kaul has 45 percent, with 7 percent of voters undecided.
Democrats continue to enjoy an enthusiasm edge in the poll. It found 81 percent of Democrats very enthusiastic about voting in this election, compared with 74 percent of Republicans.
Among registered voters, 47 percent approve of President Donald Trump while 50 percent disapprove.
The poll contained a few potential pluses for Walker. His approval rating among registered voters is 50 percent, the highest since 2014, with 46 percent disapproving.
And 55 percent of registered voters see the state as headed in the right direction — more than in the previous poll or in an October 2014 poll — while 40 percent think the state is on the wrong track.
The poll suggests the race is much closer than Walker's last re-election campaign in 2014 when he led Democratic opponent Mary Burke by a 50-43 margin in the final Marquette poll before Election Day. He went on to win that race by 5.7 points.
Another possible bright spot for Evers: Voters were asked in the poll to rank their most important issue heading into the election. Number one was health coverage, picked by 25 percent of respondents. K-12 education and jobs and the economy were next, each with 20 percent.
Among those calling health coverage most important, two thirds support Evers and a third support Walker. For those calling K-12 education most important, 70 percent support Evers and 21 percent back Walker.
For those who say jobs and the economy, however, 74 percent support Walker and 20 percent back Evers.
When registered voters were asked to weigh more funding for public schools against lower property taxes, they opted for the former 55 percent to 40 percent, which is consistent with other Marquette polls this cycle.
The poll surveyed 1,154 likely voters and 1,400 registered voters Oct. 24-28. Among likely voters, its error margin is plus or minus 3.2 percentage points.
Franklin noted the poll mirrors national ones in showing white voters increasingly segmented by gender and educational attainment, while minority voters continue to solidly support Democrats.
In the new poll, white men without college degrees strongly favor Walker and Vukmir, while white women with degrees overwhelmingly back Baldwin and Evers.
The ticket splitters giving Baldwin a larger margin than Evers tend to be white men with degrees, who back Baldwin and Walker, and white women without degrees, who solidly support Baldwin while only narrowly supporting Evers.
The previous Marquette poll, released Oct. 10, found Walker getting 47 percent support among likely voters, compared to 46 percent for Evers and 5 percent for Anderson. Baldwin was leading Vukmir 53 percent to 43 percent. In the race for Attorney General, Schimel led Kaul, 47 percent to 43 percent.