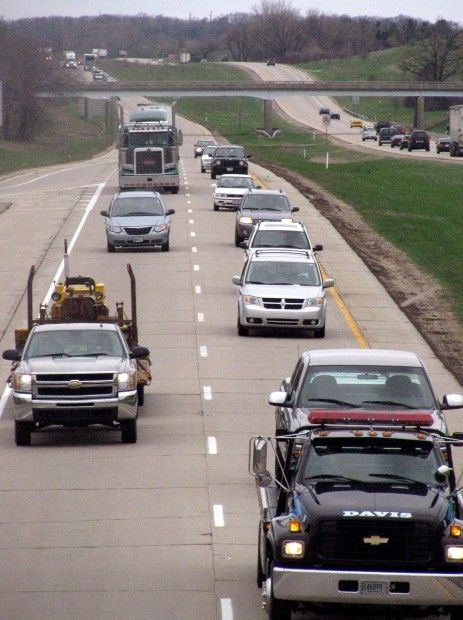 Gov. Scott Walker's administration is asking lawmakers to tap $200 million in borrowing to keep highway projects on schedule, with part of the funds going to widen U.S. Interstate 39/90 in Dane and Rock counties.
But the question of whether to further tax the state's credit card could trigger a showdown between Walker and Assembly Republicans, who favor the move, and recalcitrant Senate Republicans.
The potential GOP split also could produce a rare opportunity for legislative Democrats — in the minority in both legislative chambers — to exert influence.
Transportation Secretary Mark Gottlieb submitted the funding request Monday, according to a letter from the department, to the chairpersons of the Legislature's Joint Finance Committee, which has authority to approve or reject it. The chairpersons are Rep. John Nygren, R-Marinette, and Sen. Alberta Darling, R-River Hills.
If lawmakers approve the funds, they could offset at least some of the delays to major highway projects caused by the two-year state budget enacted in July. Five projects, including two in Dane County, are seeing two-year delays under the budget: expansions of I-39/90 from the Madison area to the Illinois state line, and of the Beltline Highway and Verona Road.
The additional funding also would allow some delayed highway rehabilitation projects to get back on schedule for completion. But Darling told WISC-TV Tuesday that Senate Republicans on the joint finance panel are unlikely to support the request.
Sen. Luther Olsen of Ripon, another GOP member of the joint finance panel, has said he and other Senate Republicans are reluctant to borrow more for roads because they believe it's time for a long-term solution to the state's road-funding woes. Olsen also is concerned that the type of borrowing DOT is requesting would be repaid from the state's general fund, from which many other programs, such as schools, are funded.
Nygren said Tuesday that he expects Assembly Republicans will vote for the DOT request.
"We're just more willing to solve the problems in front of us," Nygren said. "We understand that we do have long-term funding issues, but I don't think that's going to be solved in this session."
Meanwhile, Walker urged the joint finance panel to approve the additional borrowing. Speaking at a Wisconsin Manufacturers & Commerce event in Madison on Tuesday, Walker said he shared Senate Republicans' concerns about borrowing, but pointed out several times that the state is at its "lowest level of bonding in 20 years."
Walker encouraged WMC members to tell their legislators they support borrowing to fund what he said are important transportation upgrades such as the I-39/90 project.
The joint finance panel includes 12 GOP members — six senators and six representatives — and four Democrats, two senators and two representatives. That means if the Republican members split, Democratic votes would be needed to reach a nine-vote majority.
Sen. Jon Erpenbach, D-Middleton, was noncommittal Tuesday when asked if he would support the additional road borrowing.
"We'll help — if it's a good, fair plan," Erpenbach said. "We want to see it on paper."
Assembly Democratic Leader Peter Barca, D-Kenosha, said he generally supports the request for additional highway borrowing. He predicted the measure will pass the Joint Finance Committee even without Senate GOP support.
The 2015-17 state budget provided a process for Walker's administration to submit the request. The budget authorized $500 million in road borrowing, with another $350 million set aside pending future approval by the joint finance panel.
The DOT request submitted Monday requests the maximum amount of borrowing laid out in the budget for 2015-16, $200 million. The department could request an additional $150 million in borrowing for highways in 2016-17.
State Journal reporter Nico Savidge contributed to this report.
Get Government & Politics updates in your inbox!
Stay up-to-date on the latest in local and national government and political topics with our newsletter.