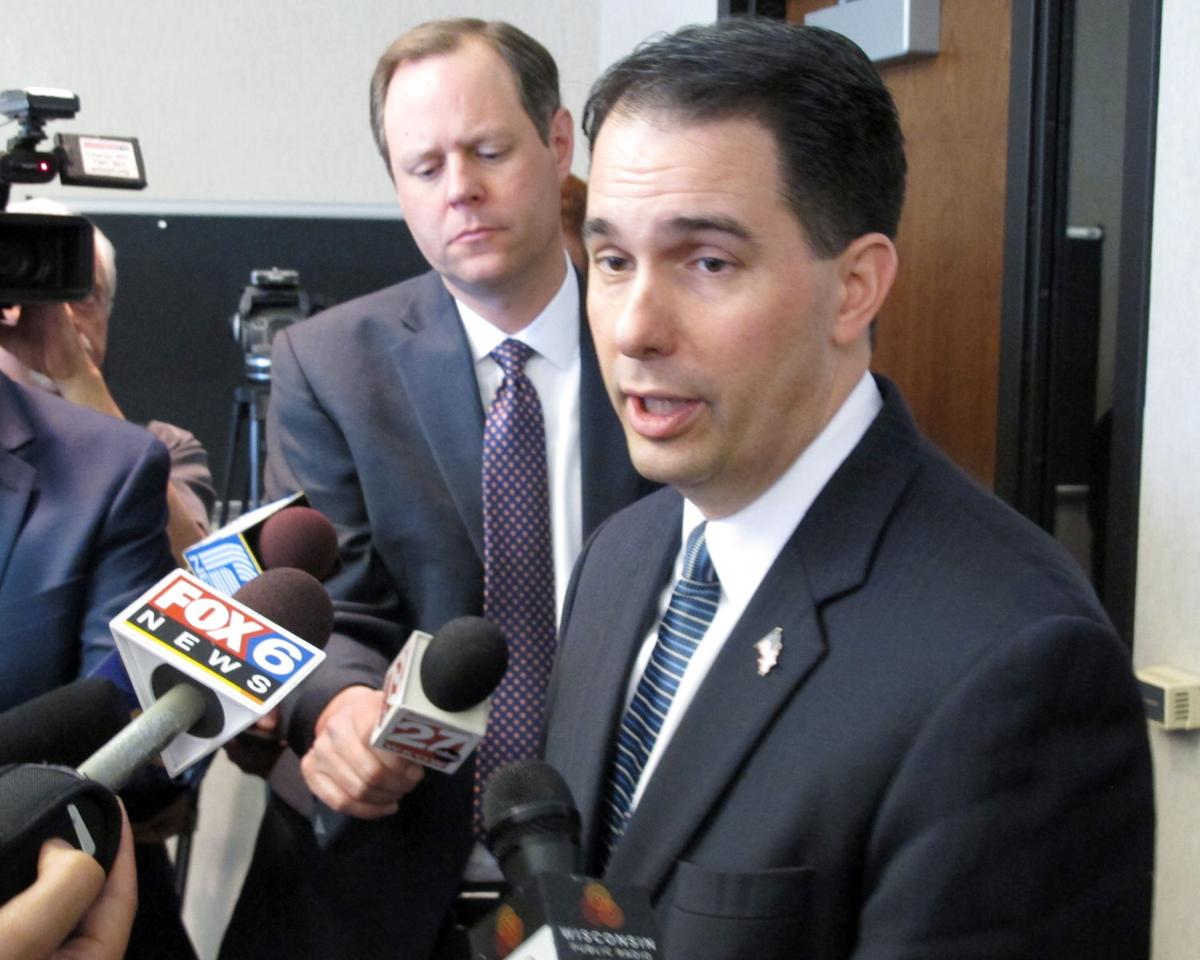 Gov. Scott Walker's administration has found another novel method to deny the public access to government records.
In at least two recent cases, the administration says it doesn't have to keep certain "transitory" records and therefore can't release records it doesn't have.
That judgment is based on the decisions of an obscure eight-member body appointed by the governor and other state officials to oversee state records retention policy.
But open government advocates and experts on the state's Public Records Law dispute that interpretation of the policy for the records at issue, which include text messages between top administration officials related to a failed $500,000 state loan to a struggling Milwaukee construction company owned by a top Walker donor.
"If they're not keeping text messages as a matter of course, that seems wrong to me," said Christa Westerberg, a lawyer and vice president of the Wisconsin Freedom of Information Council. "If they're texting about an applicant for a state-sponsored loan, that is in the state record. The fact that it's a text message shouldn't be the deciding factor. What's being discussed should be."
The Department of Justice doesn't prohibit the use of text messages, but advises that other communication methods such as email be used to avoid the challenges of saving text messages that must be retained, according to spokeswoman Anne Schwartz. She didn't clarify what recourse the public has if it disagrees with a government agency deeming something "transitory" and discarding it prematurely.
It's unknown how many times members of the public have sought records considered "transitory." Records custodians aren't required to explain why a record doesn't exist, Gregory D. Murray, chief legal counsel for the state Department of Administration, said in a Dec. 4 letter to the Wisconsin State Journal.
Officials declined to answer questions about how administration officials communicate electronically and how they retain those records, other than to say that state government officials primarily communicate by email, though some people may conduct limited business using other methods of electronic communication.
"Those types of communications still need to be retained according to the appropriate retention schedules," said Cullen Werwie, a spokesman for the state Department of Administration.
The denials come in the wake of other attempts by the Walker administration to redefine government records in ways that would limit public access to the decision-making process of elected officials.
In one case, the liberal advocacy group Center for Media and Democracy filed a lawsuit to obtain records related to the Walker administration's proposed changes to the University of Wisconsin System's mission statement, known as the Wisconsin Idea. The Walker administration, which pulled back on the changes, denied the group and media outlets, including the State Journal, access to the records by saying they were part of a "deliberative process."
Transitory text messages?
One of the recent examples involving "transitory" records is related to the $500,000 WEDC loan to Building Committee Inc. that the State Journal first reported in May. The loan was pushed by Walker's then-top Cabinet secretary, Mike Huebsch, after BCI owner William Minahan gave a maximum donation to Walker's campaign and hired a well-connected lobbyist.
Hundreds of pages of emails obtained under the state records law showed Huebsch, who now sits on the Public Service Commission, aggressively trying to help the company secure state funding. The emails contain a reference to former top DOA aide Chris Schoenherr texting about Minahan.
On Aug. 25, the Walker administration denied the State Journal's request for Schoenherr's text messages referenced in the email. Werwie explained at the time, "it's worth noting transitory messages are not required to be retained."
The response and explanation came a day after the state Public Records Board, which oversees records retention for public bodies, agreed to change the state's definition of "transitory correspondence."
Under the previous definition, such records had to be retained "until no longer needed," but under the new definition they don't have to be retained at all.
Examples under the old definition included "routine requests for information that require no policy decision, special compilation or research are transitory to the sender and the recipient." The new definition is expanded to include "emails to schedule or confirm meetings or events, committee agendas and minutes received by members on a distribution list, interim files, tracking and control files, recordings used for training purposes and ad hoc reports for individual use."
The examples don't specifically reference text messages. A separate records board policy requires that "business-related correspondence" of top state officials be retained for three years after the official leaves a job.
Text messages present an emerging challenge for public records custodians, according to Curt Witynski, a lobbyist for the League of Wisconsin Municipalities.
"I suspect it is something that needs to be thought about and addressed," Witynski said. "The thought of trying to set up a method for retaining every text message by staff and elected officials for a seven-year-period is mind-boggling."
Matthew Blessing, administrator of the division of library-archives for the Wisconsin Historical Society and chairman of the records board, didn't return calls last week for comment.
The other recent example of the "transitory" explanation involved daily Capitol Police reports showing a list of anticipated visitors to the governor's executive residence in Maple Bluff.
In response to a request from liberal advocacy group One Wisconsin Now, the Department of Administration released the reports since April 8 — which showed Walker meeting with presidential campaign staff at the residence, as permitted by the Government Accountability Board — but said prior reports are "transitory records" under the same section of the records retention policy that was updated by the records board in August.
"Capitol Police has no need or legal obligation to keep each day's sheet beyond the next day," lawyer Elisabeth Winterhack wrote in response to OWN.
The group's executive director, Scot Ross, said his group likely won't file a lawsuit over the records because there are no court penalties for violating the law that could be used to recoup the cost of litigation.
Bill Lueders, president of the Wisconsin Freedom of Information Council, sent a letter to Winterhack on Nov. 2 asking for an explanation of her response. As of Saturday he hadn't received the explanation.
In an interview, he said nothing in the new records retention policy suggests that information about visitors to the executive residence or text messages related to a state loan would fall under the definition of "transitory" correspondence. He pointed to other sections on visitor's logs and correspondence that would apply and require the records still be retained.
Lueders said though there may not be a legal remedy for state or local governments that dispose of records prematurely, the consequences of not retaining records could be worse than a lawsuit.
"The public is going to assume the worst," Lueders said. "That these government officials have something to hide."