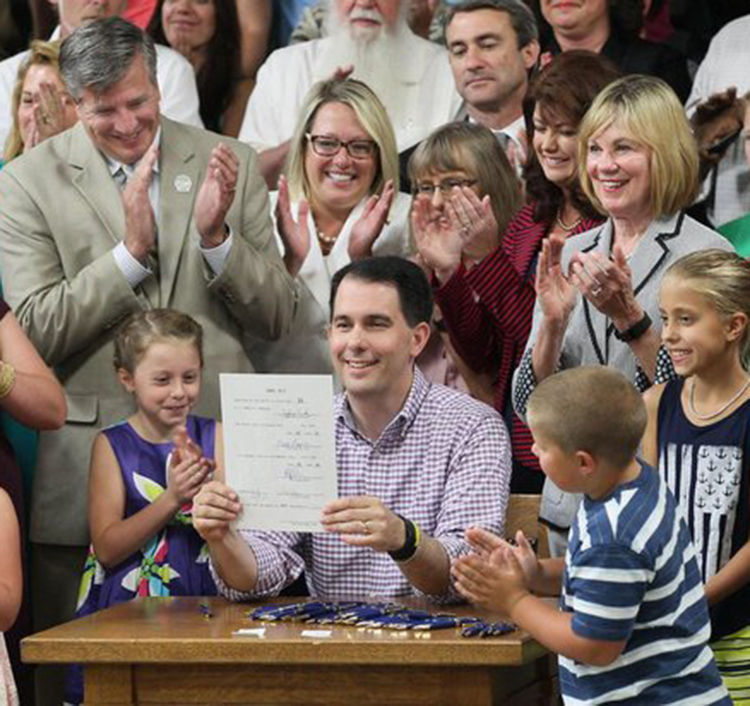 Gov. Scott Walker's administration has put off a debt payment for the second year in a row — this one totaling $101 million — which will cost taxpayers about $2.3 million in additional interest.
The state was supposed to retire about $132 million in debt on May 1, according to the nonpartisan Legislative Fiscal Bureau. Instead it reduced that amount by $101 million, which will help the state end the current biennium on June 30, 2017, in the black.
However, it will also increase interest on the debt payments by $2.27 million over the next eight years, in addition to pushing principal payments into future budget cycles. The fiscal bureau put out a memo Tuesday based on an earlier estimate that the deferral would total $50 million, but the Walker administration confirmed later in the day that the total was actually $101 million.
Walker administration spokeswoman Laurel Patrick said the restructuring reflects "prudent fiscal management" that was done to take advantage of historically low interest rates in a process used under previous administrations.
She didn't respond to a request for an explanation about why the state would rather pay more money in interest in the future rather than pay a lower amount now.
"We have a proven track record of keeping the state's fiscal house in order," Patrick said. "We continue to efficiently manage state resources and will end this biennium with a surplus."
You have free articles remaining.
Rep. Gordon Hintz, D-Oshkosh, a member of the Legislature's Joint Finance Committee, said the decision indicates the state can't afford the tax cuts Walker and the Republican-controlled Legislature have enacted over the past five years.
"The real effect is to starve each budget when, for the second year in a row, we've had to borrow money from the future to keep the budget in the black," Hintz said.
The state previously expected to end the biennium in mid-2017 with a $70 million general fund balance. That figure, which the LFB reported in January, was adjusted down $94 million due to slower-than-expected tax revenue growth.
Last year the state faced a $283 million shortfall in its 2013-15 budget, which it was able to close in part by similarly putting off $108 million in debt payments.
Before then, Walker's administration last deferred debt payments in 2012 by $368.2 million and 2011 by $297.1 million.
Former Gov. Jim Doyle restructured debt payments in 2003, 2004, 2008, 2009 and 2010 by a total of $687.8 million.
The Republican leaders of the Legislature's budget committee didn't respond to a request for comment.