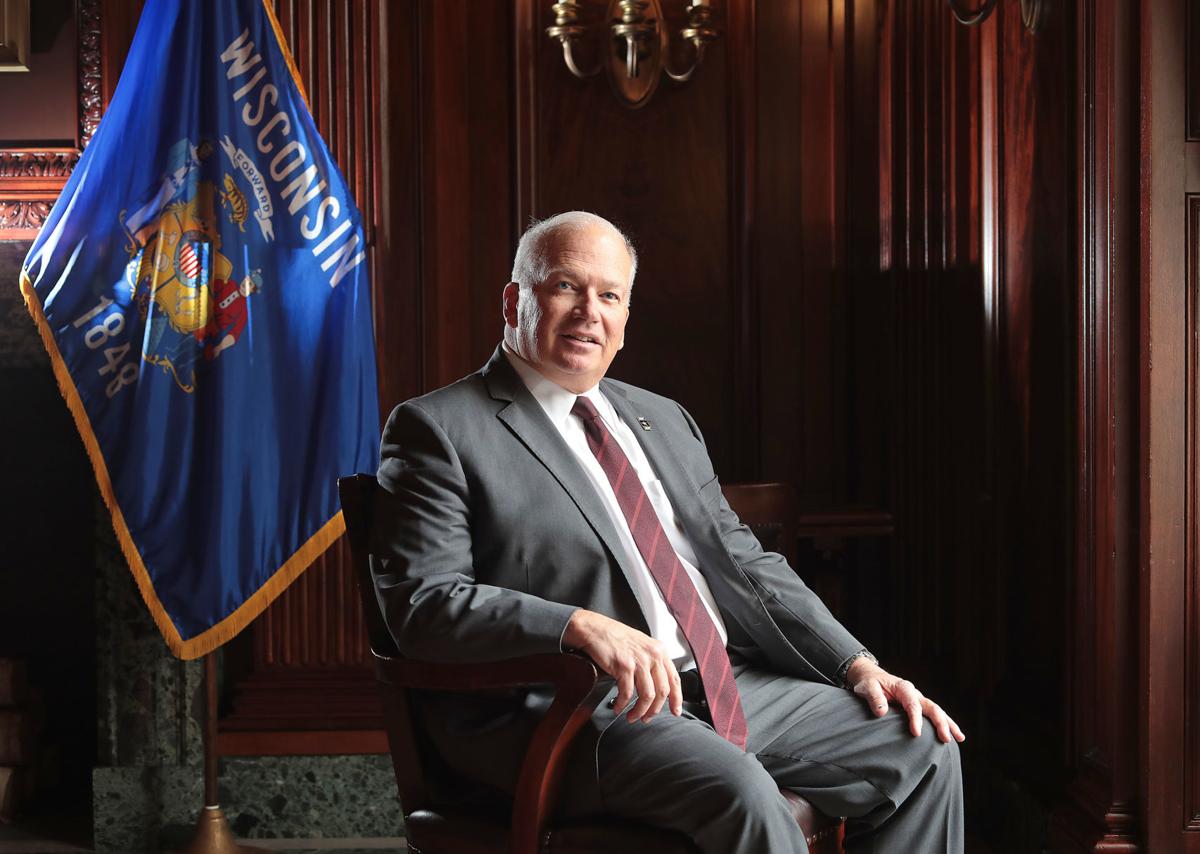 Nov. 16, 1963: Scott L. Fitzgerald is born in Chicago.
1981: Graduates from Hustisford High School.
1985: Receives his bachelor's degree in journalism from UW-Oshkosh.
1985: Completes U.S. Army Armor Officer basic course.
1992-1994: Chairman of the Dodge County Republican Party.
September 1994: At age 31, in his first try for public office, defeats Sen. Barbara Lorman in the Republican primary for the 13th Senate District. He would go on to defeat Democrat Susan Lindholm in the general election that November.
September 1995: Announces he's considering bringing chain gangs to Wisconsin after traveling to Alabama to see how they work. Later sponsors Senate bill requiring inmates on work details to be chained together.
February 1997: Co-sponsors bill to ban partial-birth abortions in the state, which is signed by Gov. Tommy Thompson in April 1998.
February 1998: Proposes naming the Department of Administration building after Ronald Reagan, a day after Congress moved to name Washington National Airport after the former Republican president.
November 1998: Re-elected after fending off a primary challenge from Tim Michels.
January 1999: Co-sponsors a 20% income tax cut that would reduce state tax collections by an estimated $2.5 billion over five years.
November 2000: Brother Jeff Fitzgerald wins election to the 39th Assembly District.
February 2001: Named one of four finalists for the job of lieutenant governor, after Scott McCallum succeeds Thompson, who departs to become President Bush's health and human services secretary. McCallum chooses Sen. Margaret Farrow.
April 2003: The Milwaukee Journal Sentinel reports five state legislators, including Fitzgerald and his wife, paid no state income tax in 2000 and 2001.
August 2003: Authors a bill defining marriage as only between one man and one woman. Gov. Jim Doyle vetoes the bill.
January 2004: Authors a state constitutional amendment to ban gay marriage. The state Senate approves the measure in March.
September 2004: Selected by fellow Republicans as majority leader.
November 2004: Named co-chairman of the Legislature's powerful budget committee after Republican Sen. Dale Schultz is chosen to replace him as majority leader.
September 2005: Co-sponsors a bill banning human cloning. Senate passes the measure, but Doyle vetoes it.
November 2006: Referendum on a constitutional ban on gay marriage passes by a landslide. Fitzgerald becomes minority leader.
October 2007: Struck by a sport utility vehicle while riding his Harley-Davidson motorcycle on Highway 26, receiving minor injuries.
November 2010: Named majority leader after the Tea Party Republican sweep.
You have free articles remaining.
February 2011: Gov. Scott Walker proposes to end collective bargaining for public employees. Thousands of protesters descend on the Capitol. After 14 Senate Democrats go into hiding, Fitzgerald sends the State Patrol to the Monona home of Senate Minority Leader Mark Miller.
March 2011: Through a series of parliamentary maneuvers, leads Senate Republicans to overcome a three-week stalemate and pass an amended version of the bill that would become known as Act 10. Walker signs it.
July 2011: Along with his brother, Assembly Speaker Jeff Fitzgerald, releases new legislative maps favoring Republicans.
November 2011: Democratic groups launch a statewide effort to recall Walker and other Republicans, including Fitzgerald.
February 2012: Lori Compas, who organized a recall effort against Fitzgerald, announces she is running for his seat.
July 2012: Survives recall, but Democrats gain control of the Senate, only to lose control again in November.
December 2012: Says the nonpartisan Government Accountability Board, which had been investigating Republican recall election fundraising tactics, lacks independence and should be scrapped.
February 2014: Differences between Assembly Speaker Robin Vos and Fitzgerald erupt over a number of issues, including campaign finance laws, voter ID and abortion.
March 2014: Fast tracks two bills that would exempt political groups behind issue ads from disclosing donors and allow lobbyists to funnel donations to candidates. The Senate passes bill that would end weekend voting prior to statewide elections.
February 2015: Schedules an extraordinary legislative session quickly to approve the right-to-work bill. Walker signs bill into law in March.
July 2015: In the face of withering criticism, Walker and Republican leaders agree to remove a provision added to the state budget that would gut the open records law.
October 2015: Passes bill prohibiting the use of secret John Doe investigations into political crimes.
November 2015: Sponsors legislation to convert the nonpartisan Government Accountability Board into separate bipartisan commissions.
May 2016: Becomes the first prominent state GOP elected official to embrace Trump for president.
September 2016: Declares he had no knowledge a prominent lead manufacturer had boosted efforts to keep Republican senators in office during the recall elections, before voting on a bill that favored lead paint manufacturers.
December 2016: In a TV interview, says he would be interested in taking a job in the new Trump administration.
January 2017: Tells a newspaper he's considering a U.S. Senate bid to unseat U.S. Sen. Tammy Baldwin in 2018, but ultimately decides not to run.
March 2017: Lead author of a Senate bill that removes any state review of high-capacity wells' impact on other water users.
December 2017: Calls for a Department of Justice investigation into the former Government Accountability Board actions in the John Doe I and John Doe II investigations and for the ouster of two elections and ethics officials.
February 2018: Tells county officials the only viable way to raise state money to match federal funding is to have open-road tolling on Wisconsin's Interstates.
April 2018: Declares an Assembly bill strengthening background checks in Wisconsin dead in the Senate.
November 2018: Acknowledges a lame-duck session of the state Legislature could limit some of the powers of Democratic Gov.–elect Tony Evers.
October 2019: Co-authors resolution expressing support for bringing F-35 jets to Madison's Truax Field.
November 2019: Urges the governor to withdraw the nomination of Brad Pfaff, who has led the Department of Agriculture, Trade and Consumer Protection since January. Days later, the Senate votes along party lines to deny Pfaff's nomination. Adjourns special session, preventing debate on gun-related bills.