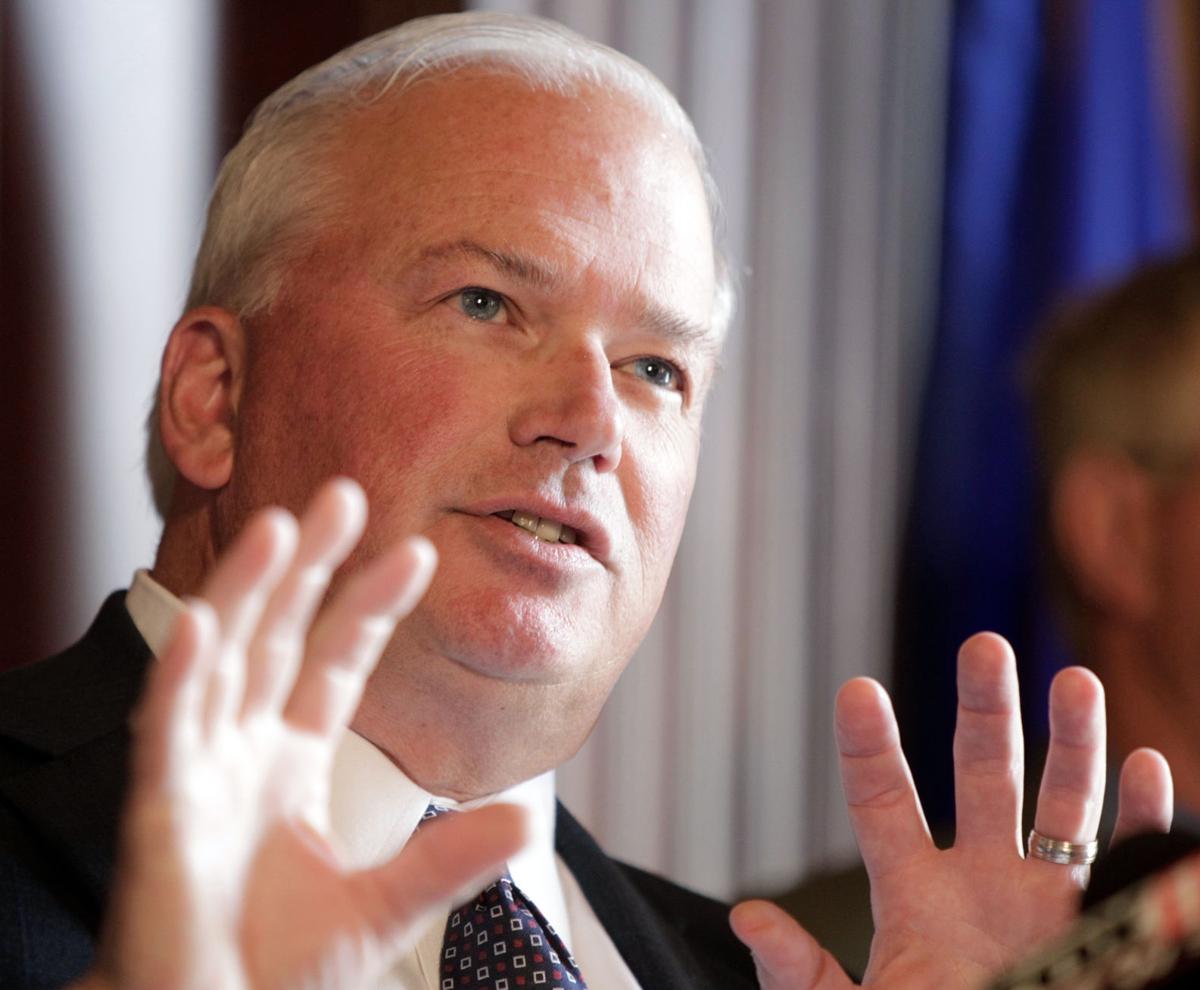 The leader of the Republican-controlled state Senate said Wednesday he isn't sure yet if his house has enough votes to pass a taxpayer-funded package that would give $3 billion worth of incentives to Taiwanese electronics manufacturer Foxconn.
Senate Republicans have been shut out of final negotiations on the legislation authored by Gov. Scott Walker that Assembly Republicans are pushing quickly through their house and plan to vote on next week, said Senate Majority Leader Scott Fitzgerald, of Juneau.
"I don't know where the votes would be on Foxconn but you know, it's definitely a new wrinkle in the whole discussion that's been going on all summer not just with the governor but the other house," Fitzgerald told reporters after meeting with Walker on Wednesday.
Fitzgerald later told Milwaukee conservative radio talk show host Mark Belling that he has talked to Senate Minority Leader Jennifer Shilling about securing Democratic votes for the Foxconn deal, but a spokeswoman for Shilling said Fitzgerald "has not indicated to her that he does not have the votes or how many of his members do not plan to vote for the bill."
The bill provides $2.9 billion in refundable tax credits to Foxconn over 15 years, exempts the company from another $150 million in sales taxes on construction materials and equipment, and waives environmental regulations.
The company also is eligible for lower utility rates under the bill, which includes $250 million in bonding to expand and rebuild Interstate 94.
Foxconn Technology Group wants to build a 20-million-square-foot LCD panel manufacturing campus — its first in the U.S. — in Racine or Kenosha counties and has promised to hire 13,000 workers. Walker has proposed tying the tax credits to job creation.
Assembly lawmakers, who plan to take up the incentive package during a floor session on Aug. 17, are now making changes to that package but have not involved Senate Republicans in the amending process, Fitzgerald said.
"It's not something we're working together on right now, that's for sure," he said, adding that the bill's passage "absolutely" could be delayed without the Senate's participation now. "It certainly creates a different process than otherwise we're typically used to working (with), especially on a bill this size."
Fitzgerald also told Belling he is concerned that the amendments Assembly Republicans are working on could ultimately affect the terms of the contract with Foxconn.
A spokeswoman for Assembly Speaker Robin Vos, R-Rochester, did not respond to a request for comment, but in a tweet, Vos said his caucus "is working WITH Gov Walker to improve the deal and get it to his desk!"
Fitzgerald said the components of the bill need further vetting and the 2017-19 state budget, which is now more than a month late, needs to be passed before lawmakers should take up the massive incentive package.
"We should be cautious. That's what we're doing right now is the due diligence to make sure this is a good deal for the state and a good deal for locals and ultimately creates this kind of high-tech campus that everyone's hoping for," he said.
Budget remains undone
Fitzgerald also said he "absolutely" wants the 2017-19 state budget passed before moving on to the Foxconn legislation because of the $250 million in bonding to expand I-94 that is included in the bill.
Assembly Republicans have said they want the Foxconn bill to take priority.
"If you take $250 million in transportation bonding and tie it up specific to that bill, it changes the dynamics of the entire transportation portion of the state budget," Fitzgerald said. "I'm not doing it just to do it. It's a necessity to try and get the state budget in a good place ... because that (bonding is) going to have an effect on projects throughout the state and could have an effect at the local level."
Fitzgerald said he has three days later this month blocked off for the budget-writing committee to meet and take action on the state budget. He said the two houses, which have been feuding all summer over transportation funding, are getting "closer."
"But I feel like I'm kind of negotiating with myself at this point," Fitzgerald added.
According to an agreement Walker signed in July with Foxconn chairman Terry Gou, the Legislature must pass the Foxconn incentive package by Sept. 30 in order to secure the project.
Fitzgerald questioned that timeline, and said a recent legislative analysis showing it would take 25 years for the state to begin to recoup the money it plans to pay Foxconn in tax credits raises more questions. But he said he thinks the bill could be passed before then.
'A big deal'
Meanwhile, Walker on Wednesday was a guest on a number of conservative radio shows following Tuesday's release of the analysis by the nonpartisan Legislative Fiscal Bureau. He downplayed the projected 25-year timeline.
"We've known it all along," Walker told syndicated host Jerry Bader. "We knew that this was a big deal. I mean, it's 13,000 jobs."
Walker said that projected timeline is largely a result of the state's tax credit for manufacturers and farm owners.
"We knew it would take some time, mainly because not just for Foxconn but for anybody, big and small alike, years ago we wiped out almost all of the taxable liability on our state's two largest industries – that being manufacturing and agriculture – and so from the state treasury standpoint, it takes awhile before the income tax is paid by employees equate to the amount of incentives out there," Walker said. "But clearly the economic impact statewide is going to be far greater and far sooner than that."
But Fitzgerald on Wednesday described the 25-year payoff as "striking" and said he still needs to find an answer to whether the plan will "be a good deal for taxpayers."
"A lot of that is going to be based on viability and on how this happens over the next 15 to 25 years," he said. "What is the payback going to be? And it's difficult to really measure that right now. Everybody loves the idea that Wisconsin becomes the center of high-tech development, domestically in the U.S. — if that happens, it's going to be, like they say, transformational."
Walker also said Wednesday a number of "well-intentioned Democrats" including Assembly Minority Leader Peter Barca, D-Kenosha, and Rep. Cory Mason, D-Racine, are working with Republicans to amend the legislation in response to issues that arose during a hearing on the bill last week.
A spokesman for Walker did not provide details about what the issues are, and a spokeswoman for Barca did not respond to a request for comment.
"If people are really being honest, if they put aside their political partisan blinders on this, people realize this is one of those moments we just got to step up and do the right thing," Walker said. "This is something we'll look back 15, 20, 25 years from now and say, 'This was one those transformational moments, this reset the paradigm for the state of Wisconsin,' and I'm just proud that Wisconsin is ready and in a position to take advantage of this."
Rep. Ed Brooks, R-Reedsburg, who sits on the Assembly Committee on Jobs and the Economy, which held a hearing on the bill last week, introduced an amendment this week to the legislation that would require the state to receive matching federal funds before state officials could spend borrowed money to expand Interstate 94, which is a provision in the Foxconn incentive package.