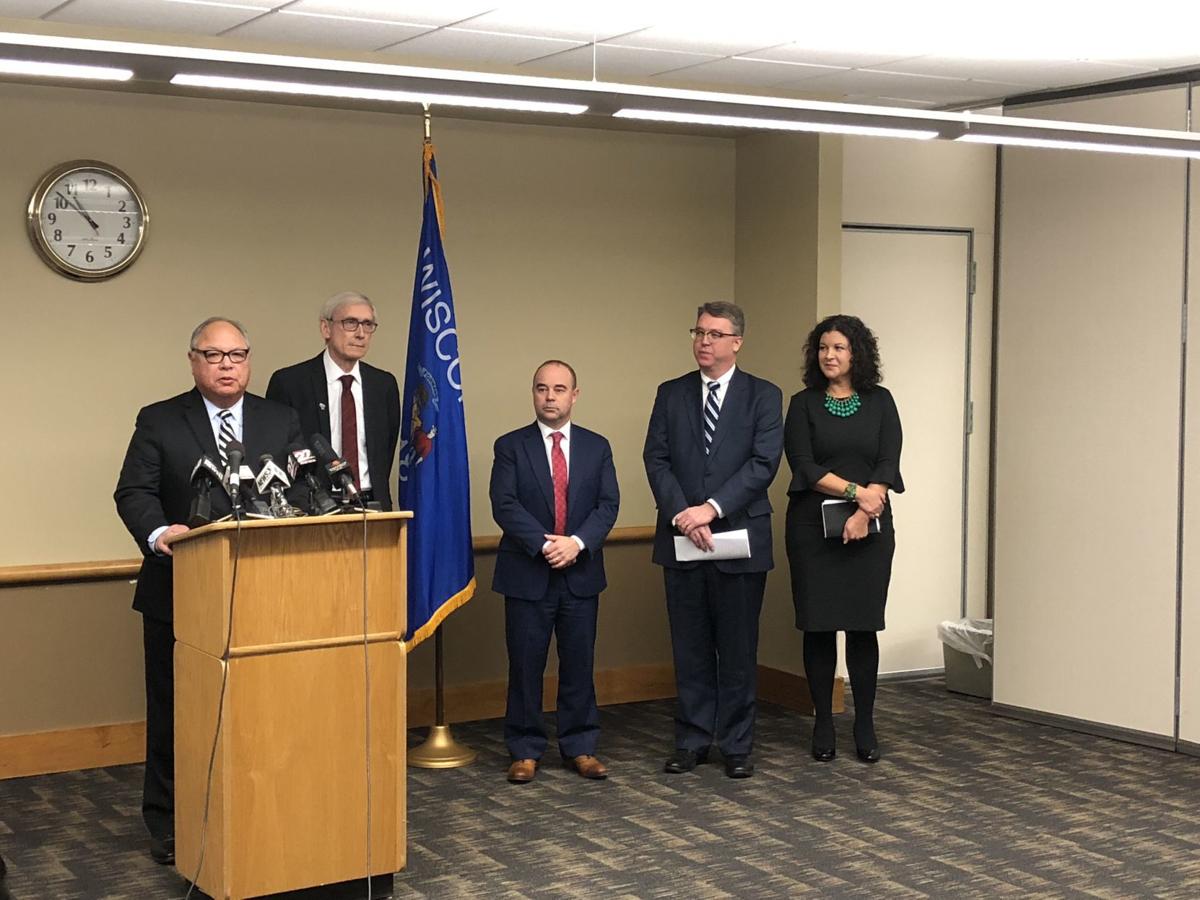 Gov.-elect Tony Evers' pick for transportation secretary is in limbo after Senate Majority Leader Scott Fitzgerald said Friday he has serious concerns about the appointment.
Within hours of Evers announcing Craig Thompson, the director of an influential transportation advocacy group, as his selection, Fitzgerald, whose GOP-controlled chamber must confirm all Cabinet appointments, flashed a warning Thompson may be the wrong person for the job.
"I have heard serious concerns over the governor-elect appointing a provocative figure to head the Department of Transportation who is a long-time advocate for special interests," Fitzgerald said in a statement. "Governor-elect Evers would be better served by nominating someone who worked in a less controversial role during previous policy debates."
Former Republican Gov. Tommy Thompson, however, endorsed the pick Friday, arguing Craig Thompson (no relation) has deep insight into the transportation sector.
"Gov.-elect Evers has made a wise choice in this selection of a bipartisan consensus builder to tackle the significant transportation challenges facing Wisconsin," he said in a statement.
Other industry and government groups, such as the Wisconsin Transportation Builders Association, Public Works Association and Operating Engineers, offered their full support of the nomination, referencing Thompson's leadership in the field and understanding of the critical role of infrastructure to the state.
Fitzgerald's comments came after Evers announced four new agency appointments Friday in Madison as his Cabinet takes shape less than three weeks before inauguration.
In addition to Thompson, Evers named Brad Pfaff as secretary of the Department of Agriculture, Trade and Consumer Protection; Rebecca Cameron Valcq as head of the Public Service Commission; and Mark Afable as Commissioner of Insurance.
Thompson, who the Wisconsin State Journal reported Thursday would be selected as transportation secretary, would replace outgoing DOT Secretary Dave Ross. During a news conference Friday, Thompson said all options are on the table as transportation funding solutions, declining to offer specifics.
In addition to Fitzgerald, Sen. Duey Stroebel, R-Saukville, also criticized Evers' DOT selection, calling it a conflict of interest that Thompson, as the head of an organization that represents road builders, would be in charge of doling out transportation contracts.
"Rewarding one of the leaders of the full-spectrum campaign to attack Governor Scott Walker's transportation reforms with a top spot in state government is a generous, taxpayer-funded thank-you to a political ally," Stroebel said in a statement.
Stroebel had particular concerns with the Transportation Development Association's "Just Fix It" campaign, which has pointed to state funding as insufficient to address the state's transportation needs.
Those concerns were echoed by consumer advocacy group Wisconsin Public Interest Research Group, or WISPIRG. It urged Evers and Thompson to follow Walker's lead in being critical of additional funding for large road projects and additionally called on Evers to make investments in public transit and electric vehicles instead of expanding interstate highways.
The Evers transition team declined a request for additional comment.
Valcq is a partner specializing in regulatory law at the Milwaukee firm Quarles & Brady. She would replace Rich Zipperer on the PSC board, and will likely replace Ellen Nowak as chairwoman in March. Nowak would then become a regular board member.
Valcq has handled energy and utility matters at Quarles & Brady, and before that spent 15 years as regulatory counsel for We Energies, Wisconsin's largest energy company, where she occasionally represented the company in front of the office she will lead.
Afable, chief legal officer for American Family Insurance in Madison, would lead the agency that regulates the insurance industry, replacing Ted Nickel, whom Walker appointed in 2011.
Pfaff previously served in the Obama administration as deputy administrator for farm programs in the U.S. Department of Agriculture. In 2017 he became U.S. Rep. Ron Kind's deputy chief of staff. He replaces Secretary Sheila Harsdorf, whom Walker appointed to the position last December.
On Wednesday, Evers announced four other Cabinet appointments in Milwaukee. They are: Preston Cole, a member of the state's Natural Resources Board and a Milwaukee city official, as Department of Natural Resources secretary; Joel Brennan, CEO of Milwaukee's Discovery World science and technology museum, as Department of Administration secretary; Kevin Carr, a U.S. marshal, as Department of Corrections secretary; and Sara Meaney, chief marketing officer for Milwaukee Film, as Department of Tourism secretary.
Get Government & Politics updates in your inbox!
Stay up-to-date on the latest in local and national government and political topics with our newsletter.