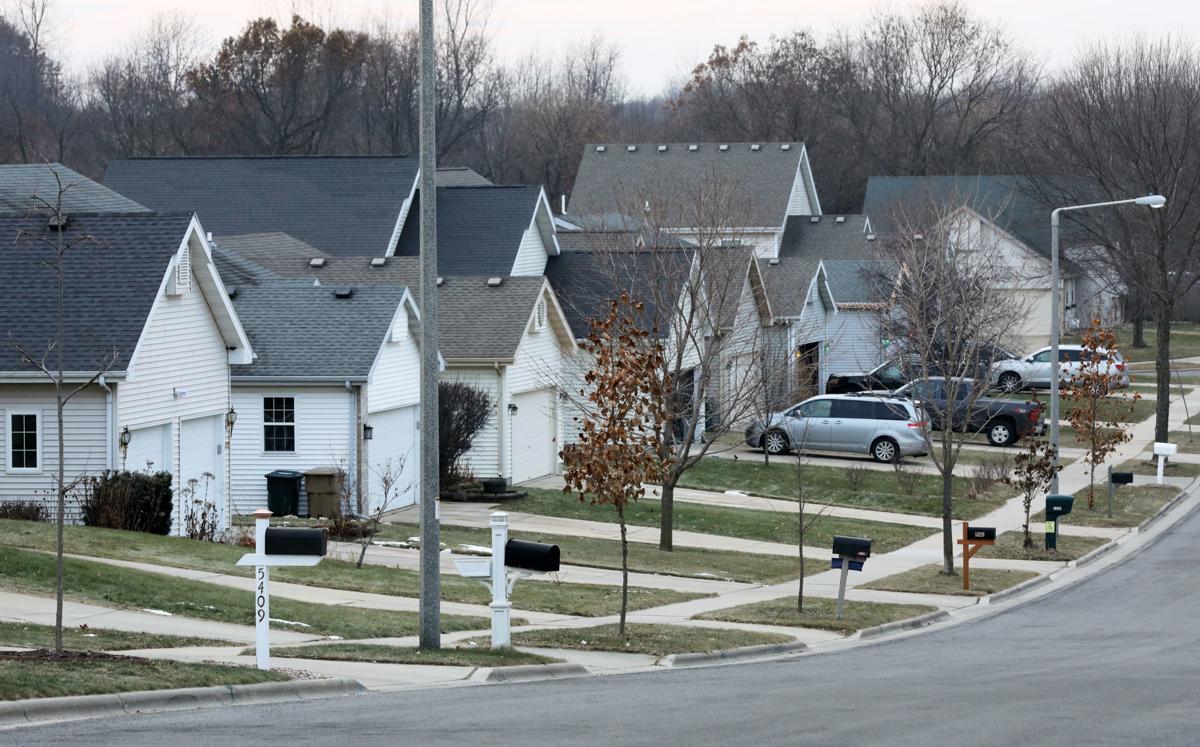 Driven by higher property values, slower growth in the lottery credit and rising school levies, many Dane County homeowners will see higher tax bills this year.
In the city of Madison, the total tax bill for the average assessed home in the Madison School District is rising about $374, or 5.8%, to $6,789. That compares to just a $64 increase in 2018, about 1%, which was the lowest percentage increase since 2014. The sums reflect tax bills after the school tax credit is applied but before the state lottery credit, which grew about half as much this year as it did last year, and another credit for building improvements on property are deducted. The city's new $40 vehicle registration fee, also known as a wheel tax, does not appear on the tax bill.
For this year, every taxing jurisdiction except the state, which has levied no property taxes since 2017, raised property taxes for Madison property owners, with the Madison schools making up the highest percentage and dollar increase, as well as the highest overall tax, a 7.4%, or $245, increase to $3,544 for the average home, now valued at $300,967.
As always, individual bills will vary, driven by changes in values in municipalities and local factors such as referendums or growth in the tax base, officials stressed. Some municipalities also add charges, such as for trash collection or recycling, improvements to streets or sidewalks, or unpaid bills.
In Madison, real estate values rose 6.4%, with a 6.3% increase in the value of residential properties including single-family homes and apartment buildings with up to three units, and a 6.5% rise in the value of commercial properties, including offices, hotels and big apartment buildings, according to the city assessor's office.
The $300,967 average value for a single-family home in 2019 reflects an increase of 5.7%.
New construction helped keep property taxes from going up even more, officials said.
"Madison's property value grew 6 percent last year, with new construction representing over 2 percent of the total property value in the city," said David Schmiedicke, city finance director. "These trends in property values reflect the city and region's strong economy and help to hold down increases in taxes on existing property."
The net increase of $373.53, or 5.8%, in the total tax bill for the average Madison home compares with the 1% rise in 2018, and increases of 4.1% in 2017, 2.5% in 2016, 3.4% in 2015 and 0.3% in 2014.
School districts drive increases
Some property owners may see significant swings in tax bills because many municipalities this year completed full revaluations of properties, which bring parcels closer to their actual fair market values, said Adam Gallagher, county treasurer. Depending on the individual property, some owners could see double-digit tax increases or decreases, he said.
At the same time, many of the county's school districts approved significant increases in their 2019-2020 levies. It's part of a statewide trend in which total school district levies rose 4.5%, the largest annual increase in a decade, according to the nonpartisan Wisconsin Policy Forum.
Four districts in Dane County had double-digit levy increases: Deforest at 24%, Sun Prairie at 16.5%, and Middleton-Cross Plains and Waunakee at 11%. Four more — Belleville, Madison, Monona Grove and Verona — had increases between 6% and 10%. Madison, by far the largest district in the county, increased its levy by 7.2%, or $22.1 million, to $330.1 million.
Part of the increases relate to the state's school financing system, said Jason Stein, research director for the Wisconsin Policy Forum.
The state raised the per-pupil revenue limit by $175, the first increase since the 2014-15 school year, which allowed more capacity for district spending, Stein said. But for districts that saw greater increases in property values, like many in Dane County, the state funding formula could reduce state aid, leaving districts to rely more on the property tax to cover spending, he said.
"Everyone expected a larger increase in school taxes this year, but it turned out to be a little more than expected," he said.
In recent years, voters in a number of districts have approved referendums to exceed state revenue limits for new construction or operating expenses, which also increases tax bills, said Stein and Dan Rossmiller, director of government relations for the Wisconsin Association of School Boards.
"There have been some big borrowing referendums," Rossmiller said. "It can take a while for the projects to hit the levy."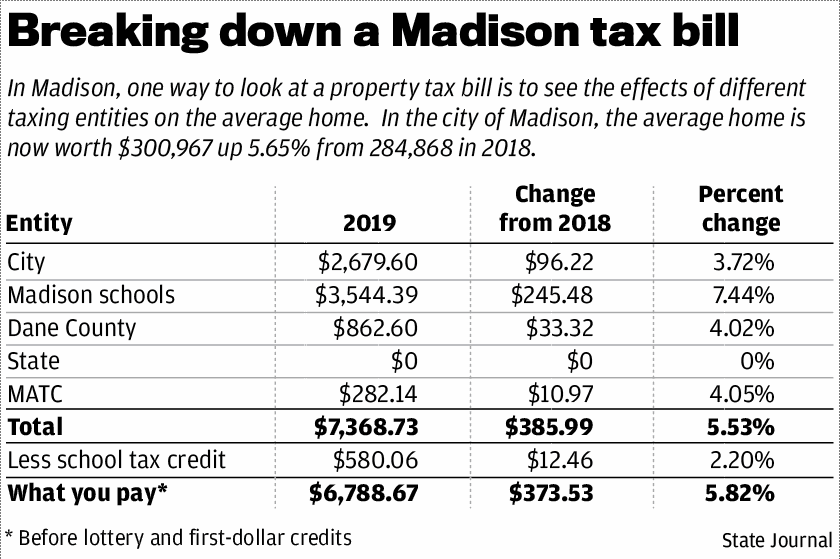 Some of the larger voter-approved referendums in the county recently include:
DeForest: $125 million in capital and operating costs to exceed the revenue limit by $2.5 million starting in 2019-2020.
Sun Prairie: $164 million in capital and operating costs to exceed the revenue limit by $5 million for a new high school. The district earlier got approval for $89.5 million in capital and operating costs to exceed the revenue limit by $2.8 million.
Middleton: $138.9 million in capital and operating costs to exceed the revenue limit by $2.8 million in 2019 and $2 million in 2020.
Verona: $181.3 million in capital and operating costs to exceed the revenue limit by $2.3 million starting in the 2020-21 school year.
In Madison, where general school aids are falling by 15%, voters approved exceeding the revenue limits in 2016.
Ultimately, the impact of any district's property tax levy will depend on its overall revenue limit, changes in enrollment, property valuations and spending, Rossmiller said.
While it's tempting to compare tax bills from one municipality to another, communities assess properties at different rates compared with their fair market value. That makes it difficult to compare tax rates — the amount charged per $1,000 in valuation that determines one's overall bill — between communities. But by factoring in how close to fair market value each community's assessments are, it's possible to compare tax rates on a typical home.
In Madison, for example, the total tax bill for a $250,000 home in the Madison School District assessed at 100 percent of its fair market value was $5,322, among the highest in the county. The highest was $5,844 for a Madison home of the same value in the Sun Prairie School District, followed by $5,828 for a Madison home in the Monona Grove School District and $5,735 for a Madison home in the Verona School District.
The lowest for a home of the same profile was $3,063 in the town of Bristol in the Columbus School District.
Tax bills began arriving in mailboxes in mid-December. The deadline for owners to pay at least the first installment of their property taxes is Jan. 31.
The initial deadline is the same in Madison, but the city has switched from two to four installments, with the second installment due March 31, the third May 31 and the final on July 31, the latter the same date as other municipalities in the county.
A fair way to compare taxes
| Municipality | School District | 2019 Assessed Value Tax Rate Per $1000* | 2019 Assessed Ratio To Fair Market Vaue | 2019 Fair Market Value Tax Rate Per $1000 | 2019 Tax On A Home Worth $250,000 |
| --- | --- | --- | --- | --- | --- |
| CITIES | | | | | |
| Edgerton | Edgerton | $20.39 | 1.001 | $20.40 | $5,101.13 |
| Fitchburg | Madison Metro | $21.70 | 0.973 | $21.12 | $5,280.45 |
| | Verona | $23.25 | 0.973 | $22.63 | $5,656.95 |
| | Oregon | $20.34 | 0.973 | $19.80 | $4,950.38 |
| Madison | Madison Metro | $22.56 | 0.944 | $21.29 | $5,321.76 |
| | Mcfarland | $22.55 | 0.944 | $21.28 | $5,319.57 |
| | Mid-Cr Plains | $21.49 | 0.944 | $20.28 | $5,069.36 |
| | Sun Prairie | $24.77 | 0.944 | $23.38 | $5,843.78 |
| | Verona | $24.31 | 0.944 | $22.94 | $5,734.86 |
| | Waunakee | $22.28 | 0.944 | $21.03 | $5,256.64 |
| | Deforest | $23.11 | 0.944 | $21.81 | $5,452.48 |
| | Monona Grove | $24.70 | 0.944 | $23.31 | $5,827.96 |
| Middleton | Mid-Cross Plains | $19.48 | 0.927 | $18.06 | $4,514.45 |
| | Waunakee | $20.32 | 0.927 | $18.83 | $4,707.60 |
| Monona | Monona Grove | $21.73 | 0.982 | $21.35 | $5,336.77 |
| Stoughton | Stoughton | $21.36 | 0.974 | $20.79 | $5,198.36 |
| Sun Prairie | Sun Prairie | $24.93 | 0.891 | $22.20 | $5,549.73 |
| Verona | Verona | $23.79 | 0.811 | $19.28 | $4,820.65 |
| Average, all cities | | | | $21.10 | |
| Average without Edgerton ** | | | | $21.14 | |
| Average without Edgerton or Madison ** | | | | $20.45 | |
| | | | | | |
| VILLAGES | | | | | |
| Belleville | Belleville | $24.10 | 0.9 | $21.68 | $5,419.39 |
| Black Earth | Wis Heights | $21.64 | 0.874 | $18.91 | $4,728.00 |
| Blue Mounds | Mount Horeb | $19.62 | 0.95 | $18.63 | $4,658.52 |
| Brooklyn | Oregon | $23.00 | 0.942 | $21.66 | $5,414.15 |
| Cambridge | Cambridge | $20.69 | 0.927 | $19.17 | $4,792.00 |
| Cottage Grove | Monona Grove | $24.85 | 0.859 | $21.34 | $5,334.40 |
| Cross Plains | Mid-Cr Plains | $21.25 | 0.962 | $20.44 | $5,109.32 |
| Dane | Lodi | $24.49 | 0.812 | $19.88 | $4,970.49 |
| Deerfield | Deerfield | $18.54 | 1.013 | $18.78 | $4,695.55 |
| Deforest | Deforest | $21.28 | 0.975 | $20.74 | $5,185.38 |
| Maple Bluff | Madison Metro | $23.55 | 0.81 | $19.07 | $4,768.10 |
| Marshall | Marshall | $20.65 | 1.025 | $21.16 | $5,290.81 |
| Mazomanie | Wis Heights | $22.01 | 0.897 | $19.74 | $4,934.60 |
| Mcfarland | Mcfarland | $20.06 | 0.969 | $19.43 | $4,858.63 |
| Mount Horeb | Mount Horeb | $20.39 | 0.925 | $18.85 | $4,713.27 |
| Oregon | Oregon | $18.73 | 0.989 | $18.52 | $4,630.75 |
| Rockdale | Cambridge | $17.90 | 0.915 | $16.37 | $4,093.38 |
| Shorewood Hills | Madison Metro | $20.42 | 0.912 | $18.63 | $4,658.12 |
| Waunakee | Waunakee | $19.55 | 0.951 | $18.59 | $4,648.32 |
| Windsor | Deforest | $19.99 | 0.915 | $18.29 | $4,572.88 |
| Average, all villages | | | | $19.49 | |
| | | | | | |
| TOWNS | | | | | |
| Albion | Edgerton | $17.77 | 0.881 | $15.65 | $3,913.38 |
| | Stoughton | $18.43 | 0.881 | $16.23 | $4,058.64 |
| Berry | Wis Heights | $17.42 | 0.898 | $15.65 | $3,912.01 |
| | Mid-Cr Plains | $16.78 | 0.898 | $15.07 | $3,767.59 |
| Black Earth | Wis Heights | $18.38 | 0.932 | $17.13 | $4,282.78 |
| Blooming Grove | Madison Metro | $15.96 | 0.969 | $15.46 | $3,864.91 |
| | Mcfarland | $16.04 | 0.969 | $15.53 | $3,883.61 |
| Blue Mounds | Mount Horeb | $14.72 | 0.983 | $14.46 | $3,615.10 |
| Bristol | Sun Prairie | $19.60 | 0.848 | $16.62 | $4,155.19 |
| | Columbus | $14.45 | 0.848 | $12.25 | $3,063.13 |
| Burke | Deforest | $17.25 | 0.901 | $15.54 | $3,885.99 |
| | Sun Prairie | $18.76 | 0.901 | $16.91 | $4,227.00 |
| Christiana | Cambridge | $13.10 | 0.944 | $12.36 | $3,090.32 |
| | Stoughton | $13.72 | 0.944 | $12.95 | $3,238.13 |
| Cottage Grove | Monona Grove | $21.45 | 0.868 | $18.62 | $4,655.04 |
| | Deerfield | $18.97 | 0.868 | $16.47 | $4,118.00 |
| | Stoughton | $18.77 | 0.868 | $16.30 | $4,074.36 |
| Cross Plains | Mid-Cr Plains | $16.78 | 0.895 | $15.01 | $3,751.92 |
| | Mount Horeb | $15.78 | 0.895 | $14.11 | $3,528.70 |
| | Wis Heights | $17.49 | 0.895 | $15.65 | $3,911.80 |
| Dane | Lodi | $17.51 | 0.891 | $15.61 | $3,902.82 |
| | Waunakee | $17.22 | 0.891 | $15.35 | $3,837.25 |
| Deerfield | Deerfield | $16.45 | 0.969 | $15.93 | $3,982.05 |
| | Cambridge | $15.76 | 0.969 | $15.27 | $3,816.54 |
| Dunkirk | Stoughton | $17.60 | 0.924 | $16.25 | $4,063.04 |
| | Edgerton | $16.97 | 0.924 | $15.68 | $3,919.05 |
| Dunn | Mcfarland | $19.90 | 0.789 | $15.71 | $3,927.21 |
| | Oregon | $19.93 | 0.789 | $15.73 | $3,933.08 |
| | Stoughton | $19.46 | 0.789 | $15.36 | $3,839.93 |
| Madison | Madison Metro | $21.30 | 0.924 | $19.69 | $4,922.99 |
| Mazomanie | Wis Heights | $16.19 | 0.904 | $14.63 | $3,657.87 |
| | Sauk Prairie | $14.84 | 0.904 | $13.42 | $3,354.95 |
| Medina | Marshall | $17.04 | 0.973 | $16.57 | $4,143.63 |
| Middleton | Mid-Cr Plains | $18.07 | 0.824 | $14.89 | $3,723.22 |
| Montrose | Belleville | $17.06 | 0.916 | $15.62 | $3,904.48 |
| | Verona | $19.64 | 0.916 | $17.98 | $4,495.19 |
| Oregon | Oregon | $18.70 | 0.843 | $15.77 | $3,942.29 |
| | Belleville | $17.49 | 0.843 | $14.75 | $3,687.48 |
| Perry | Mount Horeb | $16.84 | 0.945 | $15.91 | $3,977.15 |
| | New Glarus | $19.76 | 0.945 | $18.67 | $4,666.45 |
| | Pecatonica Area Sch Dist | $20.03 | 0.945 | $18.92 | $4,730.61 |
| Pleasant Springs | Stoughton | $14.75 | 1.007 | $14.85 | $3,712.74 |
| | Mcfarland | $15.10 | 1.007 | $15.20 | $3,800.01 |
| Primrose | New Glarus | $18.67 | 0.902 | $16.84 | $4,209.91 |
| | Mount Horeb | $16.22 | 0.902 | $14.63 | $3,657.72 |
| Roxbury | Sauk Prairie | $16.77 | 0.852 | $14.28 | $3,569.76 |
| Rutland | Stoughton | $17.69 | 0.892 | $15.77 | $3,943.59 |
| | Oregon | $18.11 | 0.892 | $16.15 | $4,038.26 |
| Springdale | Mount Horeb | $14.06 | 0.973 | $13.69 | $3,421.56 |
| | Verona | $17.80 | 0.973 | $17.32 | $4,331.06 |
| Springfield | Mid-Cr Plains | $15.78 | 0.909 | $14.34 | $3,585.44 |
| | Waunakee | $16.63 | 0.909 | $15.11 | $3,778.62 |
| Sun Prairie | Sun Prairie | $19.50 | 0.902 | $17.59 | $4,398.06 |
| | Marshall | $16.77 | 0.902 | $15.13 | $3,781.82 |
| Vermont | Wis Heights | $15.50 | 1.022 | $15.84 | $3,960.52 |
| | Mount Horeb | $14.17 | 1.022 | $14.49 | $3,622.38 |
| Verona | Verona | $18.23 | 0.999 | $18.20 | $4,550.01 |
| Vienna | Deforest | $16.10 | 1.042 | $16.78 | $4,193.98 |
| | Waunakee | $15.07 | 1.042 | $15.71 | $3,927.01 |
| | Lodi | $15.01 | 1.042 | $15.64 | $3,910.36 |
| Westport | Waunakee | $15.49 | 0.995 | $15.41 | $3,852.34 |
| | Mid-Cr Plains | $15.11 | 0.995 | $15.03 | $3,758.32 |
| York | Columbus | $16.12 | 0.893 | $14.39 | $3,598.24 |
| | Marshall | $18.69 | 0.893 | $16.69 | $4,171.37 |
| | Waterloo | $18.42 | 0.893 | $16.44 | $4,109.67 |
| Average, all towns | | | | $15.71 | |
| * Tax rates include state, county, municipal, school district, technical colleges, any special tax districts and the state school credit. | | | | | |
| ** Because only a small portion of Edgerton is in Dane County, including the city with other Dane County cities distorts that comparison. | | | | | |