In a rout, former Ald. Satya Rhodes Conway ousted longtime Mayor Paul Soglin on Tuesday, becoming the first openly gay and second women executive in city history.
Rhodes-Conway topped Soglin by roughly 62 percent to 38 percent, or about 18,700 votes. She overwhelmed the mayor on the Isthmus and carved into Soglin's former strongholds on the East and West sides.
In a short victory speech, Rhodes-Conway thanked her volunteers, campaign staff, her family and partner. She also thanked Soglin for his steadfast service to the city and a campaign she said stayed focused on issues that matter.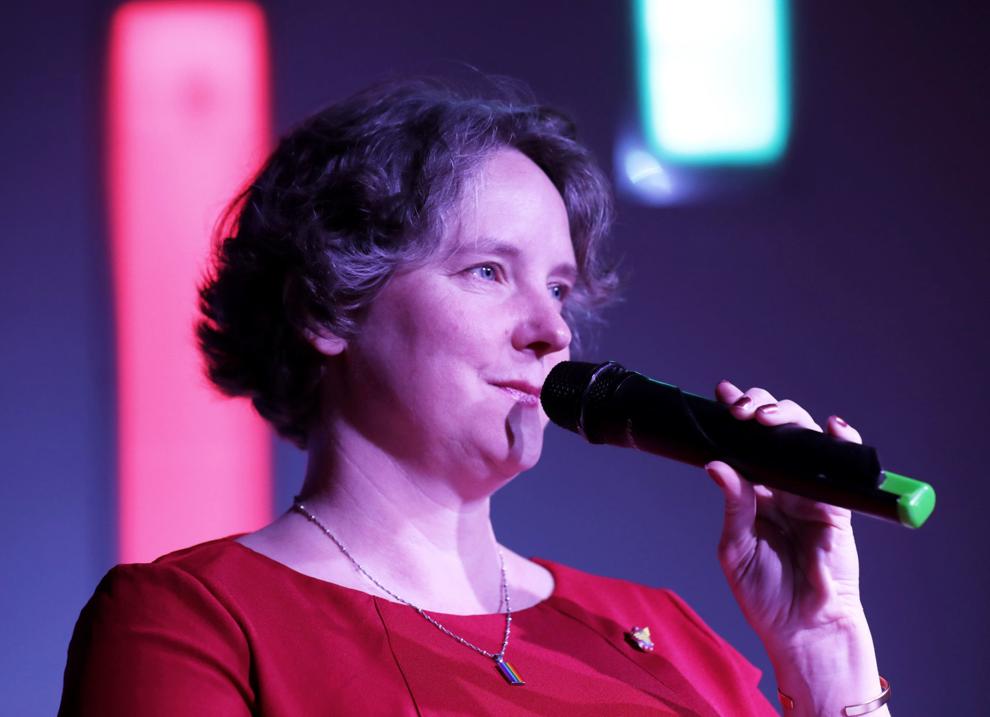 "Tonight I am hopeful," she told a crowd of at least 200 supporters gathered at the Prism Dance Club on the Near East Side. "Hope for young people everywhere, but especially here in Madison who have felt left out, or talked down to or bullied because of who they are. I have felt that way once upon a time, and look where I am now.
"I am full of hope for our city," she said.
Quoting from the late Harvey Milk, the first openly gay elected official in the history of California, Rhodes-Conway said the win was not about personal gain or ego or power.
"It's not my victory," she said. "It's yours and yours and yours."
Soglin made a short speech to supporters gathered at the Brink Lounge on the Far East Side in which he thanked the staff of both the Mayor's Office and his campaign.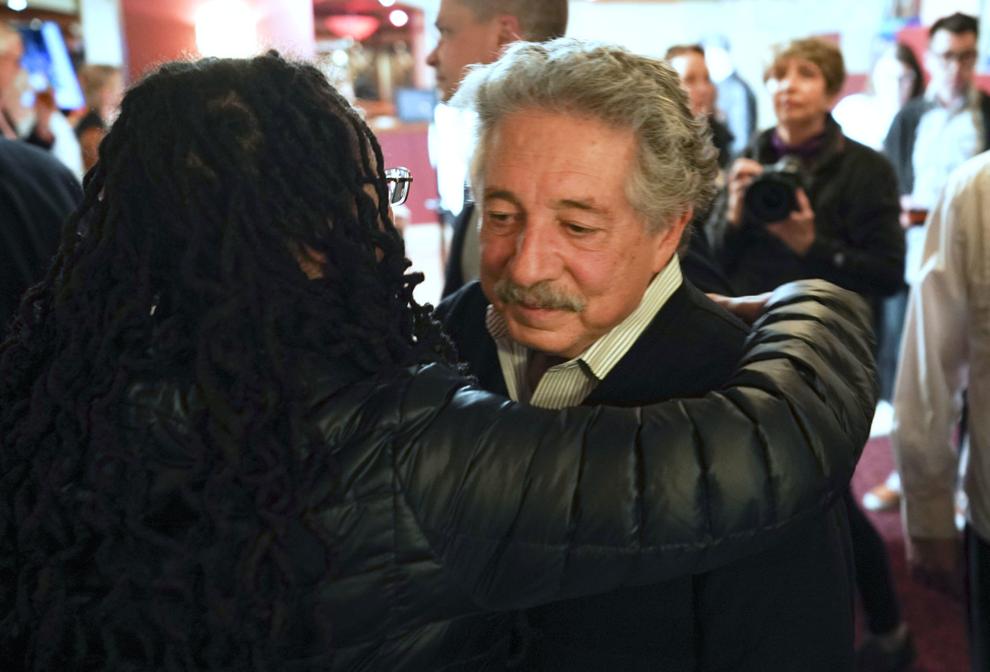 "I've been smart enough to hire really good people, who in turn make me look good," he said.
He also reflected on the importance of working with building developers to keep increasing the city's housing stock to stem soaring housing costs and meet demand as more people move to the city.
Paul Soglin, the city's moustached face of the city for 14 years in the 1970s, '80s and '90s and then two straight four-year terms ending this month, lost to former Ald. Satya Rhodes-Conway.
"I do not hope that we retreat from that partnership," the mayor said. He said he will meet with Rhodes-Conway on Wednesday to begin the transition.
"We have two weeks to do the transition so we're getting started at 8 a.m. tomorrow," Rhodes-Conway said, adding that she will also start discussing staff and make plans for her first 100 days.
​Rhodes-Conway, 47, managing director of the Mayors Innovation Project at UW-Madison's Center on Wisconsin Strategy who served on the City Council from 2007 to 2013, ran a largely upbeat, grass-roots campaign and raised more money than Soglin despite his wider name recognition and political contacts built over a long political career.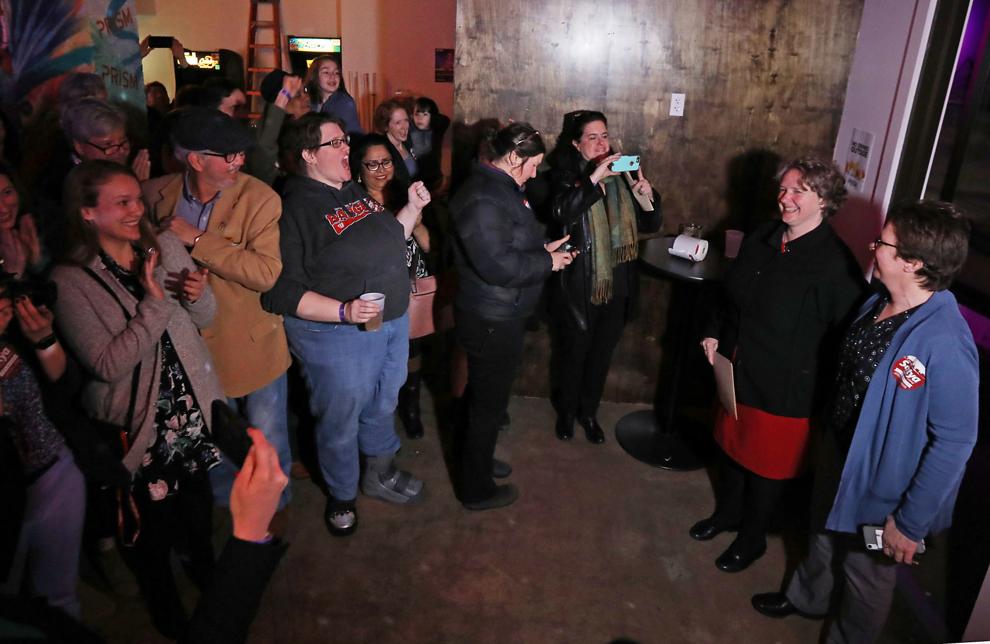 While Soglin ran on his record, Rhodes-Conway called for change, including use of the Affordable Housing Fund to rehab existing housing stock and buy land for development, especially along future Bus Rapid Transit lines, and improving rights-of-way to limit the amount of stormwater draining into the lakes. She said she wants to look at potential impacts of climate change to city infrastructure, department by department.
"Satya's election is going to be to this generation what Paul's election, his first election in 1973, was to our generation," said Stuart Levitan, chairman of the city's Landmarks Commission.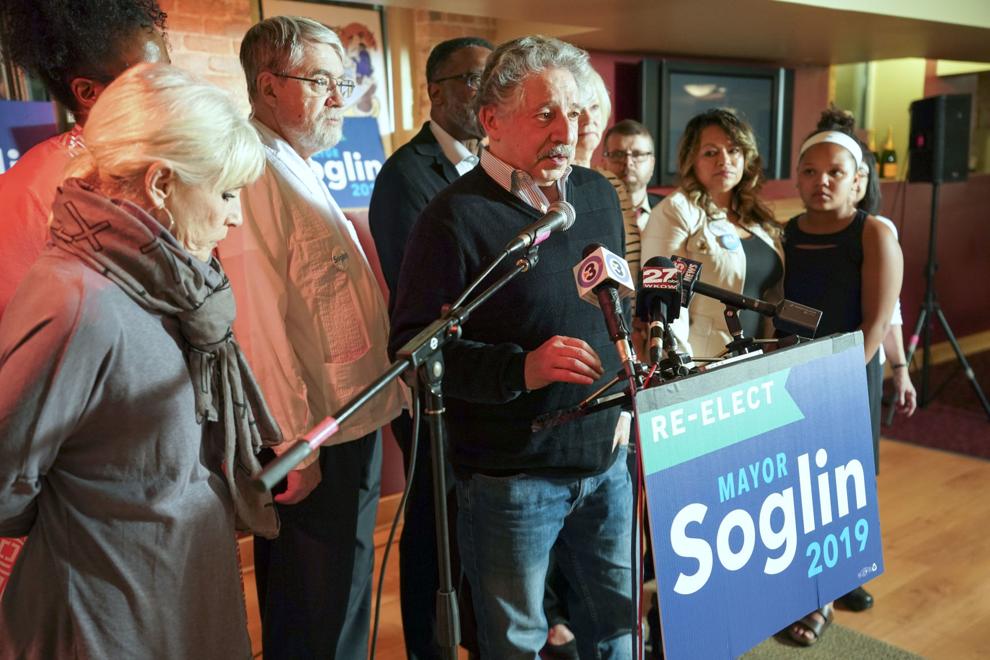 Soglin, 73, who's made many friends and foes while holding the office for a record 22 years over five decades, campaigned hard on his leadership, experience, record of achievement and commitment to innovation. Under his leadership, and through collaboration with others, Madison is among just 11 metro areas in the nation out of 100 surveyed by the Brookings Institution to achieve inclusive economic growth, his campaign has stressed.
Katherine Cramer, professor of political science at UW-Madison, said, "It is a historic day for Madison, electing the city's first openly gay mayor, and the second woman to hold that office. Soglin is a historic figure in his own right, but it appears that the city is about to begin a new era."
Rhodes-Conway and a new City Council will be sworn in on April 16.
Crowded primary
The campaign had an unusual start.
In the midst of an ultimately unsuccessful bid for governor, Soglin in July said he wouldn't run again for mayor. But after placing a distant seventh in the Democratic primary, and following historic flooding in August that demanded quick action by the city, he said he was re-energized and jumped into the mayoral race in October.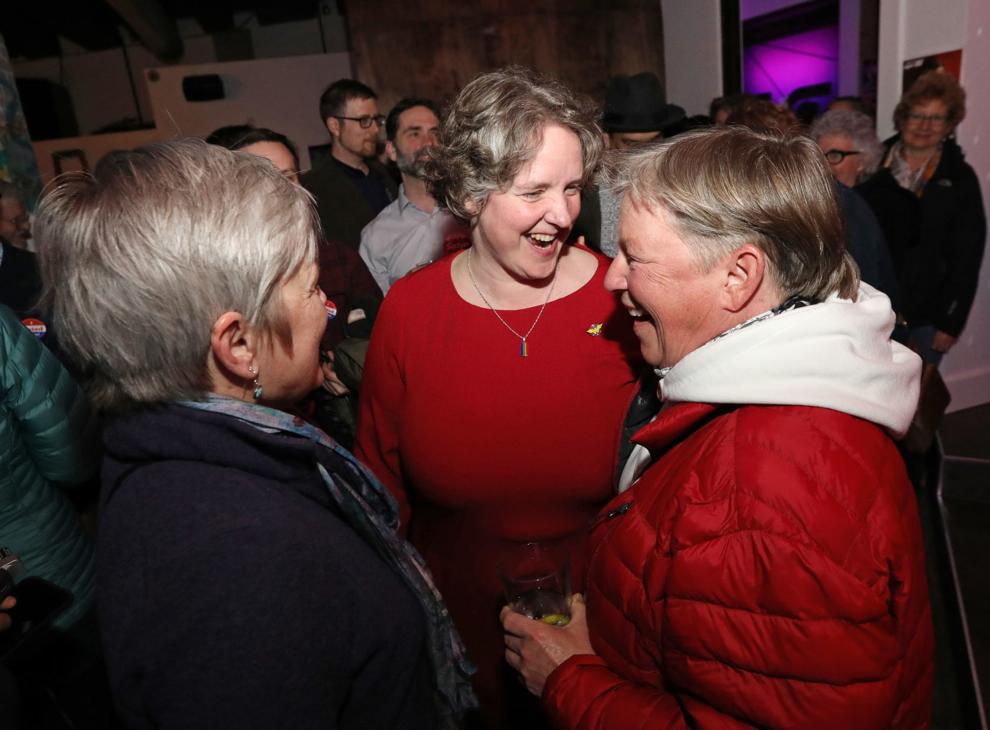 Soglin narrowly won a competitive, six-way Feb. 19 primary with 28.6 percent of the vote, followed by Rhodes-Conway with 27.7 percent, Ald. Mo Cheeks with 23.3 percent, and Raj Shukla with 18.4 percent. The primary offered a sign of vulnerability for the mayor, with 71 percent of votes cast for someone else.
"We could see (Tuesday's result) coming in the primary, with three of the other candidates getting substantial support, despite so many people being familiar with Soglin," Cramer said.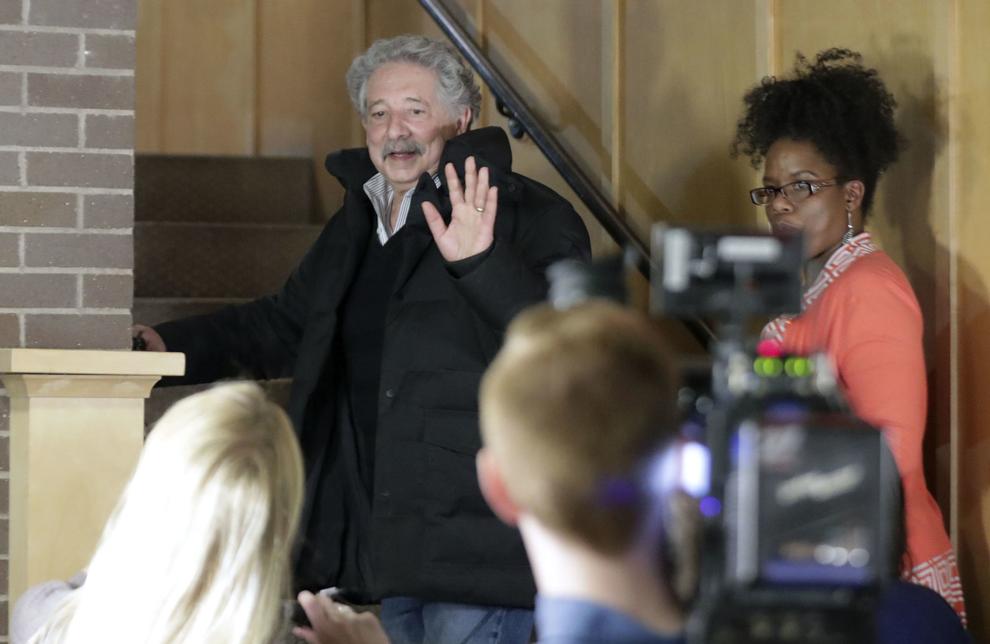 Soglin and Rhodes-Conway campaigned vigorously. In a span of two weeks, in a race marked by differences over style, past performance and new ideas, the candidates participated in at least 11 candidate debates or forums — including two in one day — in the run-up to the general election.
Flush campaign coffers
Despite an incumbent's advantages, the mayor never led in fundraising, even in the primary, although both he and Rhodes-Conway easily attracted more contributions than in the mayoral general election four years ago.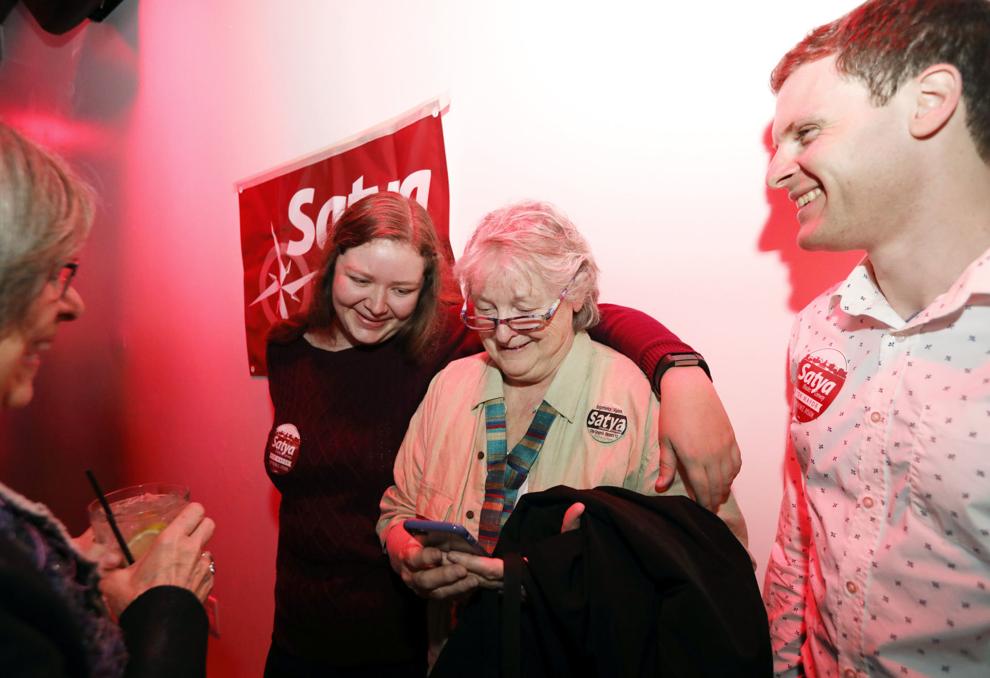 Before the primary, from July 1, 2018, through Feb. 4, Cheeks has raised $128,727, Shukla $128,217, Soglin $112,029 and Rhodes-Conway $83,331.
For the general election, in the most recent reports, which cover financial activities from Feb. 5 through March 18, Rhodes-Conway raised $125,754 and Soglin $77,265, the total again far greater than four years ago, when Soglin had raised $46,230 and former alderman and challenger Scott Resnick $43,109.
From July 1 through March 18, Rhodes-Conway has raised $210,085 compared to Soglin's $189,294.
State Journal reporters Shelley K. Mesch and Kelly Meyerhofer contributed to this report.
Editor's note: This story has been updated to reflect a correction. An earlier version misstated Landmarks Commission chairman Stuart Levitan's position in the mayoral race. He had not endorsed either candidate.