The new era of Madison politics has begun.
A day after her historic, sweeping victory over Mayor Paul Soglin, former Ald. Satya Rhodes-Conway on Wednesday vowed a smooth transition, collaboration and diversity of opinion in her coming administration, and renewed a campaign commitment to racial equity, more affordable housing, creating more transportation options and preparing for climate change.
After a meeting with Soglin and taking a call of congratulations from Gov. Tony Evers on Wednesday morning, the mayor-elect opened her first post-election press conference at the Village on Park Street on the South Side with nine words: "I'm Satya Rhodes-Conway, the next mayor of Madison."
Rhodes-Conway said Soglin was gracious during a fruitful, two-hour transition meeting that covered a range of subjects from City Hall to relationships at the federal level.
"He was very generous," she said. "I have tremendous respect for Mayor Soglin. He has served the city honorably for a long time. It's clear to me he'll continue to serve the city well by helping with a smooth transition."
In an interview, she added, "I'm excited. I'm eager to get to work."
Rhodes-Conway, who will take office on April 16, put a major emphasis on recruitment for staff openings and city committees.
"For real progress to occur, I'll need innovative, talented, committed people around me, both in the mayor's office and as resident volunteers on city committees," she said.
Rhodes-Conway announced her first hire, naming Mary Bottari as chief of staff. Bottari worked for former state Sen. Lynn Adelman; as press secretary for former U.S. Sen. Russ Feingold; for the national consumer group, Public Citizen; and at the Center for Media and Democracy.
The mayor-elect will be hiring four other staff positions, but all department and division heads have five-year contracts that end at varying times, city attorney Michael May said.
Soglin declined to be interviewed on Wednesday. In remarks at his campaign gathering Tuesday night, he said it was a well-fought and successful campaign for Rhodes-Conway, that the two would be meeting Wednesday, and that he plans to look for a job.
'We start now'
"We start now" to work on lowering the cost of housing, improving the transportation system, especially Bus Rapid Transit, and dealing with the impacts of climate change, she said, but offered no new specifics beyond those she laid out during her campaign.
"We are going to be taking a look at everything," she said in the interview. "I am not going to move hastily on anything."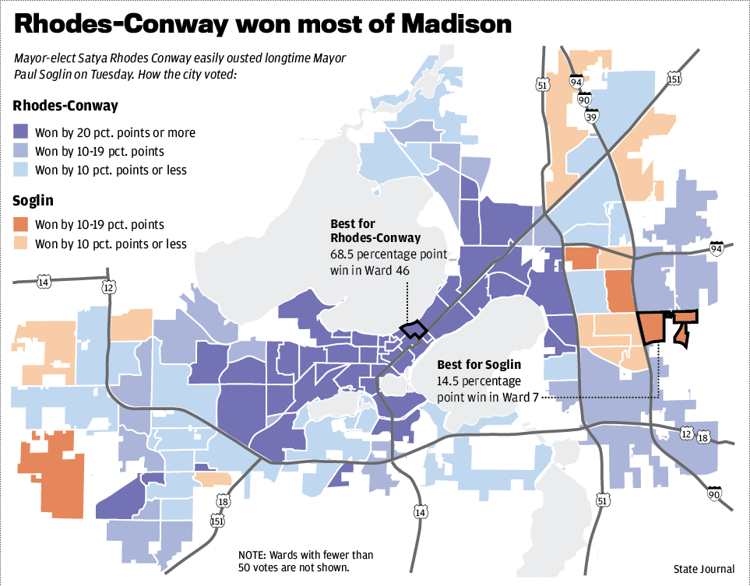 During the campaign, she said the massive, two-block Judge Doyle Square redevelopment, where the city is completing an underground public parking garage, ground-level commercial space and two floors of private parking but sparring with a developer, Beitler Real Estate Services of Chicago, over private elements of the project, has suffered from "colossal mismanagement" in the mayor's office.
You have free articles remaining.
Register for more free articles
Stay logged in to skip the surveys
On Wednesday, she voiced optimism about a new request for developer proposals for a project above the parking garage on the Madison Municipal Building block but expressed continued concern about Beitler building a hotel and housing on the Government East parking garage block.
She declined to get into specifics, saying only, "I'm very committed to urban density and a strong Downtown."
The mayor-elect called the idea of the Public Market "very exciting" but said it must have a sound business plan that doesn't rely on an operating subsidy.
On the town of Madison, where Soglin has pushed for an early annexation, Rhodes-Conway said, "the first step is a conversation with all parties and then we'll see what we'll do."
She said she hopes for a positive relationship with Police Chief Mike Koval but said her emphasis won't be on more police officers but rather delivering resources for those with mental illness and substance abuse problems. Asked whether she'd keep police officers in the Madison schools, she said, "ask the new School Board," and that she looks forward to working with the board and superintendent Jennifer Cheatham.
Rhodes-Conway was encouraged by her conversation with Evers, saying she hopes the governor will support a return of local control to cities in Wisconsin, especially to allow the creation of Regional Transit Authorities to help fund initiatives like Bus Rapid Transit and strengthening tenant rights.
Still sinking in
In her campaign, Rhodes-Conway, managing director of the Mayors Innovation Project at UW-Madison's Center on Wisconsin Strategy who served on the City Council from 2007 to 2013, previewed the change to come.
"A lot of it has to do with leadership style," she said Wednesday, explaining that her style centers on vision and a collaborative approach. "That's who I am. That's what I'll do."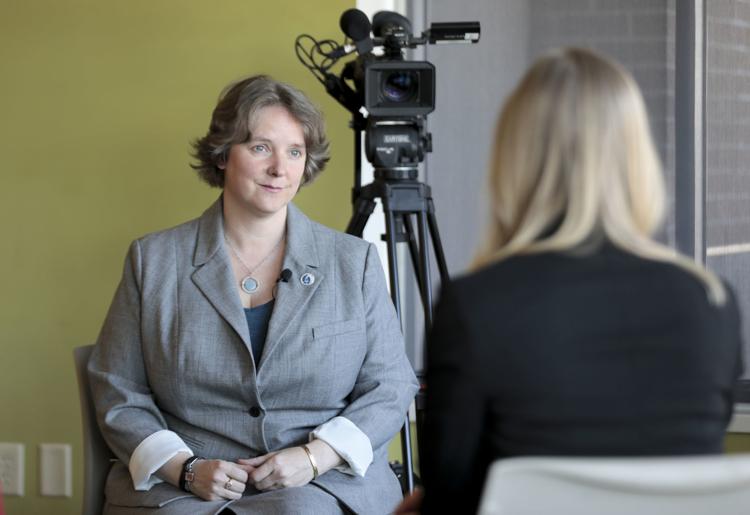 The wide margin of victory, 62% to 38%, is still sinking in, she said.
Rhodes-Conway dominated the Isthmus and Near East and West sides, winning many wards by 20 percentage points or more and capturing one ward near Capitol Square by a staggering 68.5-point margin. She also flipped many wards in former Soglin strongholds on the Far East and West sides.
The challenger launched a formidable campaign, with a large team of volunteers knocking on doors and attending events around the city, said Katherine Cramer, professor of political science at UW-Madison. Also, "her background in city policy-making with the Mayor's Innovation Project lent her candidacy a great deal of credibility and came across in her informed and poised performances in the debates," she said.
There were other signs, too, Cramer said, pointing to efforts by the Local Voices Network, a public conversation network that engages volunteers in small group discussions that are recorded and shared. The network launched in Madison this spring and is branching out to other places.
Participants have been expressing a great deal of concern about racism, transportation and housing affordability, and a sense that too little is being done, Cramer said.
"That kind of sentiment likely worked against Soglin," she said. "Rhodes-Conway likely gained traction by emphasizing the need for change on each of them."
The landslide, if it is a mandate, "is a mandate to get to work on the issues I've been talking about in the campaign," Rhodes-Conway said.