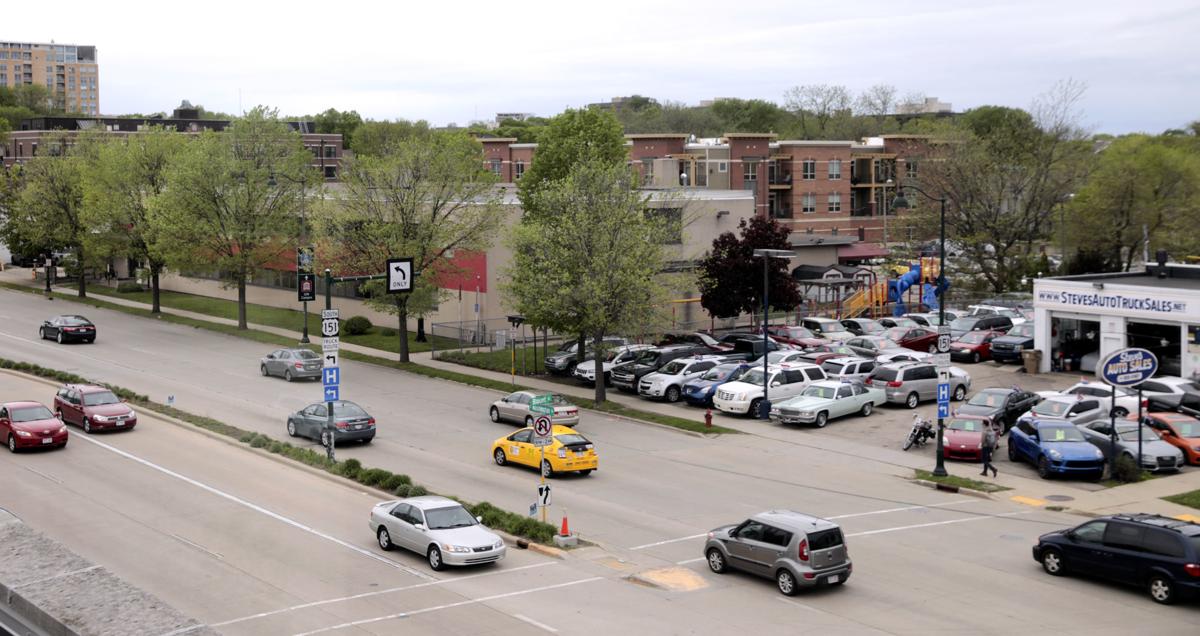 After initial meetings with the neighborhood and city officials, the Salvation Army of Dane County has refined plans for a roughly $25 million project with a new homeless shelter, transitional rooms, and income-based and non-subsidized housing on the near East Side.
The nonprofit Salvation Army, which operates two distinct homeless shelters in its current building, the former St. Patrick's Catholic School, 630 E. Washington Ave., introduced preliminary plans for its site in 2016, but pulled back as it worked with its regional hierarchy. It offered concepts on a bigger, 2.25-acre site in mid-May, and has now submitted revised plans for city review.
The design changes and refinements come amid continuing concern about security and safety at the existing Salvation Army property and how those issues will be addressed in a redevelopment.
"The services currently provided by the Salvation Army, and those proposed for the new site, are desperately needed," said Ald. Patrick Heck, 2nd District, who represents the area. "(But) the Salvation Army and the city need to show solid evidence that safety and security will improve substantially for the clients and the neighborhood."
Tenney-Lapham Neighborhood Association president Patty Prime said the chief concern about the project among neighbors is that there are current problem behaviors in the Salvation Army parking lot and the surrounding area.
"If they cannot be managed now, how could they be trusted to manage them in the future?" Prime said. "Does Salvation Army have the operating budget to prioritize security, now and in the future?"
The Salvation Army is listening and trying to address concerns, Maj. Andrew Shiels said, adding that the nonprofit has engaged a safety consultant to study current facilities and recommend temporary changes and is working with security experts in designing the new buildings.
"We know there are challenges," he said. "It's been good listening to the feedback. The reality is we want to be good neighbors."
An informational presentation is set for the city's Urban Design Commission for 4:30 p.m. Wednesday.
To address needs with proper facilities, the Salvation Army is proposing a project that would involve its own 1.34-acre site plus adjacent property. The nonprofit is under contract to buy a used-car dealership at 648 E. Washington Ave., a building at 12 N. Blount St., a parking lot at 655 E. Mifflin St., and the QTI/U.S. Post Office building at 702 E. Washington Ave., although the project doesn't involve the latter property with a possible resale.
The proposed campus would include a five-story building with emergency shelter and transitional housing at the corner of East Washington Avenue and Blount Street, a one-story attached gymnasium/auditorium/chapel with a mezzanine-level walking track, outdoor playground and separate entry behind the main building in the center of the block, and a three-story apartment building with 40 to 45 units at the corner of North Blount and East Mifflin streets.
The Salvation Army relocated the gymnasium and apartment building after hearing input from the neighborhood and city officials, Shiels said. The changes also allow a shift of the main entrance to North Blount Street and the creation of a courtyard-like space with some surface parking between the buildings, said Marc Ott of JLA Architects.
"It's all preliminary," Shiels stressed. "All this stuff can change."
Those moves are being well received, but skepticism remains about the Salvation Army's ability to reduce bad behavior outside its property and in the neighborhood, Heck said.
The main building's first floor would provide space for mental health, medical and dental clinics, a cafeteria, multi-purpose room, training center, meeting and office space. The dedicated spaces would make clients feel more at ease and allow more efficient delivery of services, social services executive director Melissa Sorenson said.
The second floor would have 64 emergency shelter beds for single women, plus 40 "pay-to-stay" beds with a nominal cost of $5 to $7 a day intended for use during the day by single women working second or third shifts. The floor would have locker rooms, lounges, laundry rooms and office space.
The third floor would provide 30 single-occupancy rooms with shared bathrooms and kitchen, laundry and lounge rooms for single women who would pay modest program-service fees. The fourth floor would have 41 free family shelter rooms with shared bathrooms, lounges and laundry, and the fifth floor would have 14 respite shelter rooms with shared bathrooms and lounges for single men or women and those with children who are discharged from the hospital but need some supervised care.
The separate, three-story apartment building would have a mix of units, some for those making no more than 60% of Dane County median income, or $49,560 for a family of three, some for those making up to 80% of county median income, and others with no subsidy.
The main building would have 66 underground parking spaces, with 24 surface spaces near the clinics, and another 18 surface spaces between the main building and the apartment building, which would have 32 underground parking spaces.
"Nobody wants to be homeless," Shiels said, adding that the offerings present an opportunity for progression to permanent housing. "Our goal is to get people rehoused as fast as we can."