Democrat Russ Feingold, facing a late crush of campaign spending by outside groups in his bid to unseat Republican U.S. Sen. Ron Johnson, said Tuesday that it shows "outside corporate interests" are scrambling to salvage Johnson's candidacy.
Feingold's remarks came at a campaign event Tuesday at UW-Madison.
Feingold, of Middleton, also declined to criticize FBI Director James Comey, as many other Democrats have done, for telling Congress on Friday that the bureau is reviewing newly discovered emails that may be relevant to its prior investigation into Democratic presidential nominee Hillary Clinton's use of a private email server when she was U.S. secretary of state.
U.S. Sen. Tammy Baldwin, a fellow Wisconsin Democrat who joined Feingold at the event, said Comey "made an error in judgment" by releasing the information so close to Election Day.
Polls had consistently shown Feingold solidly leading the incumbent Johnson, R-Oshkosh, who defeated him six years ago.
But some recent polls have shown a tighter race; a Marquette Law School Poll released Oct. 12 showed Feingold leading Johnson 46 percent to 44 percent among likely voters.
In the last week, outside groups have rolled out millions in ad buys in the race, which some see as a further sign that those groups believe Feingold's lead, long viewed by many as secure, is now in jeopardy.
Feingold said at a news conference Tuesday that "what you're seeing is the corporate powers in this country quickly coming into Wisconsin to try to save Sen. Johnson."
"What's really happening here is the exploitation of this corrupt system that Sen. Johnson loves," Feingold said. "He has benefited far more than I have — some three times — from these outside groups."
Feingold also said he welcomes the perception that his race with Johnson is tightly contested, suggesting it could motivate his supporters.
"I want people to think it's really close. I want people to work like we're down by a couple points," Feingold said.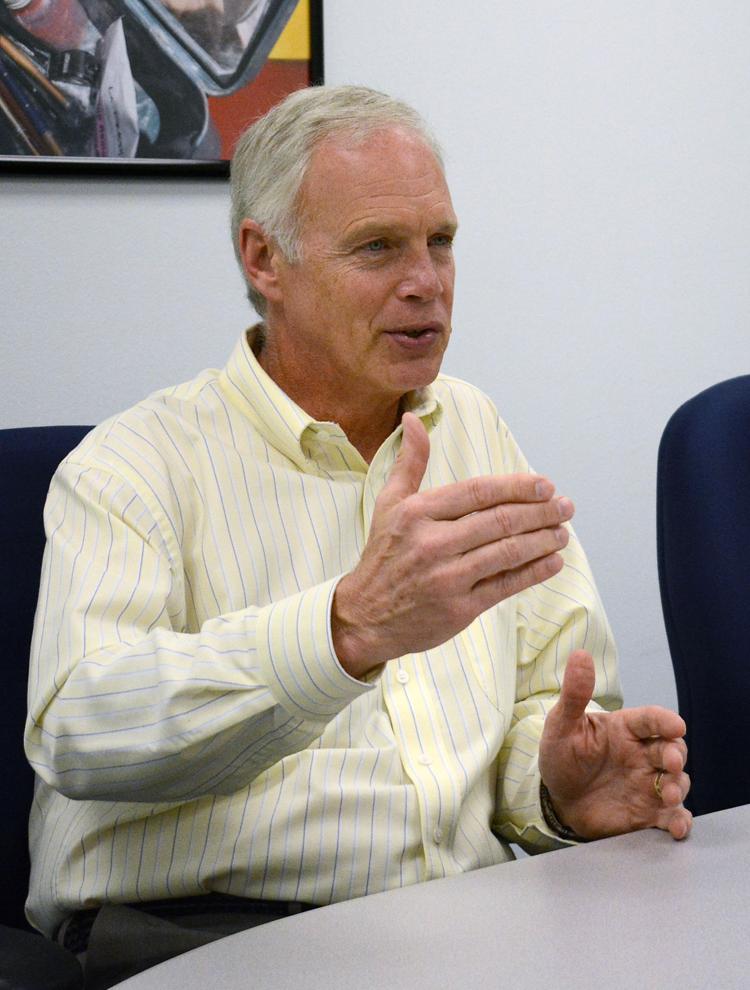 Johnson's campaign said the flurry of late activity shows Johnson has the wind at his back.
"With seven days remaining, Ron clearly has the momentum as he visits every corner of the state to ask Wisconsinites for their support," Johnson spokesman Brian Reisinger said in a statement.
While groups on both sides have recently announced ad buys in the race, the bulk of outside spending is working to Johnson's benefit.
The latest expenditures in the race came from Americans for Prosperity, backed by the billionaire Koch brothers, and Reform Wisconsin Fund, a super PAC funded by a group bankrolled almost entirely by Afton billionaire Diane Hendricks.
Reform Wisconsin Fund announced a $628,000 ad buy Tuesday that blasts Feingold for supporting President Barack Obama's nuclear deal with Iran.
Wisconsin's chapter of Americans for Prosperity announced it was launching a nearly $1 million television ad buy to aid Johnson.
Senate Leadership Fund, a political action committee run by allies of Senate Republican Leader Mitch McConnell, announced Monday it is running $2 million in broadcast and cable ads in at least five Wisconsin markets touting Johnson. The U.S. Chamber of Commerce also announced a six-figure ad buy Friday blasting Feingold for supporting Obama's health care law.
On the Democratic side, the Senate Majority PAC on Friday announced a surprise late $2 million ad buy in Wisconsin to help put Feingold over the top.
Feingold declined Tuesday to go after Comey for his letter to Congress, which said "the FBI cannot yet assess whether or not this material may be significant" and that it's unclear how long the review of the emails will take. Despite the letter's lack of clarity, it rocked the presidential election and gave a lifeline to Republican Donald Trump, who consistently has trailed Clinton in polls.
"Obviously it's incumbent on the FBI to provide as much information as they can because of the potential effect this could have on the presidential election," Feingold said Tuesday.
Democrats and some Republicans, including Senate Judiciary Committee Chairman Chuck Grassley, R-Iowa, and Alberto Gonzales, U.S. attorney general under former President George W. Bush, have criticized Comey's actions.
Baldwin, D-Madison, said Comey sent out "a vague letter saying basically he didn't know what he was looking at."
"He's receiving a great amount of scrutiny right now," Baldwin said. "I believe he's a man of integrity, but I think he misjudged this one."