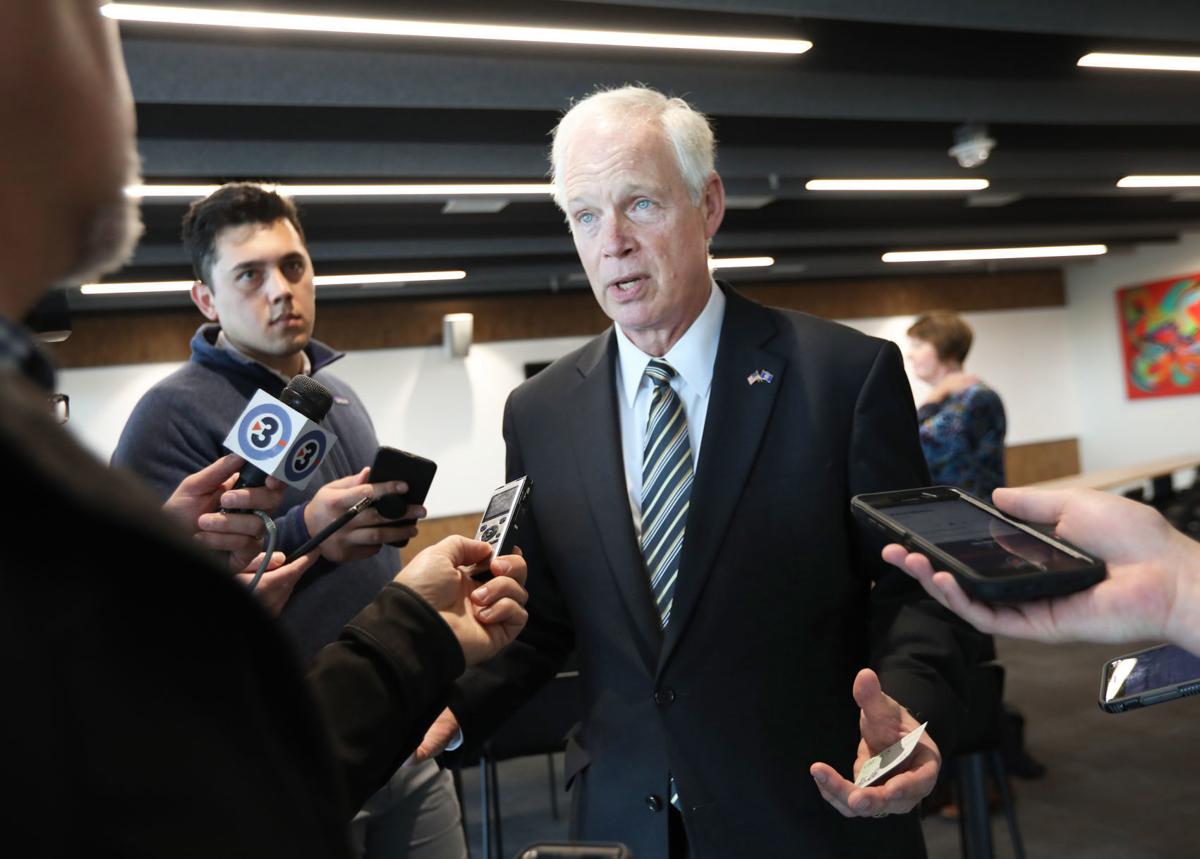 U.S. Sen. Ron Johnson said Thursday he sees nothing wrong with President Donald Trump's public call for the Chinese government to investigate Democratic presidential candidate Joe Biden and his son.
The Oshkosh Republican's comments come as Trump faces an impeachment inquiry from Democrats over allegedly using the office of the presidency to pressure another foreign government — Ukraine — to investigate former Vice President Biden and his son, Hunter.
"I don't think there's anything improper about it," Johnson said. "We have proper agreements with countries to investigate potential crimes. I don't know what may or may not have happened with China and the Bidens, but I think an awful lot of those investigations can actually occur here in America."
Despite Trump's rhetoric, there is no evidence of any wrongdoing by Biden or his son in either China or Ukraine.
House Democrats in September launched an impeachment inquiry focusing partly on whether Trump abused his presidential powers and sought help from a foreign government to help his own reelection.
Trump has sought to implicate Biden and his son in the kind of corruption that has long plagued Ukraine. Hunter Biden served on the board of a Ukrainian gas company at the same time his father was leading the Obama administration's diplomatic dealings with Kyiv. Though the timing raised concerns among anti-corruption advocates, there has been no evidence of wrongdoing by either the former vice president or his son.
Democrats have argued Trump's calls for foreign investigations of his opponent defy a federal prohibition on candidates soliciting a thing of value from a foreign government, and constitute an abuse of the office of the president.
In Middleton, Johnson said there are a number of unanswered questions regarding Hunter Biden's business dealings in China, and that the American public, Democratic primary voters and Trump have a right to know about it.
You have free articles remaining.
"If there's some scandal sitting outside there, whether it's in Ukraine, between Vice President Biden's son or in China, I would think they'd want to know that before they start casting their ballots in the Democratic primary," Johnson said.
Johnson said he doesn't trust the Chinese or Ukrainians more than U.S. investigative authorities, but that it's sometimes necessary for U.S. authorities to work with foreign governments to investigate potential crimes.
Speaking to the Middleton Chamber of Commerce, Johnson downplayed concerns about Trump's phone call with the president of Ukraine that sparked the impeachment probe. Trump has defended his contact with Ukraine as "perfect."
"I look at that transcript and it's Trump being Trump," Johnson said of the call. He said Democrats and the media were putting "the worst possible construction" on the call.
2016 letter
Johnson also said he had no knowledge of a 2016 letter he signed onto pushing Ukraine to reform its prosecutor general's office and judiciary.
The bipartisan letter, unearthed by national media on Thursday, appears to undermine claims made by Trump and Republicans that Biden pressured the Ukrainian government to fire then-Prosecutor General Viktor Shokin to stop investigations into the Ukrainian natural gas company connected to Hunter Biden.
The 2016 letter, sent by members of the Senate Ukraine Caucus, was signed by Republican Sens. Rob Portman, Mark Kirk and Ron Johnson, as well as Democratic Sens. Dick Durbin, Jeanne Shaheen, Chris Murphy, Sherrod Brown and Richard Blumenthal, and focused on longstanding issues of corruption in Ukraine and urged reforms of the government.
Johnson told reporters he didn't know to which 2016 letter reporters were referring.
"I don't engage in hypocrisy," Johnson said. "I'm looking at getting the truth, and I'm trying to be supportive of eastern European countries."
The Associated Press contributed to this report.