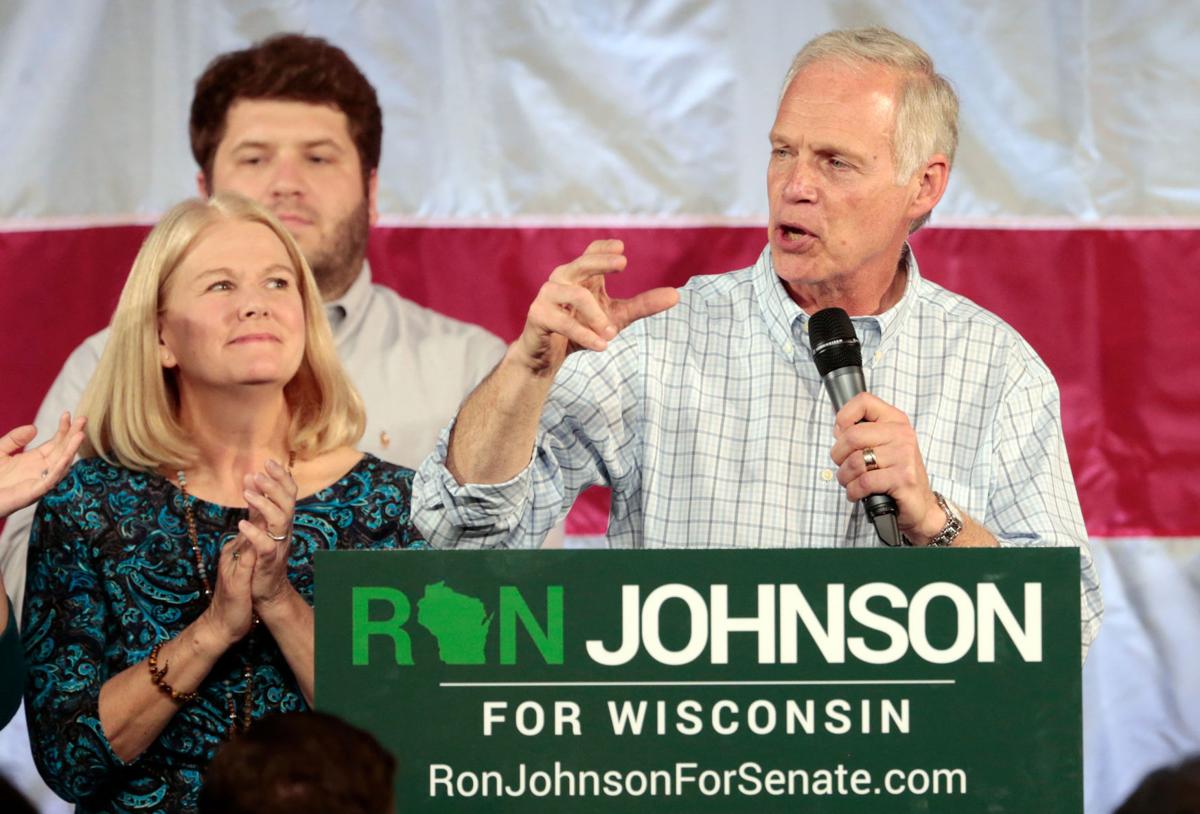 OSHKOSH — Republican Sen. Ron Johnson of Oshkosh won re-election Tuesday in a come-from-behind victory that mirrored the unexpectedly strong showing by GOP presidential nominee Donald Trump.
Democrat Russ Feingold conceded the race to Johnson shortly after 10 p.m. Tuesday, a Feingold campaign official confirmed.
While Johnson pledged he and his party would "save this country," Feingold warned his supporters the nation was facing one of its darkest hours, an apparent reference to Trump's surprising surge in nearly all swing states, including Wisconsin.
Johnson's victory, his second over Feingold in the last six years, is one of the biggest Wisconsin political upsets in decades. It was aided by the stunningly strong showing from Trump — who, like Johnson, was on track to drastically out-perform his standing in polls of the Badger State — and by millions of dollars in last-minute campaign ads.
The result helped ensure Republicans will likely retain control of the U.S. Senate in 2017 — an outcome that could influence the legislative agenda and makeup of the U.S. Supreme Court, among many other key issues.
"It's a big night for Wisconsin, it's a great night for America," Johnson told a crowd of cheering supporters in Oshkosh. "We're going to put America on the right path."
"We're going to save this country," he said.
Johnson said his top priority is the economy; he called for strengthening it through measures such as reducing regulations on businesses. Johnson also declared his next six-year term would be his last.
Feingold had a different view of Tuesday's outcome and what it meant for the nation.
"I'm sorry we didn't get the job done," Feingold said. "Obviously, something is happening to this country tonight. I don't understand it completely. I don't think anybody does."
Feingold struck a grim tone and portrayed the nation's future as uncertain. At the same time, he urged his supporters to stay calm.
"I urge you to be restrained as you can be as the next steps occur. We don't know exactly what they're going to be, but this could be one of the most challenging times in the history of our country," Feingold said.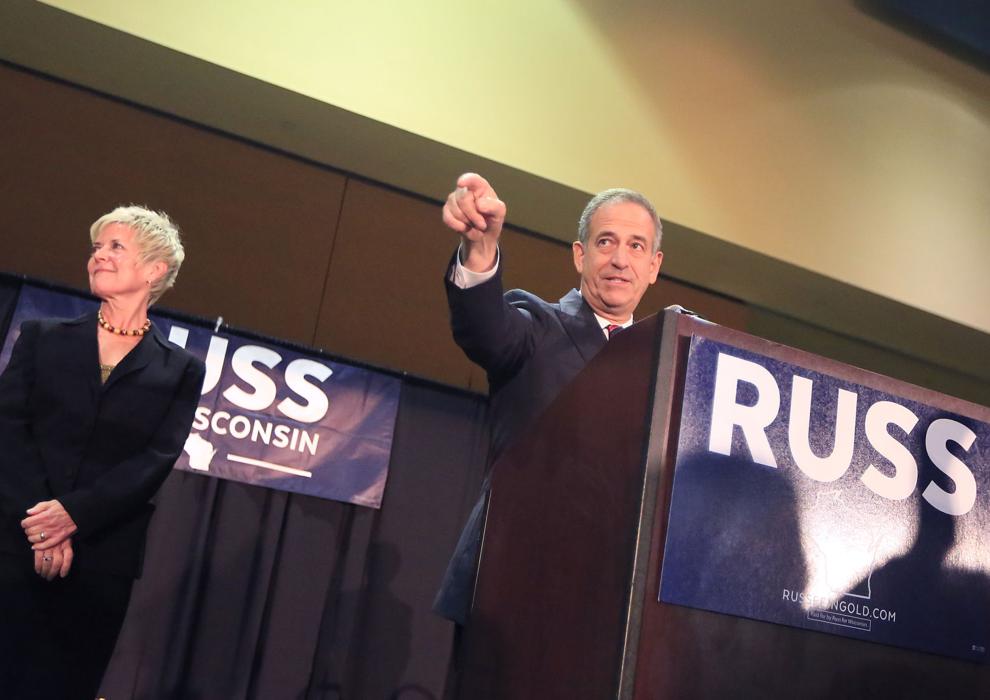 Strong showing in Fox Valley
As in the presidential race, Tuesday's results diverged widely from the most recent polls. Johnson held a comfortable margin early Wednesday with 96 percent of precincts reporting.
The most recent Marquette Law School Poll showed Feingold, D-Middleton, getting 45 percent support and Johnson, R-Oshkosh, 44 percent. Most other public polls showed Feingold leading by greater margins.
Roger F. Wicker, chairman of the National Republican Senatorial Committee, said Johnson's campaign "just set a new standard for how to thrive in an unpredictable environment."
Johnson's win appears to have been powered by a stronger-than-expected showing in rural Wisconsin and the Fox Valley, including areas that typically are tightly contested between the two major parties.
It is the second time Johnson has defeated Feingold in a U. S. Senate race – the last time coming in 2010 when Feingold was seeking a fourth term.
In this rematch, Johnson's win may have been even more improbable. He trailed Feingold by significant margins in polls conducted throughout the campaign, causing many national observers – even some Wisconsin Republicans – to write Johnson off.
Johnson becomes the first Republican since Bob Kasten in 1980 to win a U.S. Senate race in Wisconsin in a presidential election year, when the state typically tilts toward Democrats.
He also may have dealt the finishing blow to the political career of Feingold, an iconic figure to Wisconsin Democrats with a big national standing among liberal activists.
Feingold's loss is yet another crushing defeat for Badger State Democrats, who've been battered in recent years by a string of setbacks in the state Capitol.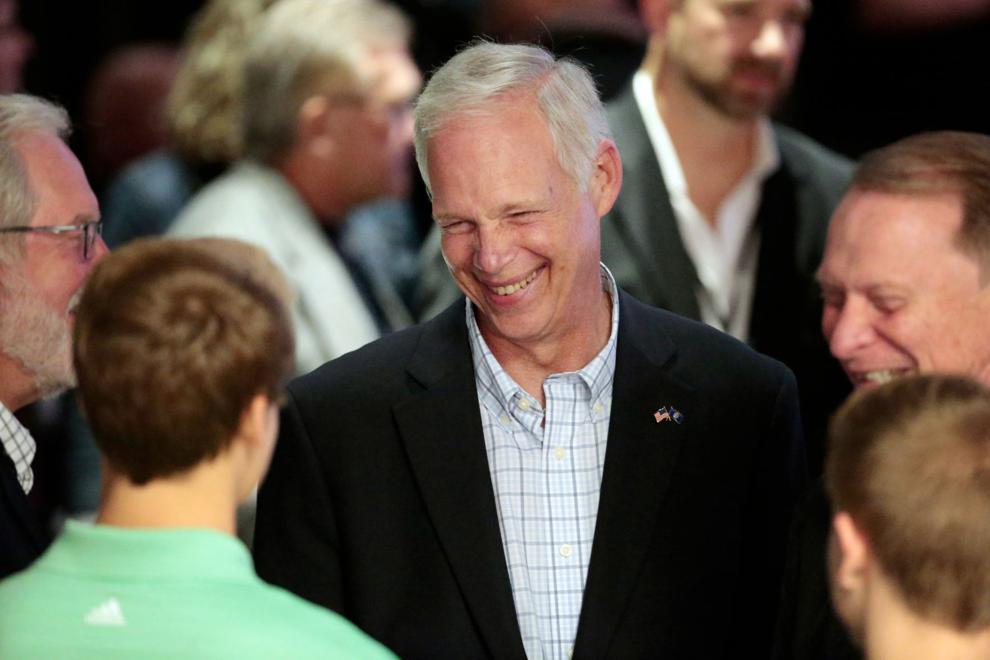 Increasingly personal race
During the campaign, Feingold hammered Johnson for his positions on the minimum wage, student debt and senior programs such as Social Security and Medicare. He cast himself as the candidate more attuned to the concerns of Wisconsinites, while portraying Johnson as an out-of-touch CEO who took a $10 million payout from the manufacturing company he co-founded, Pacur.
Feingold sharply criticized Johnson for refusing to disavow support for Trump, as did some Republican U.S. Senate candidates in other states.
Johnson criticized Trump for various controversial remarks the GOP nominee made throughout the campaign, but maintained support for his party's standard-bearer.
From a purely political standpoint, that decision appears to have been vindicated by Tuesday's results.
Johnson frequently criticized Feingold as a hypocrite who had changed from the independent, bipartisan figure who had been broadly popular in Wisconsin for much of his 18 years in Washington, D.C. He criticized Feingold, whose name is closely tied to the bipartisan campaign-finance overhaul he cosponsored with GOP Sen. John McCain, for launching his own political action committee after leaving the Senate in 2011.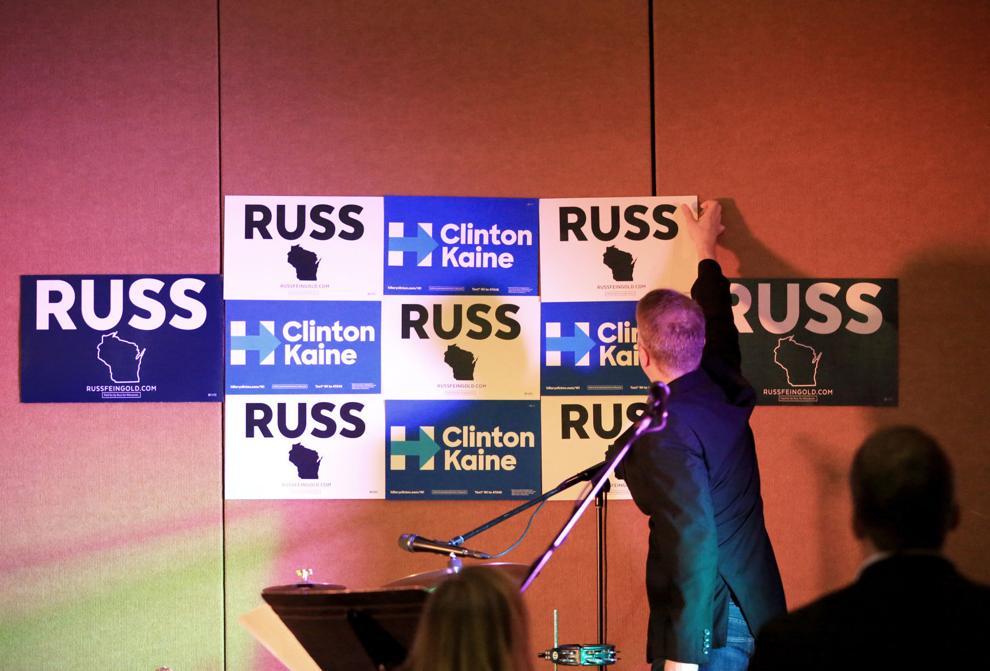 The race became increasingly personal in its closing weeks as Johnson declared Feingold a "phony" and said he didn't respect him.
A series of TV ads run by the Johnson campaign that emphasized the candidate's family and charity work was widely credited with giving him a boost in the campaign's final weeks.
In polls conducted earlier in the campaign, many voters said they didn't know enough about Johnson to say whether they viewed him favorably.
The Johnson campaign responded with a string of TV ads that featured Johnson changing his grandson's diaper and detailing his charitable work helping African-American men in inner-city Milwaukee find work.
Johnson also got a lift in the closing days of the campaign from super PACs and other outside groups that aired TV ads in the race. Figures reported to the Federal Election Commission as of Election Day showed groups working for Johnson or against Feingold outspent groups for Feingold or against Johnson by a nearly two-to-one margin, according data compiled by the Center for Responsive Politics.