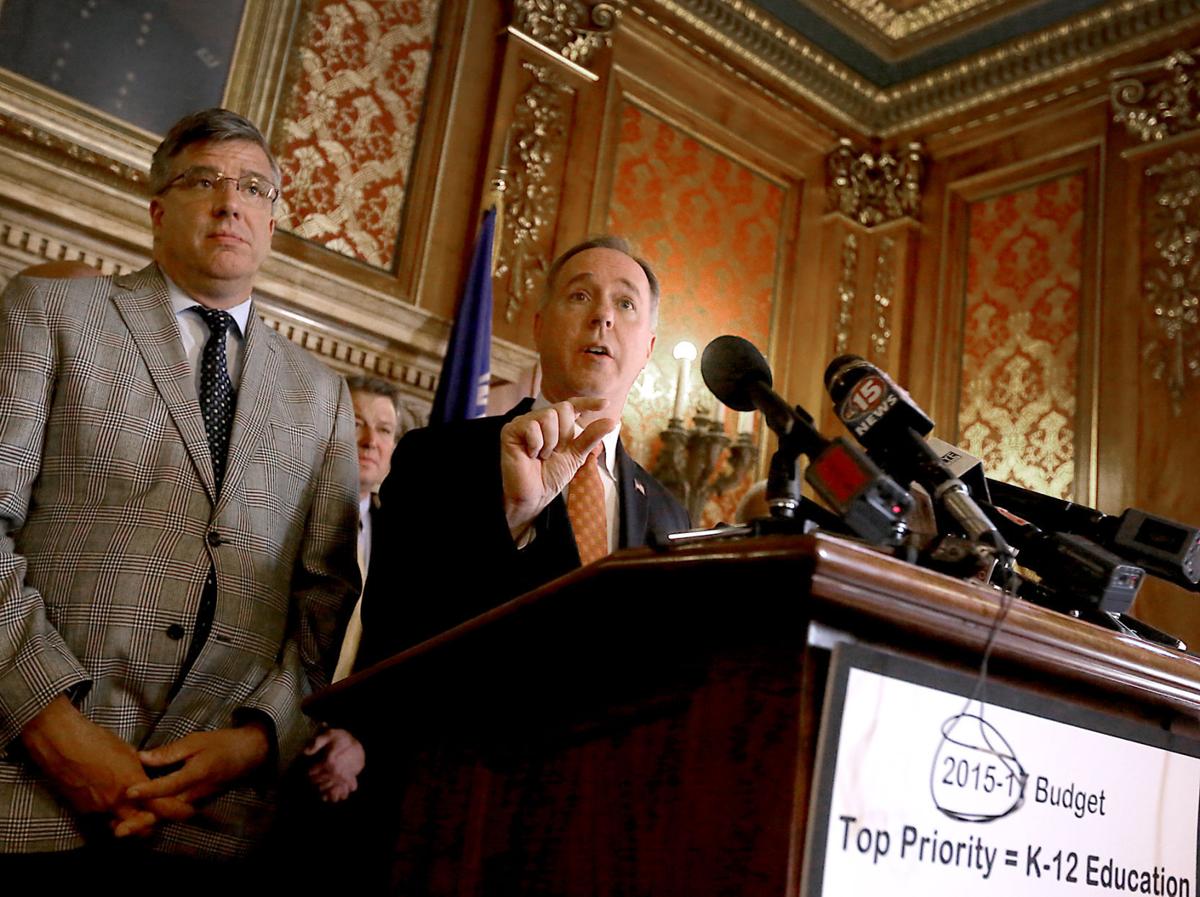 Boasting their most lopsided majority in six decades, state Assembly Republicans have re-elected Speaker Robin Vos and Majority Leader Jim Steineke to lead their caucus, while pledging "bigger, bolder" changes beyond those made in the last five years.
Vos, R-Rochester, the Assembly Speaker since 2013, was unanimously re-elected without a challenge Monday to lead a Republican majority that defied predictions to grow even larger in last week's election.
Steineke, R-Kaukauna, was one of Wisconsin's most prominent GOP voices against President-elect Donald Trump during the campaign. He was re-elected to his leadership post, fending off a challenge from Rep. Kevin Petersen, R-Waupaca.
Both votes came at the first caucus meeting of Assembly Republicans since the Nov. 8 general election.
Steineke hailed the Republican takeover of the federal governmentin the election, cemented by Trump's win. In a press conference, Steineke said he had a message for those who thought Republican lawmakers in Wisconsin were busy the last five years.
"You haven't seen anything yet," Steineke said. "There's bigger, bolder reforms coming."
Steineke did not offer specifics. It's likely that the now-GOP-controlled federal government will try to repeal President Barack Obama's health care law and make other changes next year that would force states to take action in response.
In recent months, Assembly Republicans have talked about taking action in 2017 to create a new kind of school voucher, shore up state road funding, end the University of Wisconsin System tuition freeze and provide all high school freshmen with a laptop or tablet. Other possibilities include new tax cuts and elimination of the prevailing wage requirements for workers who build roads or government buildings.
Assembly Democrats are set to meet Tuesday to pick their leaders. Assembly Minority Leader Peter Barca of Kenosha said Monday he will seek that post again.
You have free articles remaining.
Due in part to Trump's strong showing — especially in the rural areas and small towns that have been battlegrounds in recent elections — the GOP caucus returned all its incumbents in the election. It gained one seat, in the 92nd Assembly District, where Treig Pronschinske, R-Mondovi, beat Rep. Chris Danou, D-Trempealeau.
That gives Republicans a 64-35 edge over Democrats in the Assembly — their largest majority since 1957, Vos told cheering lawmakers at Monday's meeting.
State Senate Republicans also grew their majority by at least one seat, to at least 20 seats. Republican Patrick Testin of Stevens Point ousted Democratic Sen. Julie Lassa, also of Stevens Point, in Senate District 24.
In District 32, Senate Minority Leader Jennifer Shilling, D-La Crosse, is clinging to a 56-vote unofficial win over Republican Dan Kapanke, also of La Crosse. The election will be subject to a recount if Kapanke's campaign requests it.
Other Assembly GOP leadership posts also were voted upon Monday, with a few new faces emerging.
Rep. Rob Brooks, R-Saukville, was elected assistant majority leader, succeeding Rep. Dan Knodl, R-Germantown. Knodl, in turn, was elected majority caucus chairman, succeeding outgoing Rep. John Murtha, R-Baldwin. Rep. Romaine Quinn, R-Rice Lake, was elected caucus vice chairman.
Those re-elected included: Rep. Tyler August, R-Lake Geneva, as Assembly speaker pro tempore, the chamber's procedural chief; majority caucus secretary Jessie Rodriguez, R-Oak Creek; and majority caucus Sergeant At Arms Samantha Kerkman, R-Salem.
Vos did not indicate Monday which representatives he would appoint from his caucus to the Legislature's 16-member Joint Finance Committee, which leads the budgeting process.
Assembly Republicans on the panel the last two years were co-chairman John Nygren, R-Marinette; vice-co-chairman Dale Kooyenga, R-Brookfield; Amy Loudenbeck, R-Clinton; Michael Schraa, R-Oshkosh; Mary Czaja, R-Irma; and Dean Knudson, R-Hudson.
A successor for Knudson must be named because he did not seek re-election.
Vos' Senate counterpart, Senate Majority Leader Scott Fitzgerald, R-Juneau, made clear at last week's Senate GOP leadership elections that he would re-appoint all six Senate Republicans to the joint finance panel.