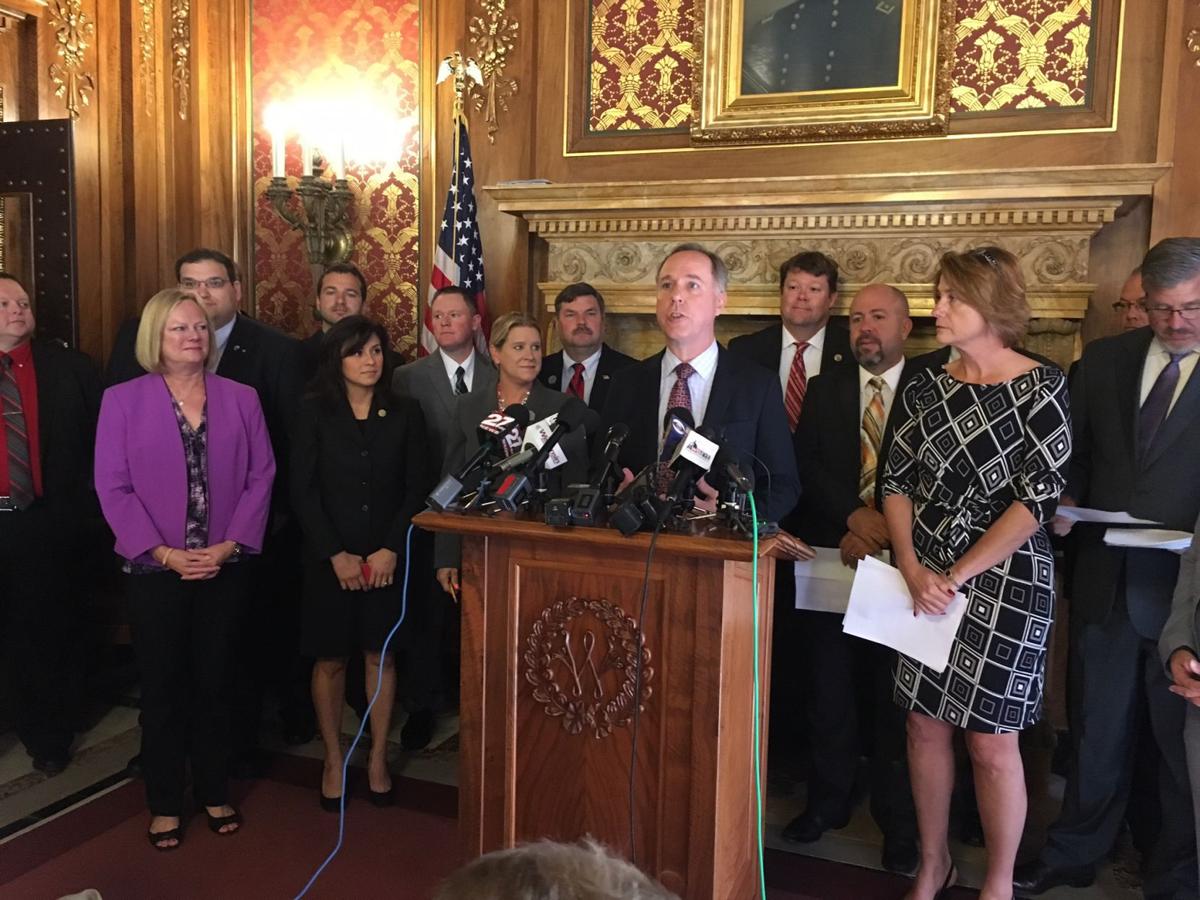 A rift between Assembly and Senate Republicans on the state's long-overdue budget reopened Wednesday just before the Assembly passed the state's next two-year spending plan, with Speaker Robin Vos digging in against a handful of Senate Republicans blocking its passage.
Senate Majority Leader Scott Fitzgerald said Tuesday that he lacks the 17 votes needed to pass, through the 33-member chamber, the budget that cleared the Legislature's Joint Finance Committee last week.
Fitzgerald said four or five GOP senators are holding out, citing objections that include the budget's overall spending levels, changes to the statewide private school voucher program, transportation plan, or timeline for a proposed repeal of the state's prevailing wage requirement.
Senate Republicans met privately Wednesday to discuss the budget but failed to reach agreement, Fitzgerald said. He said he still hopes to strike a deal and vote on a budget by Friday.
Meanwhile, before the Assembly passed the state budget 57-39 on Wednesday, Vos said he refused to acquiesce to "wholesale" budget changes at the last minute.
"We're not going to be held hostage to individuals who have some kind of a wish list," Vos said.
By 11 p.m., the budget passed with five Republican lawmakers voting against the spending plan: Reps. Scott Allen, R-Waukesha, Janel Brandtjen, R-Menomonee Falls, Bob Gannon, R-West Bend, Adam Jarchow, R-Balsam Lake, and Joe Sanfelippo, R-New Berlin. All Democrats voted against the bill, too.
The state budget bill now heads to the Senate, which either will pass it or amend it and return it to the Assembly for final passage even though Vos laid down the gauntlet in a Wednesday press conference, saying his chamber won't revisit the budget after Wednesday.
"The time for changes to the budget has expired," Vos told reporters on the Assembly floor during Wednesday's debate.
But Fitzgerald said Vos was wrong. If the Senate passes a different budget bill, the Assembly will need to come back to the floor to vote on that plan.
"The process is you can go back and forth between the houses," he said. "It would be nice to have everything wrapped up by Friday but I don't know if we're there yet."
The $76 billion budget, which sets spending levels for state government through June 2019, already is more than 10 weeks past due. Progress on the budget had been stalled until last week, when the budget-writing Joint Finance Committee restarted it by passing an updated version.
Assembly Republicans, during Wednesday's debate, cast the budget as having something for everyone: cutting taxes, boosting school and university funding, reducing transportation borrowing and ensuring the state Department of Transportation operates more efficiently.
"We worked really hard to find that consensus — we worked hard to find solutions to many problems," Vos, R-Rochester, said, adding he wishes more could have been done to address the transportation fund's shortfall.
Assembly Democrats said the budget shows Republicans' priorities by "rigging" the state's economy to favor the wealthy, large corporations and their campaign donors.
"We don't even know if the Senate can pass this budget, it's so bad," Assembly Minority Leader Peter Barca, D-Kenosha, said before voting no.
Meanwhile, Gov. Scott Walker — contrary to Vos — said Wednesday morning that he's open to changing the state budget to mollify Republican senators delaying its passage.
Transportation deal key
The budget breakthrough in the Joint Finance Committee was made possible by a deal between Walker, Vos and Fitzgerald on transportation spending, the most contentious item.
The deal delays several high-profile freeway expansions in the Milwaukee area and cuts statewide funding for resurfacing and rebuilding existing highways. It preserves funding for two ongoing projects in Dane County: one to expand and rebuild Verona Road near McKee Road; the other, U.S. Interstate 39-90 from the Madison area to Illinois.
It implements a new fee on hybrid and electric vehicles, which supporters call a move to tax such vehicles more comparably to vehicles powered solely by fossil fuel.
The budget also includes a $639 million funding increase for Wisconsin school districts and boosts the household income limits for participation in the statewide private voucher school program.
The UW System gets a $31.5 million funding boost, with the extra money tied to certain performance benchmarks, and the system's tuition freeze is maintained.
Taxes for high earners and businesses are cut in the budget, which begins to roll back a personal property tax that businesses pay for machinery and tools. It also eliminates, starting in 2019, the state's alternative minimum tax, which applies to individuals making between $200,000 and $500,000 a year.
In addition to setting spending levels, the budget includes a few key policy measures. It scraps the state's prevailing wage requirement for workers on public construction projects and imposes a new, controversial requirement to track how much time professors in the University of Wisconsin System spend teaching.
Walker open to changes
Walker said he's willing, as part of the budget, to introduce more changes to how the DOT operates and expedite the effective date of the prevailing wage repeal. Both are sought by Republican senators who say they're not ready to pass the budget.
Walker insisted that the last-minute Senate snag of the budget won't last. The governor's comments were made to reporters, by conference call, during a trade visit to South Korea.
"I'm still confident we'll have a budget by the end of the summer," Walker said. The official last day of summer is Sept. 22.
Fitzgerald acknowledged Tuesday he lacks support to pass the latest version of the budget. That came as a surprise after the Legislature's budget-writing Joint Finance Committee passed the budget last week, signaling to many the process was nearing an end.
One of the Senate GOP holdouts, Sen. Chris Kapenga, R-Delafield, told the Wisconsin State Journal he wants to see what he described as cost-saving changes to Wisconsin DOT operations added to the budget.
A spokesman for another, Sen. Stephen Nass, R-Whitewater, said he wants to see the income threshold for the statewide private school voucher program raised to 300 percent of federal poverty guidelines, the same level as in Milwaukee and Racine. The Joint Finance budget raises that threshold, but only to 220 percent of federal poverty levels.
Under the requested change, a family of four could have a household income of up to $73,401 to be eligible for the program. Under the change the budget-writing committee adopted, the income for a family of four is capped at $53,826 to be eligible for a voucher.The spokesman, Mike Mikalsen, said Nass also wants to see a Jan. 1 effective date to repeal the state's prevailing wage requirement. As it's currently written in the budget, that repeal would take effect in September 2018.
Walker showed particular support for expediting the date on which prevailing wage repeal would take effect.
"For (any project) that hasn't been bid out, I think you could do it as quickly as the time the budget was enacted," Walker said. "Why would we wait any longer than we have to to provide savings to the taxpayers?"
Walker and other Republican critics of prevailing wage say it inflates the cost of public works projects. Democrats counter that doing away with prevailing wage will benefit out-of-state contractors vying for public works bids.
On Tuesday, Kapenga, Nass and Sen. Duey Stroebel, R-Saukville, who also is not ready to commit to voting in favor of the state spending plan, sent a letter to Fitzgerald outlining nine changes they want to see in the state budget the Assembly will pass Wednesday in order to gain their support.
Among the changes included raising the statewide voucher program income limits as well as requiring a referendum to impose a county or municipal vehicle registration fee. The list also included prohibiting the UW System from spending money on mandatory "diversity, sensitivity and cultural fluency" training for students, faculty and staff, and would prohibit system schools from spending state funding or funding from student tuition and fees to create a voluntary training program with similar goals.
Another change requested would be to adopt Walker's proposal to prohibit school districts exceeding their state-imposed limits on raising revenue to pay for energy efficiency projects. The budget-writing committee instead included in the state budget a provision the prohibits districts from doing so only in 2018.
"Senator Stroebel wants to get to a 'yes,'" spokesman Ethan Hollenberger said. "He is looking for more conservative reforms that put the taxpayer first."