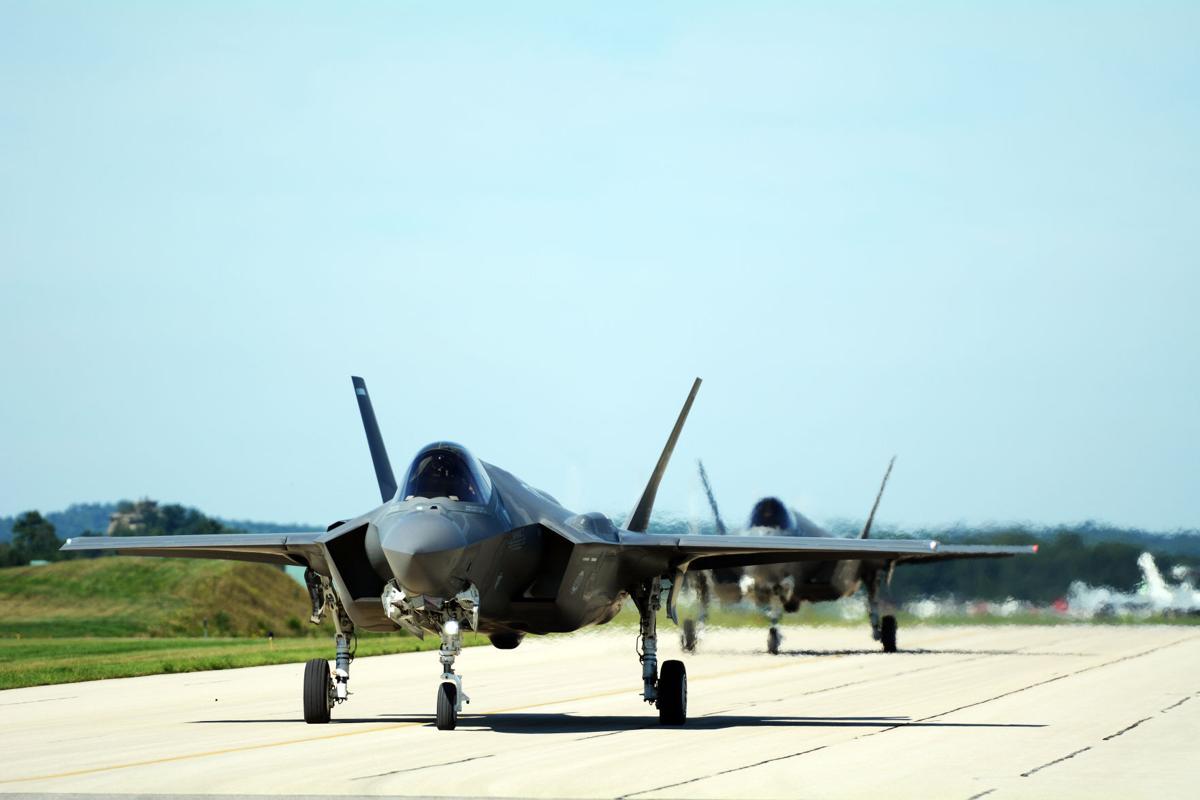 The nation's most advanced warplanes began roaring through the skies of Wisconsin on Monday for the start of 12 days of air combat exercises that spotlight the state's case for a big investment of Pentagon dollars in Madison.
The Air Force will be honing aerial warfare tactics over a 12,000-square-mile swath aimed at testing high-tech sensory capabilities of a new generation of jet fighters, while places such as Black River Falls and Marshfield will stand in as simulated enemy installations.
But the Air National Guard's Northern Lightning training exercise also serves to showcase all the features state leaders are banking on to persuade the Air Force to station a squadron of its newest fighter jets at the air guard's Truax Field on Madison's North Side.
The exercise will involve about 1,500 military personnel and dozens of aircraft from bases as far away as California.
Air Force and Guard pilots, Navy SEALs, Marines who will control air-to-air combat simulations and Army soldiers handling support duties will participate, said Col. Chad Milne, state Air National Guard operations director.
As many as 30 aircraft will be in the air at once for one portion of the exercise. "It doesn't take much to see how important this is to our national defense," said Lt. Col. Chris Hansen, Volk's operations director. "With these new airplanes coming online, the existing crews need to know how to fly with the new aircraft. It's extremely, extremely important."
Keeping pilots alert
F-16s will pose as enemy aircraft to the newer F-35s and F-22s, Hansen said. But pilots will also be kept on their toes by nine electronic threat emitters — five from Volk Field and four being brought from other bases. They are devices with electronic signatures that match signals F-35s can pick up from enemy air defense installations with surface-to-air missiles.
The threat emitters can be moved on trailers and operated at airports — such as at Black River Falls and Marshfield — and other government facilities with microwave communications links.
"You never let them get used to where the threats are because in combat the threats are going to pop up where you least want them and where you least expect them," Hansen said.
In some cases, aircraft simulate attacks on the supposed enemy positions, but more often they take evasive action, Hansen said. Threat emitters on Volk's weapons range sometimes are augmented by inert projectiles that trail smoke behind them to look like an approaching missile, but usually pilots don't find out until they return to base whether they acted quickly and effectively enough, Hansen said.
Four F-35 Lightning II jets from a testing unit at Edwards Air Force Base in California will be joined by four F-22 Raptors, another advanced fighter jet. It's the first time F-22s have taken part in Northern Lightning.
Also flying some of the roughly 500 sorties planned will be three KC-135 Stratotankers from the Milwaukee-based 128th Air Refueling Wing, 16 F-16 Fighting Falcons from Truax and bases in South Dakota and Minnesota, five T-38 Talon training jets, and three EA-18 Growlers, which specialize in jamming electronic signals. A B-1 bomber will fly in from Dyess Air Force Base in Texas next week.
About 500 military personnel will be deployed at Volk Field, with the rest flying in daily from other bases.
Noise expected
F-35s aren't expected to land at Truax unless weather forces them away from Volk. But there will be an increase in aircraft activity around Volk Field and its Hardwood Air-to-Ground Weapons Range.
And there will be more jet engine noise, especially from 10:15 a.m. to 11:15 a.m., in parts of Adams, Calumet, Clark, Columbia, Dane, Dodge, Fond du Lac, Green Lake, Jackson, Marathon, Marquette, Monroe, Outagamie, Portage, Sauk, Sheboygan, Waupaca, Winnebago and Wood counties, a guard spokeswoman said.
The number of sonic booms created by jets such as the F-35s, F-22s and F-16s should be limited by a policy developed last year that restricts supersonic speeds unless aircraft are at altitudes of 30,000 feet or higher or on flight paths parallel to the ground or gaining altitude, which decreases the potential for sound wave compression that creates sonic booms, Hansen said. In August, during the most recent Northern Lightning, the Wood County 911 Center received enough calls asking about ground-shaking sonic booms that it issued a statement explaining that military jets were the cause, and that the military apologized for any inconvenience.
Wisconsin is competing against Dannelly Field, Montgomery, Alabama; Gowen Field, Boise, Idaho; Jacksonville Air National Guard Base in Florida; and Selfridge Air National Guard Base, Detroit.
Editor's Note: This story has been corrected to reflect that the F-35s in the exercise are based at Edwards Air Force Base in California.