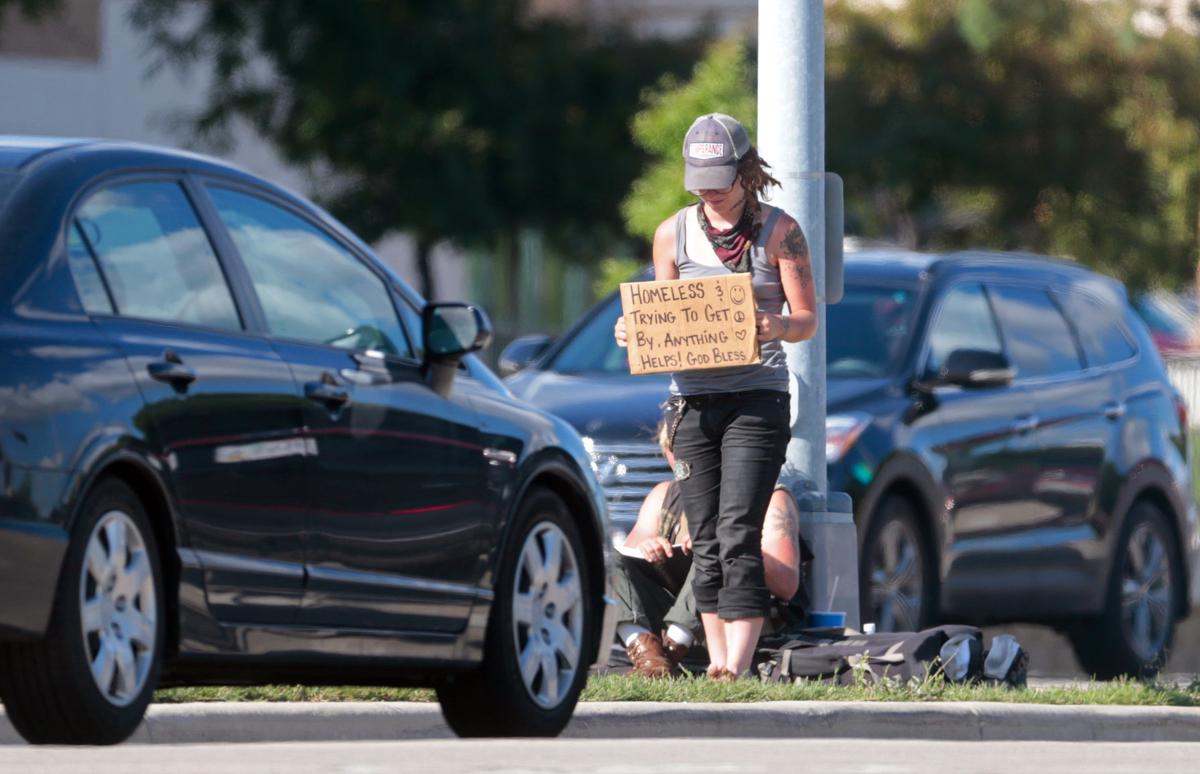 Mayor Paul Soglin and City Council sponsors have revised a controversial proposal that would effectively eliminate panhandling on medians and terraces of major streets for safety reasons.
The revised proposal, unanimously endorsed Monday night by the City-County Homeless Issues Committee, would now apply only to the public right of way on a specific list of 85 arterial streets or parts of such streets and highways that have the most traffic. The city has hundreds of named streets, and an earlier proposal would have applied to all of them.
The idea is to apply the ordinance to places where the greatest safety problems exist, Soglin aide Anne Monks told the committee.
The committee, however, endorsed the proposal only after unanimously recommending a series of amendments aimed at protecting the homeless and ensuring violators are educated about the rule and warned before citations are issued.
The amendments were initiated by Dane County Sup. Heidi Wegleitner, 2nd District, and refined by the committee. They would:
Require police to escort a homeless person in violation of the ordinance to the nearest lawful spot
Require a written warning at a specific location before a citation is issued
Add signs on streets where the ordinance is in force
Require a staff report to the City Council six months after the law is implemented.
Wegleitner, who has concerns about the ordinance, said she wants to avoid scenarios where the homeless are issued citations they can't pay, warrants are issued, and they are taken to jail. "That cycle is not good for anyone," she said.
Madison Police Central District Capt. Carl Gloede, a member of the committee, said the department would try to gain compliance through education with the hope that citations, costing $25 to $300, would rarely be needed.
The city's Public Safety Review Committee is scheduled to discuss the revised proposal and amendments on Dec. 13, and the City Council is expected to take up the matter with final decisions early next year.
Supporters of recent efforts to rein in panhandling say proposals are intended to protect pedestrians' own safety and that of drivers. Opponents contend such plans criminalize homelessness and are an attempt to make homeless people less visible in Madison.
Soglin has been trying to address panhandling in medians since city attorney Michael May in January recommended that police fully suspend enforcement of the city's broad 2012 panhandling ordinance due to recent court decisions that underscored panhandlers' First Amendment right to ask for money.
In April, Soglin introduced an ordinance that would have barred anyone from approaching an operating vehicle on a road but amid criticism scrapped that plan.
At a council meeting in September, he announced a new proposal that would also limit how long pedestrians could linger on street medians. Pedestrians would be limited to two consecutive opportunities to finish crossing a street before they would be in violation.
The April and September proposals both bar drivers from stopping, leaving their vehicles, suddenly slowing down or deviating from traffic to engage with someone in violation of the ordinance, regardless of the reason. The proposal has a series of exceptions, such as crossing the street in a crosswalk.
Those provisions remain in the current proposal, but in recent weeks, the council sponsors — Alds. Ledell Zellers, Barbara Harrington-McKinney, and Samba Baldeh — helped craft language to narrow the ordinance, which led to the current version that limits enforcement to arterial streets.