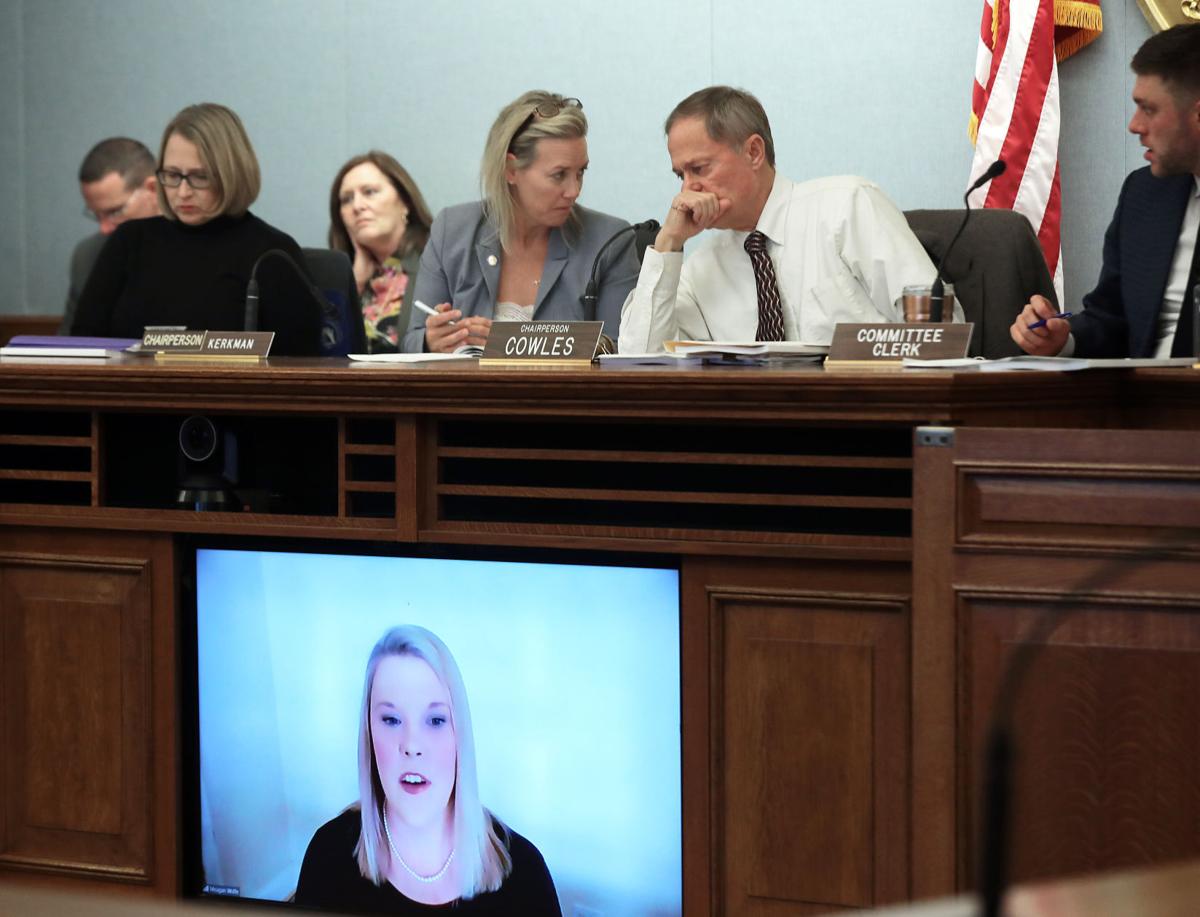 Wisconsin Elections Commission administrator Meagan Wolfe on Tuesday said there are a handful of errors that will need to be corrected in the Legislative Audit Bureau's report on the 2020 election.
Testifying before the Joint Legislative Audit Committee, Wolfe, who was speaking on her own behalf and not for the six-member bipartisan elections commission, said many of the inaccuracies in the report could have been addressed before it was released in late October had the Audit Bureau not made the unusual decision to publish the report without giving the agency or its staff a chance to respond.
"I do think that we should all want this to be an accurate record of the election," Wolfe said, adding later, "I think what we're asking is how can we get those corrected, being the choice was made to go in this direction?"
Several state Republicans have taken aim at Wolfe and the commission after allegations of a handful of cases of potential voter fraud in a Racine County nursing home, as well as the nonpartisan Audit Bureau's report, which did not find any evidence of widespread fraud or abuse in the state's 2020 election, but did make 48 recommendations to the Legislature and commission for improvements to how elections are run.
Much of the Audit Bureau's review notes instances where statutes do not make specific recommendations related to election matters, such as the use of ballot drop boxes or whether clerks can fill in missing information on absentee ballot envelopes. In other instances, the report found that the Elections Commission failed to create rules governing certain practices, such as the requirements for training voting deputies or election inspectors.
Wolfe said a section of the report pertaining to information the agency obtains through the nonprofit Electronic Registration Information Center, or ERIC, which flags voters who potentially have moved, contained "numerous inaccuracies." Wolfe said the report implies that the state missed several opportunities to obtain such data, but ERIC reports have specific periods of availability, all of which have been followed by the commission.
Wolfe said many of the recommendations outlined in the report will need to be approved by a majority of the commission, which is scheduled to meet Dec. 1.
Wolfe said her testimony was not representative of the six-member commission, which consists of three Republican appointees and three Democratic appointees. Last week commission chair Ann Jacobs said neither Wolfe nor the commission would appear before the committee until after the commission meets Dec. 1. Rep. John Macco, R-Ledgeview, called Wolfe's inability to represent the commission before the committee "repugnant and insulting."
"I just find the whole thing a joke today, and you've done nothing to allay my concerns," Macco said.
Audit Bureau officials said the report was not provided to WEC in advance because the commission can only convene in closed session for specified purposes, none of which pertain to reviewing draft audit reports. The Audit Bureau also did not provide a copy of the report to the 179 clerks contacted during the auditing process, as doing so would have compromised the report's confidentiality.
State auditor Joe Chrisman said the Audit Bureau will take into account Wolfe's testimony and any formal response from the commission to determine any further steps or updates to the report.
Madison city attorney Mike Haas also criticized what he called a "subpar report" from the Audit Bureau and said many of the challenges being faced by the WEC and local election officials stem from a scarcity of time and resources, needs that were greatly amplified by the ongoing COVID-19 pandemic.
"If you want the perfect election, you have to fund it like you mean it," Haas said.
Vicki Terpstra, clerk for the town of Spring Green, also took aim at the Legislature for not convening for months last year despite concerns among election officials across the state as they tried to navigate challenges created by the pandemic.
"I feel like I'm being persecuted for doing the best that I can in a lousy situation with not much help from the people that are representing me," Terpstra said.
A bipartisan group of more than 50 elections officials on Monday sent a letter, organized by the nonpartisan Center for Election Innovation and Research, to Assembly Speaker Robin Vos, R-Rochester, expressing support for Wolfe and calling for an end to the politicization of Wisconsin's election process.
Speaking with reporters Tuesday, the center's executive director, David Becker, said repeated questioning of the results of the 2020 election and attacks on election officials in states like Wisconsin erodes the public's confidence in democracy, which he said "will take decades to repair, if we are able to repair it at all."
"I'm as concerned, maybe even scared, for American democracy as I have ever been in my quarter-century working in this space," Becker said.
A recount and court decisions have affirmed that President Joe Biden defeated former President Donald Trump in Wisconsin by almost 21,000 votes last November. Four voters out of roughly 3 million who cast ballots have been charged with fraud.
The Assembly Committee on Campaigns and Elections on Wednesday will take testimony from Racine County Sgt. Michael Luell, who led an investigation into Mount Pleasant's Ridgewood Care Center, and discuss the GOP-ordered probe into last year's presidential election being carried out by former conservative state Supreme Court Justice Michael Gableman.
Committee chair Rep. Janel Brandtjen, R-Menomonee Falls, has called for a "full cyber forensic audit" in the state similar to the partisan election review conducted in Arizona.
Gableman's investigation largely focuses on how the 2020 election was conducted, with a specific focus on Center for Tech and Civic Life grants provided to the state's five largest cities.
Racine County Sheriff Christopher Schmaling, a Republican, last week called for five members of the state elections commission — two Republican and three Democratic appointees — to be charged with crimes for waiving special voting deputies in nursing homes during the COVID-19 pandemic last year.
Becker called the sheriff's October press conference unveiling the allegations "a political stunt" and "harassment under color of law."
The commission's decisions relating to special voting deputies were made by the bipartisan commission in public meetings dating as far back as March 2020, before the spring election. The first vote was 6-0 and two subsequent votes were 5-1.
The Legislature's GOP-led Committee on Elections, Election Process Reform and Ethics plans to conduct its own investigation into the 2020 election based on the Audit Bureau's report. That investigation is expected to start as soon as this month.