Republicans say the first budget they've authored under a Democratic governor in more than a decade is built with conservative principles, but the two-year spending plan may have looked a bit different if former Gov. Scott Walker were still in office.
The more than $81 billion Republican budget includes significant increases for K-12 education, transportation, health care and building projects, among other things.
Its total spending is 5.6% more than current spending levels, representing a bigger boost than in any of the budgets approved by Walker. Those total spending increases range from 4.1% in the 2013-15 budget to 1.8% in the 2011-13 budget. Evers had proposed an 8.3% spending increase.
The spending amount suggests to Democrats the budget was built on the governor's terms, while Republicans argue their budget meets Evers halfway while maintaining conservative principles.
Assembly Speaker Robin Vos, R-Rochester, rejected the notion that Evers prompted Republicans to spend more than they otherwise would have. But he defended the GOP plan as a compromise due to the increases it includes for health care and the fact it includes a more scaled-back tax cut.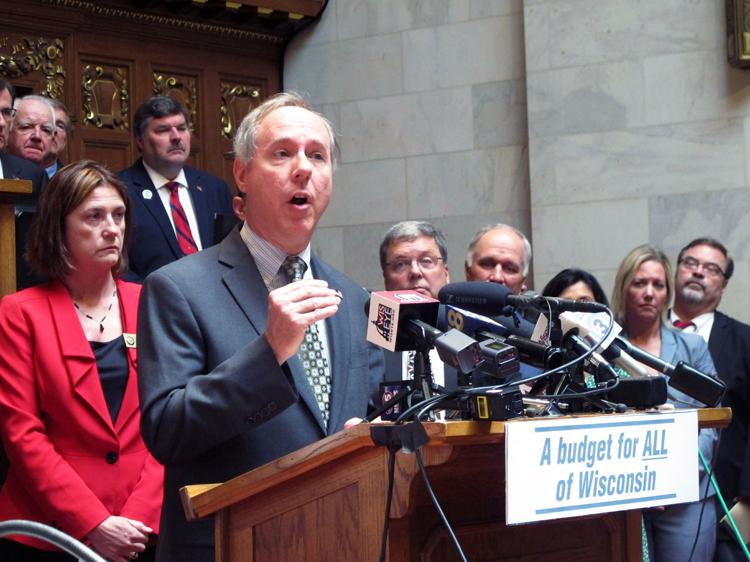 He told reporters on Friday a budget crafted under Walker likely would have included an income tax cut for all four rates — not just the two lowest rates — and would have explored eliminating state agencies and regulations. Vos also alluded to the fact that the GOP's plan to increase transportation funding may have had more trouble getting through Walker, who had relied primarily on borrowing for transportation projects.
"I would have preferred a tax cut that affected all four brackets," Vos said. "We instead chose to follow Governor Evers' lead and focus on the middle class."
In fact, the GOP tax cut delivers a similar dollar savings to income earners at almost all levels, including the wealthy, who pay taxes at the lowest two rates on taxable income up to $22,900 for a single person and $31,000 for a married couple. Evers had proposed a tax credit capped at those making $150,000 or less.
Under the GOP budget plan and a separate tax cut that recently cleared both chambers, the average taxpayer would see a roughly $124 income tax reduction in 2020. Together, the GOP budget plan and bill would lower the state's two lowest tax brackets from 5.84% to 4.93% and from 4.00% to 3.76% in 2020. Evers' tax break was larger, offering an average cut of $217 annually, and relied on tax increases for manufacturers.
Under the GOP plan, the state's top two tax rates would remain unchanged. For single filers, that's 6.27% for annual taxable income between $22,900 and $252,150 and 7.65% for income over $252,150.
Vos' comments came after slamming Democrats on Tuesday for not supporting a budget he characterized as a compromise.
"Here we are, accepting the fact that Tony Evers is our governor, proposing a budget that many of us over here certainly would not have advocated for if we got to make all the choices," Vos said. "The budget that we're adopting today, you would have begged us to do these things under Governor Walker."
Those increases include $500 million for public education, $97 million of which would go toward special education; a nearly $500 million increase for transportation; and $200 million more for Medicaid.
Vos said the $500 million increase for public education, which followed a $639 million increase in 2017, would have occurred no matter who was governor.
You have free articles remaining.
Register for more free articles
Stay logged in to skip the surveys
Not everybody is so sure.
Analiese Eicher, executive director of the liberal group One Wisconsin Now, argued that Evers, by seeking $1.4 billion ask for public education, forced Republicans to offer more.
"If you didn't have Evers' initial budget and support from Wisconsinites around the state … I don't think we would have seen investments in education, (or) gotten even close to an answer on transportation," Eicher said.
Assembly Minority Leader Gordon Hintz, D-Oshkosh, has said the Republican budget was crafted on Evers' terms. An Evers spokeswoman didn't respond to a request for comment.
Some conservatives also agree full Republican control of state government would have led to a lesser public education investment.
David Fladeboe, an associate with the conservative Badger Institute, said the GOP budget reflects a conservative document Republicans understood a Democratic governor would need to be able to sign.
"With the investment they made in the last budget, I don't think the investment this time around would have been as large," Fladeboe said. "They were compromising with a governor that was sky high."
Fladeboe added that the funding increase Republicans provided for transportation was another area of higher spending that may have had trouble under Walker.
But others, such as Republican strategist Brian Reisinger, who worked on Walker's campaign, say they believe Vos when he says the Republican investment would have happened under Walker.
"Republicans want strong investments tied with accountability," Reisinger said.
Other conservatives, however, don't necessarily view the budget as meeting in the middle. Senate Majority Leader Scott Fitzgerald, R-Juneau, argued that Evers didn't force the GOP to the left on spending.
"At the end of the day we set our priorities and I think we fulfilled all of the promises that the Republican Legislature had made," Fitzgerald said.
Reisinger said the GOP budget is one that "took a whack at the liberal wish-list" of Medicaid expansion and tax increases on large manufacturers, a big concern for the conservative Wisconsin Manufacturers & Commerce.
WMC spokesman Scott Manley considered the removal of more than $518 million in tax increases for large manufacturers to pay for the governor's larger middle-class tax cut a "victory."
Manley said the level of spending in the budget is always a concern, but he added the GOP budget's increases target the right areas: infrastructure and public education.
One thing he wished the Republican budget would have included is further property tax relief. The GOP budget raises property taxes by about the same amount as Evers, although Republicans offered a last-minute revision resulting in a $5 decrease compared to Evers for the median value home.
The most fiscally conservative members of the Senate, Dave Craig, R-Big Bend, and Steve Nass, R-Whitewater, said they voted against the budget because it spent too much. Vos, however, said their opposition isn't much of a surprise given their complaints about Walker's previous budgets.