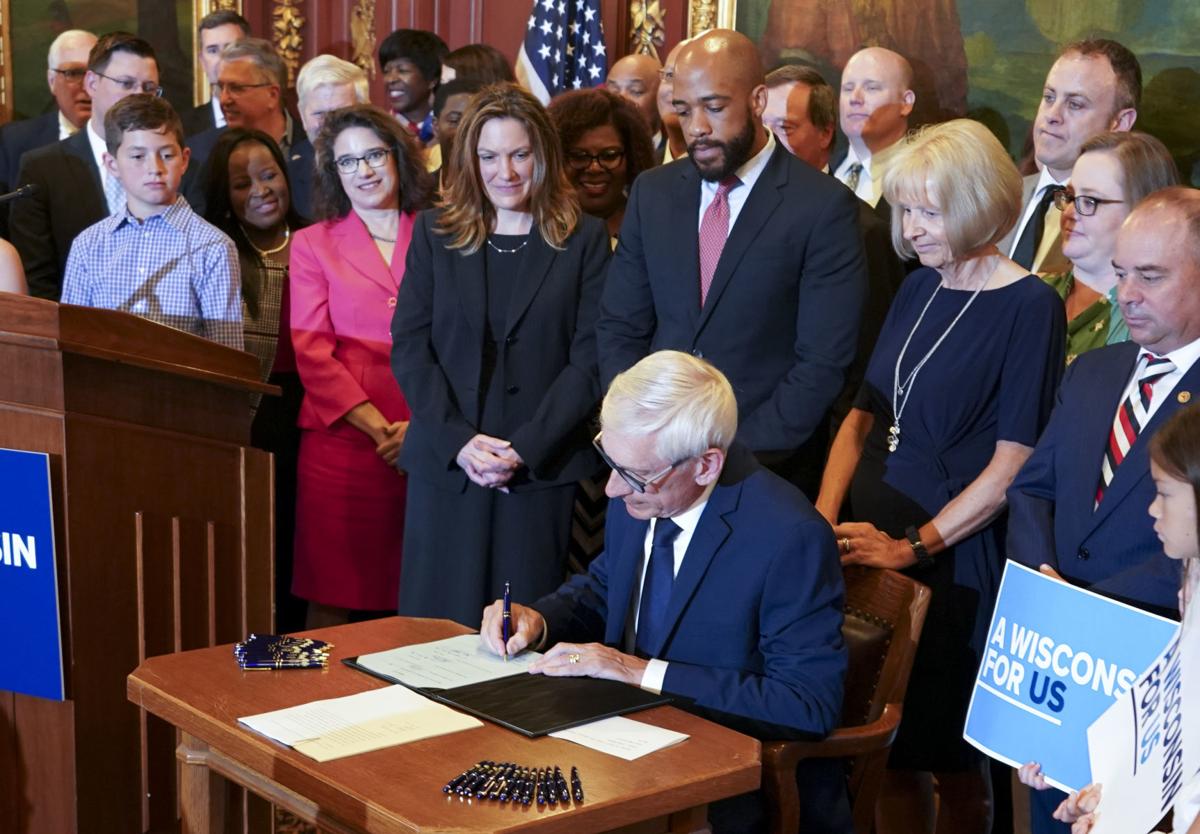 Republican lawmakers have introduced a state constitutional amendment that would prevent governors from using their partial veto powers to increase spending in any bills.
The proposal comes less than a week after Democratic Gov. Tony Evers used his veto power in one case to increase school funding by about $84 million more than the Republican-controlled Legislature intended. He did that by taking a $630 per-pupil dollar amount the Legislature had deleted from existing law, restoring the "$63" and adding that new number to a different per pupil amount the Legislature had created.
The $84 million bump was the only case in which one of Evers' 78 vetoes increased spending in the 2019-21 budget, the Legislative Fiscal Bureau said Tuesday.
State Sen. David Craig, R-Town of Vernon, and Rep. Mike Kuglitsch, R-New Berlin, began circulating the amendment for co-sponsors Monday, calling what Evers did a "power grab."
"We need to prevent this from ever happening again," Craig said in a statement. "It is beyond time we right-size the governor's veto pen to protect taxpayers and restore the Legislature's constitutional authority."
Evers spokeswoman Melissa Baldauff said the proposed amendment amounts to a "temper tantrum" in response to Evers listening to the will of the people and investing more money in education.
"These sore losers want to change the rules every time they don't get their way," she said.
Since Evers won the gubernatorial election last fall, Republicans have sought to limit his powers. During an extraordinary lame-duck legislative session held before he took office, for example, lawmakers voted to prevent Evers' attorney general from withdrawing the state from lawsuits.
"The public should be outraged at the repeated attempts to change the powers of the office because they disagree with how those powers were used," said Assembly Minority Leader Gordon Hintz, D-Oshkosh.
Former Republican Gov. Tommy Thompson, who holds the state's all-time record of 457 vetoes in the 1991-93 budget, told reporters Tuesday that he supports the proposed amendment, but no other limits on a governor's veto power. He said he never used his veto pen to increase spending.
"I don't think a governor should have that right," he said. "That's left up to a Legislature. Legislators have the right to appropriate, governors do not."
The way in which former Democratic Gov. Jim Doyle used his veto power — by stitching together numbers and words from different sentences in order to spend $330 million more than the Legislature intended on K-12 education — led to voters abolishing what became known as the "Frankenstein veto" via constitutional amendment.
Doyle did not respond to an email seeking comment Tuesday.
Although the amendment banning the Frankenstein veto prohibits governors from combining words across two or more sentences to create new sentences, governors can still eliminate words within a single sentence to create a new sentence, as Evers did with several of his vetoes.
The proposed constitutional amendment would not change that practice.
An amendment must pass both houses in two consecutive sessions and be ratified by voters in a general election before it takes effect. The governor cannot veto a constitutional amendment.
Senate Majority Leader Scott Fitzgerald, R-Juneau, said the proposal reflects concerns within his caucus. He said he is concerned that governors of both parties have used their partial veto powers to increase spending above what the Legislature authorized.
"I look forward to discussing this resolution in the coming months," he said in a statement.
Assembly Speaker Robin Vos, R-Rochester, said through a spokeswoman that he was supportive of the amendment.
"It's common sense to not be able to increase spending through a veto," he said.