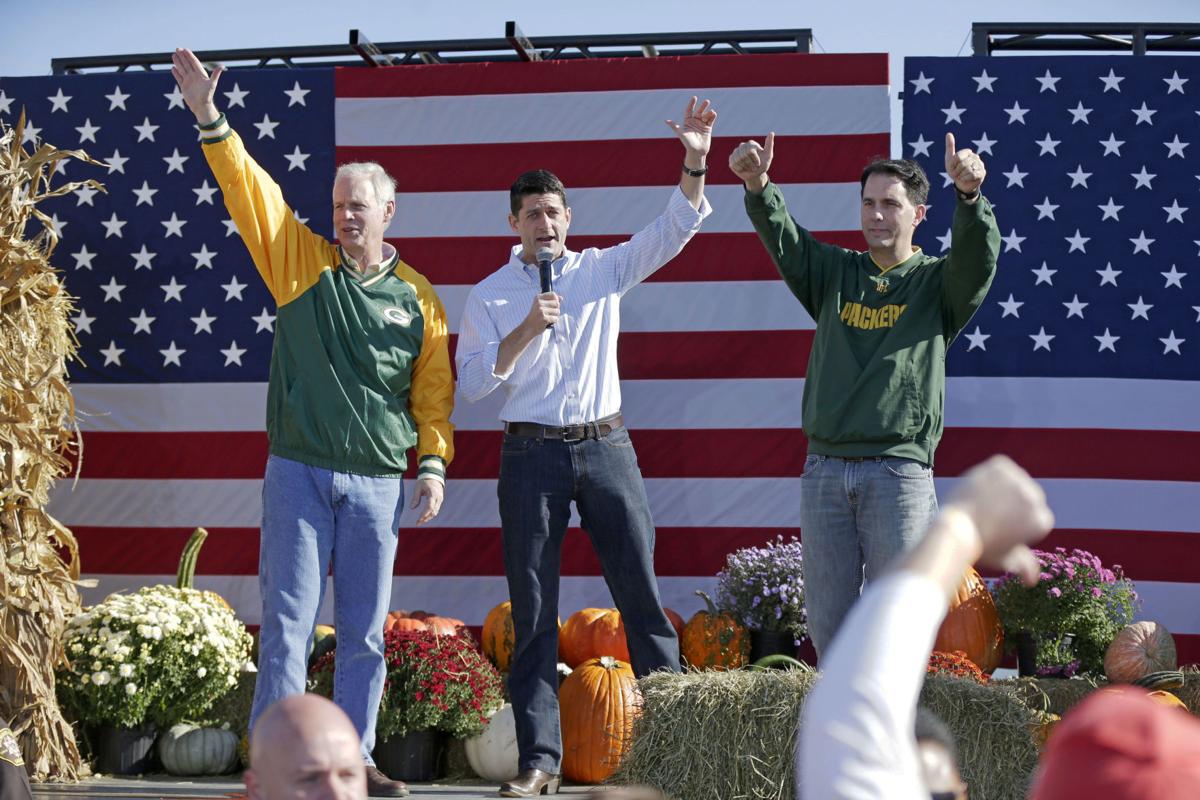 Six months after losing all statewide races in the November midterm elections, albeit by slim margins, Republicans are headed for a course correction when they gather for their annual convention in Oshkosh this weekend.
A post-election review the state party conducted following the defeat of former Gov. Scott Walker, a once-rising star, and the entire statewide ticket on the November ballot concludes the party lost touch with its grassroots supporters, took a top-down approach and was far too reliant on outside consultants and elaborate advertising.
The noted failures in that election, which came after the party's domination of state politics for much of the last decade, turned U.S. Sen. Ron Johnson, R-Oshkosh, into the self-proclaimed "last man standing" of the Wisconsin GOP power pack. The group once included former presidential contender Walker, now former House Speaker Paul Ryan and short-lived White House chief of staff Reince Priebus.
Following the GOP's post-election diagnosis, Johnson said proper treatment includes re-energizing the party's grassroots and county organizations as well as fine-tuning advertising and creating a stronger party structure that candidates can rely on.
"We've got to be firing off all cylinders, we have to be just about perfect," Johnson told the Wisconsin State Journal.
Johnson added a near perfect operation for the GOP would mean Republicans running for every contested office up and down the ballot.
The party's self-reflection comes after a November election in which Republicans simply lost the energy that propelled them to victory in 2010, 2014 and 2016. Such energy, he argued, was generated by frustration over former President Barack Obama's policies, and was harder to maintain at the statewide level in his absence.
"You can only maintain that energy and opposition to Obama so long," Johnson said.
But despite Republican losses in 2018, Johnson and other leaders in the party don't believe the party is in need of a complete reset. In fact, even if it did, some in the party believe the GOP may have already had one.
"The reset was the Supreme Court," said former Republican Gov. Tommy Thompson. "That should give the party new energy. Now it's got to continue to organize and get ready for 2020."
Thompson said Republican losses in 2018 can be attributed to several factors, such as the divisions stemming from Act 10, the GOP's anti-union legislation, Walker's run for president, strong Democratic organization in Milwaukee and Dane counties and especially the lack of energy among Republicans.
Johnson maintains a similar line of thinking and says the election of conservative-backed Supreme Court candidate Brian Hagedorn is testament to the conservative movement's newfound focus on grassroots organization after last November.
Johnson attributed some of the energy conservatives demonstrated in April's Supreme Court election to attacks from the left over Hagedorn's anti-gay views as well as the threat of what could be lost with a liberal court.
"The policies of the left, some of these issues, the attack ads re-energized us and I think we'll maintain that energy," Johnson said.
Johnson said similar policies Democrats may present in 2020 — such as the Green New Deal that he argues would lead to dramatic increases in taxes and suffocate the American economy — will give American voters a clear reason to vote for President Donald Trump in 2020.
'Mid-course correction'
But ahead of what will surely be some soul searching for Republicans when they gather in Oshkosh, Republicans including Johnson believe the party is still fundamentally strong, with a list of top-tier candidates to run for governor and U.S. Senate in 2022. And despite the party's statewide losses in 2018, it still was able to command majorities in both houses of the state Legislature and took five of the state's eight congressional seats — largely due to political maps Republicans drew after the 2010 Census.
You have free articles remaining.
Because of those successes, some Republican strategists say the party's annual convention will prompt a slight course correction rather than a wholesale rethinking of what's required to achieve electoral victory.
Former Republican Assembly Speaker Scott Jensen said the party's convention in Oshkosh will be about internalizing the lessons learned in the 2018 general election and 2019 Supreme Court election.
"I wouldn't call it a reset as much as a mid-course correction," Jensen said. "A lot of praise and a lot of damnation seem to have been allocated to a set of races that were won by less than a few percentage points."
Walker lost his race against Democratic Gov. Tony Evers by just over one percentage point, while conservative-backed candidate Hagedorn won his Supreme Court race against the liberal-backed Lisa Neubauer by less than a point, cementing Wisconsin's status as a battleground state and suggesting Wisconsin will be ground zero for Trump's re-election bid.
Democratic strategist Joe Zepecki said Republicans with their post-election assessment are missing the forest for the trees. Strong and rigid opinions from Trump voters will make it difficult for Wisconsin Republicans to grow their coalition.
"Donald Trump colors everything," Zepecki said. "He is defining their party."
Unlike Johnson, Zepecki said the Republican Party's grassroots operation was just fine, and that it's disingenuous for Republicans to suggest they lost touch with the grassroots, who appeared to quickly re-establish themselves in April.
But Wisconsin Republican Party spokesman Charles Nichols says attributing the party's losses to the broader political environment is a cop-out. Nichols admits 2018 was a difficult cycle, but that it certainly was winnable.
Johnson 2022
Johnson, who now sits atop the Republican Party establishment, said before his 2016 re-election victory he would not seek another term once his current term ends in 2023.
But Johnson now won't stand by that pledge, saying the environment for Republicans has changed and he might need to run again in 2022 to ensure the U.S. Senate is a firewall against Democratic gains in the U.S. House.
"I never thought Walker would lose, I never thought we'd lose the House," Johnson said. "That's not the case anymore. My preference is two terms and go home, but again you never say never."
Jensen, the former Assembly speaker, said he believes Johnson was sincere in making his two-term pledge, but that a Johnson run might be needed to strengthen the party.
Democrats are quick to label that as hypocrisy coming from a man who once railed against career politicians.
"I think he has become that which he loathed more quickly than he ever imagined," Zepecki said.
Johnson, who underscored his career as a businessman before becoming a U.S. senator in 2011, doesn't see it that way.
"Regardless of what I do in 2022, I'm no career politician," Johnson said. "I'm a citizen legislator."
Johnson warded off rumors he's considering a run for governor in 2022, saying "he's not considering anything," and said his focus right now is building the party as it gears up for 2020.