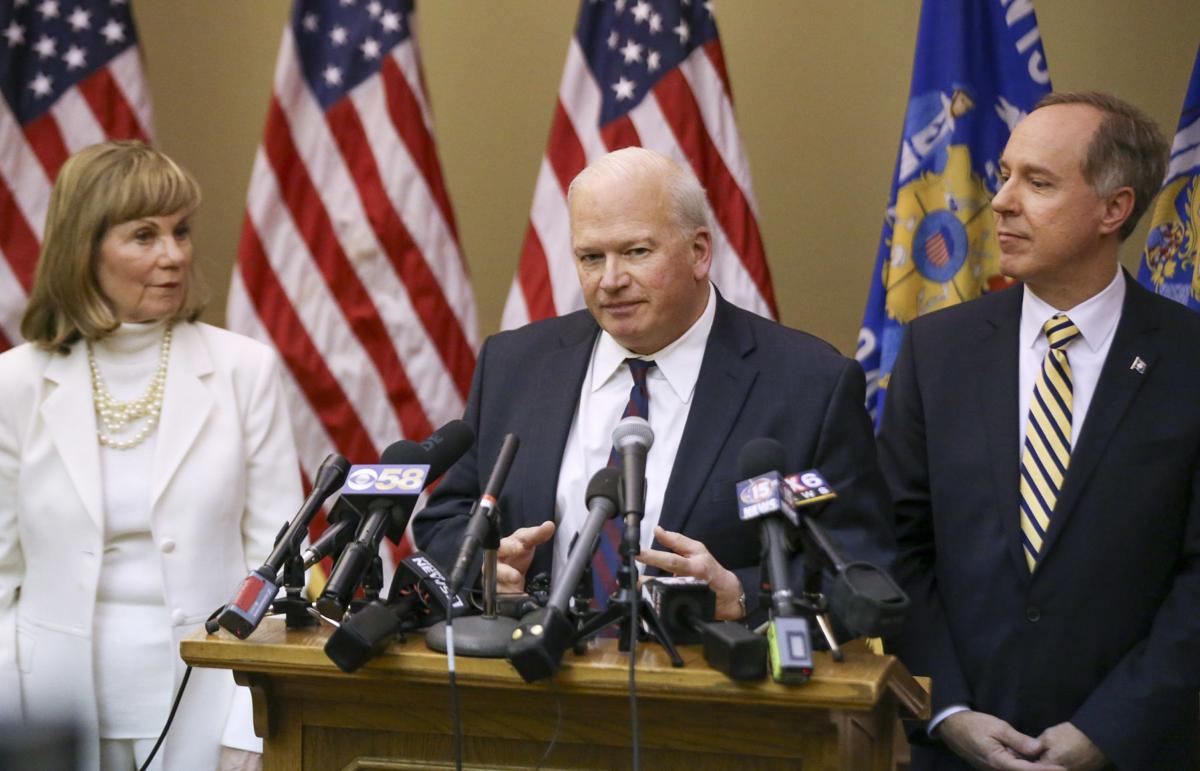 Republicans who control a committee with newfound oversight of the state Department of Justice announced they will hire a taxpayer-funded attorney to sign a confidentiality agreement in order to settle lawsuits that could net the state millions.
Sen. Alberta Darling, R-River Hills, and Rep. John Nygren, R-Marinette, leaders of the Joint Finance Committee, said Thursday a nondisclosure agreement signed by outside counsel supposedly binding all committee members to secrecy would satisfy Attorney General Josh Kaul's requirements for moving forward in a number of lawsuits, including an unspecified lawsuit.
Under Republican lame-duck laws limiting Kaul's authority, he is required to seek approval from the Republican-controlled legislative budget committee to settle a number of lawsuits. But Republicans, up until their announcement on Thursday, had been unable to agree on a procedure for doing so.
Kaul on Tuesday told committee members they would each need to sign confidentiality agreements to review and approve the cases he brought to them. But all lawmakers objected to doing so for different reasons. The unprecedented saga this week has tested how the lame-duck laws will work in practice.
The blanket secrecy agreement is meant to ameliorate concerns from lawmakers over signing individual nondisclosure agreements.
"This action should resolve the Attorney General's confidentiality concerns, and he should send over all of the relevant settlement information for review," Darling and Nygren said in a statement. "The Committee stands ready to review and approve any settlements that are in the state's interest."
It's unclear whether the agreement passes legal muster. Kaul in a statement said the department is assessing the proposed confidentiality agreement.
"We will continue attempting to reach agreement on this issue, as we began attempting to do more than six months ago," Kaul said. "Our interest remains in ensuring that Wisconsinites are represented as effectively as possible and that the enforcement of our environmental, consumer protection, and other laws is not impeded by partisan gamesmanship."
'Game playing'
Democrats on the committee swiftly objected to the plan, of which they were not made aware, and raised questions as to its legality.
"I'm not sure I'm bound by some secrecy agreement I didn't sign by an attorney I didn't hire," said Rep. Chris Taylor, D-Madison. "This is more political game-playing."
In fact, a memo from the nonpartisan Legislative Reference Bureau to Assembly Minority Leader Gordon Hintz, D-Oshkosh, said members of the committee may only be sworn to secrecy if they sign confidentiality agreements individually.
More intrigue
In another strange turn of events, the DOJ late Thursday told committee members it would no longer need immediate action on the unspecified lawsuit it previously said faced an 11 a.m. Friday deadline.
"We don't yet know when or if there will be another time at which a decision may be needed regarding this matter, but it is possible that it will need to be made quickly," wrote DOJ legal services administrator Charlotte Gibson to committee members.
The quick change in course raised suspicion from Republicans.
"It seems that when the Finance Committee met AG Kaul's request to sign a confidentiality agreement the urgent deadline resolved itself," Nygren said in a statement.
But critics of the lame-duck law say the development simply underscores how quickly legal settlements can move and how the budget committee may be unprepared to address them.
No agreement
The development came two days after the Legislature's budget committee adjourned without agreeing on a way to green-light lawsuits for which Kaul, under new Republican lame-duck laws, is required to seek their approval.
On Tuesday, Kaul told committee members, who convened partially in closed session, they would each need to sign confidentiality agreements for him to move forward with the unspecified lawsuit.
Republicans on the committee thought such a confidentiality agreement was unnecessary, arguing that discussing the lawsuit in closed session would suffice.
But the state's open meetings law does not prohibit committee members from discussing matters from closed session after the meeting is over.
Democrats refused to sign due to a general objection to the requirements of the lame-duck legislation. They've argued the Republican-authored lame-duck laws tie Kaul's hands and prevent him from doing his job.
Millions at stake
On Wednesday, documents obtained by the Wisconsin State Journal and other media outlets showed more than a dozen lawsuits, some that could net the state millions of dollars, are essentially on hold due to the inaction of the Legislature's budget committee. Republicans have blamed their inaction on Kaul for failing to provide them with the necessary information to make a decision on the cases before them. They said Kaul was involved in an effort to "undermine the law by delaying the committee's work."
The development comes after Purdue Pharma, the maker of OxyContin, has reportedly proposed a $10 billion to $12 billion nationwide settlement that would resolve more than 2,000 lawsuits brought against it for devastation caused by opioids. On Thursday, however, a group of state attorneys general reportedly pushed back on the settlement, arguing it doesn't provide enough money to satisfy them, according to the Wall Street Journal.
The Joint Finance Committee plans to retain Andrew Phillips and possibly other attorneys from the Milwaukee firm von Briesen & Roper at a rate of $290 per hour, according to a document outlining the firm's services. The firm will sign a nondisclosure agreement that will apply to most cases the DOJ brings to the budget committee and will supposedly bind the committee and its members.
According to a memo to Nygren from the nonpartisan Legislative Reference Bureau, committee leadership has the authority to retain outside counsel to represent the committee, although funding is not provided for such counsel.
Instead, costs for the attorney must be authorized by the Committee on Assembly Organization and the Committee on Senate Organization.
Get Government & Politics updates in your inbox!
Stay up-to-date on the latest in local and national government and political topics with our newsletter.