The GOP-controlled state Legislature asked the Wisconsin Supreme Court on Tuesday to suspend Gov. Tony Evers' stay-at-home order after mounting Republican outcry that the administration had gone too far.
The lawsuit asks the high court to issue a temporary injunction suspending the order, which has kept Wisconsinites home and swaths of businesses shut down to mitigate the spread of the COVID-19 coronavirus. The order has caused Wisconsin's unemployment rate to skyrocket, with state officials estimating it could be 27%.
The "safer at home" order, issued by Evers' health secretary, Andrea Palm, was recently extended to May 26. COVID-19 has infected at least 4,620 Wisconsinites and caused at least 242 deaths. The lawsuit names Palm and other state health officials as defendants.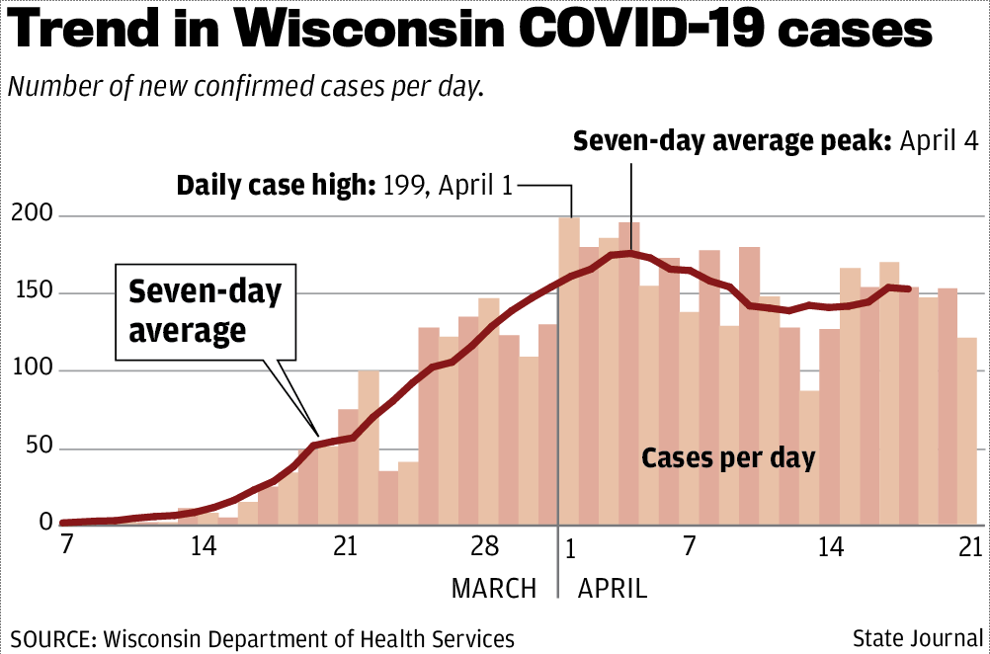 "The public outcry over the Safer at Home order continues to increase as positive COVID cases decrease or remain flat," Senate Majority Leader Scott Fitzgerald, R-Juneau, said in a statement. "There's immense frustration regarding the extension, as it goes beyond the executive branch's statutory powers."
Fitzgerald pointed to other Midwestern states with more cases, such as Ohio, that he said had set firm dates to begin a phased reopening of the economy far earlier than Evers. Ohio Gov. Mike DeWine, a Republican, announced last week that Ohio would begin the process of reopening its economy on May 1, although he said residents would need to prepare for masks and social distancing to become ingrained into daily life.
In a press call with reporters Tuesday, Evers denounced the lawsuit as nothing more than a "power grab by legislative Republicans."
"Peoples' lives should always come first, not politics and power," Evers said. "Legislative Republicans, frankly, have said to the people of Wisconsin, 'Our power, our political power, is more important than your health.'"

The outlook
Republicans may have success in the conservative-majority high court, which about two weeks ago struck down Evers' order to delay the April 7 election. On Tuesday the court ordered the defendants to respond by April 28 and plaintiffs to offer their rebuttal by April 30.
Evers said he is confident the court will rule in his favor.
"They understand that by delaying efforts, that people are going to die," Evers said. "This isn't just some academic endeavor here. People die every day because of this and the more we screw around with it, the more people die."
Attorneys for the Legislature say the state will be irreparably harmed if the order persists, and is arbitrary, capricious and exceeds the administration's authority.
"If a single bureaucrat can evade the controls and accountability measures that the Legislature has enacted to control agency overreach simply by labeling what is obviously an emergency rule a mere 'order,' then all of the reforms the Legislature has put in place, and which this court has interpreted and enforced over the years, are a meaningless, dead letter," the attorneys said.
Democrats respond
The lawsuit received quick pushback from Senate Minority Leader Jennifer Shilling, D-La Crosse.
"What Wisconsin residents need right now is stability and consistency and I wish Republicans in the Legislature would come to grips with the severity of this virus and help the businesses, families and communities that are being affected," Shilling said in a statement. "During a pandemic, the last thing we need is Republican retaliation that could jeopardize Wisconsin's most vulnerable citizens."
Assembly Minority Leader Gordon Hintz, D-Oshkosh, also took aim at GOP lawmakers regarding the lawsuit.
"This is not the time for partisan fights and ego," Hintz said in a statement. "At a time when families and businesses across the state have made incredible sacrifices to preserve our public health and limit the death toll from COVID-19, Wisconsin Republicans are moving forward with a politically motivated lawsuit, but not a plan to safely reopen our economy."
Another month
Last week, Evers ordered school buildings to remain closed through the end of the school year and most nonessential businesses to remain shut down past Memorial Day.
The extension drew immediate outrage from several GOP lawmakers, with some in the Senate calling on the chamber to convene immediately to reject Palm's nomination, which still has not been confirmed by the full Senate.
Evers defended Palm's leadership on Tuesday.
"She is an expert in her area; I would put her up against any secretary of health any place in the country," Evers said. "Somehow in the state of Wisconsin, the legislative Republicans have decided that powers that exist in her position all across the country shouldn't happen here."
Facing growing pressure from Republicans to loosen restrictions on businesses, Evers on Monday outlined criteria to reopen the state, which requires more testing, expanded contact tracing, more protective equipment and a two-week decline in state cases.
Under the plan, the state will begin reopening businesses after a 14-day downward trajectory of influenza-like illnesses and COVID-19 symptoms, and a 14-day downward trend in positive tests as a percentage of total tests.
The guidelines mostly align with those the Trump administration unveiled last week, but Republicans say Evers has a more restrictive set of criteria for moving to less restrictive conditions.
Businesses concerned
Evers' public health emergency can remain in effect until May 11. After that, any extension would require support from the Legislature. Evers' legal counsel, Ryan Nilsestuen, said the "safer at home" order exists independent of the public health emergency and falls under the Department of Health Services' authority to respond to communicable diseases.
Some business groups have also raised concerns about the extended order.
Tom Diehl, president of the Association of Wisconsin Tourism Attractions, called on Evers to immediately create a task force of business leaders and health officials to create "a comprehensive phased plan that addresses an orderly and safe restart of our economy."
"To make the announcement to extend Wisconsin's shutdown until May 26 without having a well thought out plan on how to reopen, to me, is irresponsible and destructive," Diehl wrote in an open letter. "If we wait until May 26 to start this process, we run the risk of permanently destroying Wisconsin's economy and the loss of thousands of small businesses."
The Tavern League of Wisconsin, a powerful group representing alcoholic beverage license holders, recently called on Evers to allow bars and restaurants to reopen on May 1 by implementing safety measures. Those include requiring all employees to wear masks and gloves, not allowing anyone to be closer than 6 feet from one another, spacing all tables 6 feet apart, and reducing the number of people allowed inside by 50%.
Caution urged
Health experts have warned that states should not reopen on a broad scale until there is a substantial increase in the number of tests currently being done for COVID-19. They also say robust programs are needed to trace people who have had contact with infected people to avoid having them spread the virus to others.
The plan calls for reaching 85,000 weekly tests, or about 12,000 per day.
The state has increased its COVID-19 testing capacity more than five-fold in the past five weeks, to more than 7,600 tests a day, and plans to continue adding more labs and testing capacity in the days and weeks ahead.
About 150 state employees have been trained to contact people who may have been exposed to those with COVID-19 and quarantine them. Evers' plan calls for hiring another 1,000 contact tracers.
The Tavern League of Wisconsin has called on Gov. Tony Evers to allow bars and restaurants to reopen on May 1 by implementing safety measures.
The Tavern League of Wisconsin has called on Gov. Tony Evers to allow bars and restaurants to reopen on May 1 by implementing safety measures.