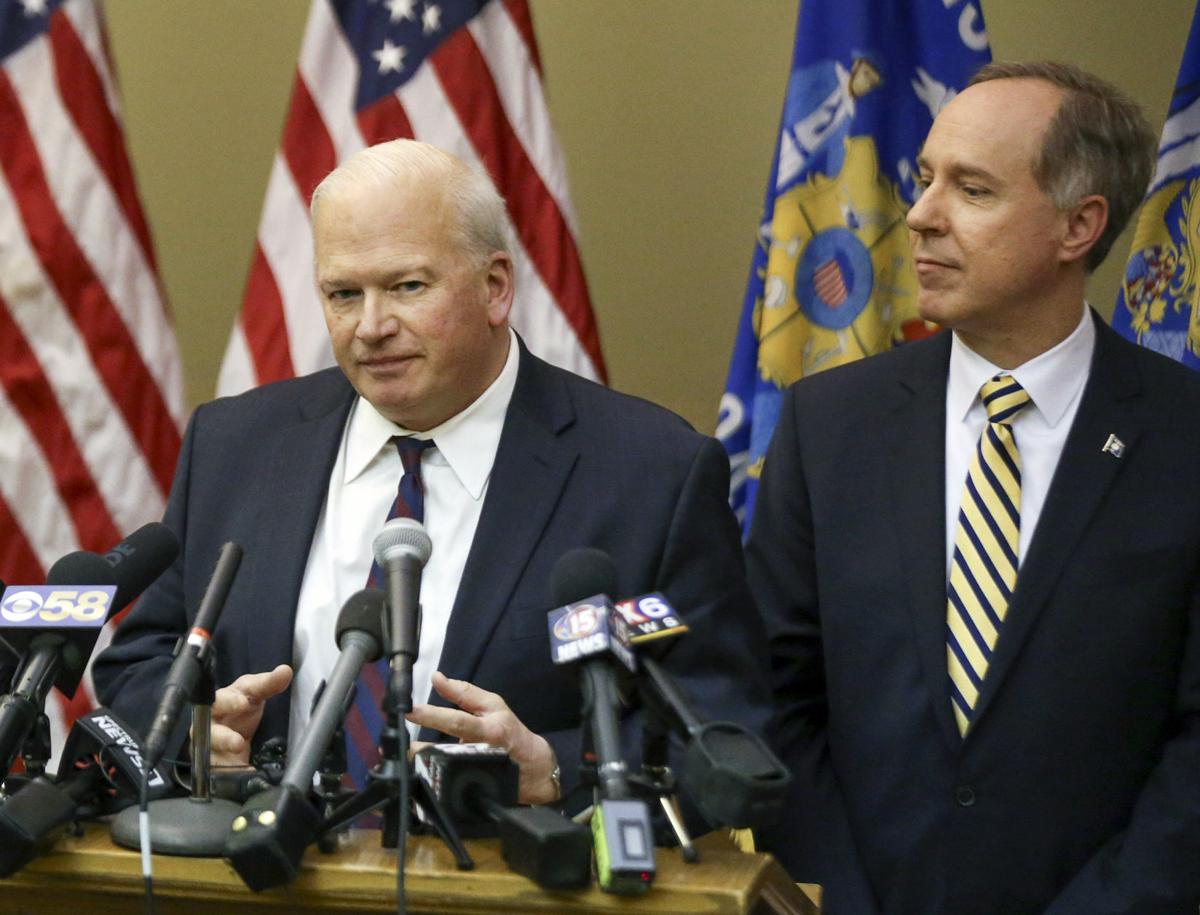 The state's two top Republicans say they support the elimination of the one-week waiting period to receive unemployment insurance via an emergency package of legislation addressing the COVID-19 coronavirus that they say they'll vote on soon.
The development comes as Gov. Tony Evers introduced his second major legislative package dealing with the new coronavirus, which would provide hundreds of millions of dollars more relief for health care providers, taxpayers, low-income families and small businesses, among others.
Evers and Republicans so far have been unable to agree on emergency measures after the governor introduced a more than $700 million proposal last week.
Evers spokeswoman Melissa Baldauff said it's possible much of the two legislative packages proposed by the governor could be paid for through the $2 billion in stimulus funding Wisconsin is set to receive from the federal government. But because the state doesn't yet know whether all of Evers' proposals will be reimbursed by the stimulus, he is asking the Legislature to act now. It could be a month before the state receives the stimulus funds.
Republicans are skeptical of the cost, and are highly unlikely to pass the two packages in full. Earlier this week, they told Evers to go ahead and spend money on protective equipment, such as face masks, on his own.
Senate Majority Leader Scott Fitzgerald, R-Juneau, said lawmakers are becoming very concerned about the state's revenue and the fact the state won't have updated fiscal estimates for some time.
"The Legislature plans to craft and negotiate a plan that doesn't spend outside our state's means," Fitzgerald said in a statement.
Assembly Speaker Robin Vos, R-Rochester, and Fitzgerald want the state to rely on federal stimulus dollars rather than state funds. They said they'll need to even be cautious about spending money already set aside in the state budget.
If Republicans don't take action on some measures, Baldauff didn't rule out the possibility of the governor using his emergency powers to act on his own.
Republicans who control the Legislature did signal some progress on emergency legislation Wednesday morning, when they told reporters they support eliminating the state's one-week waiting period and will introduce a legislative package soon. Republicans also said they are open to taking up issues related to employee licensure and health care workers.
Under current law, workers do not receive unemployment benefits for their first week of unemployment, effectively denying them one week of benefits. Lawmakers support eliminating the waiting period for at least the rest of the year. They also said they're open to a retroactive application of unemployment insurance benefits.
"People need help right now that lost their job," Fitzgerald said.
Evers has been pushing for the elimination of the one-week waiting period, which he originally included in his 2019-21 state budget request.
Vos said the Legislature will meet "as quickly as possible" to take up the legislation that would also likely allow the state Department of Health Services to request a waiver to provide more flexibility for health care providers.
Vos and Fitzgerald were short on details in a Wednesday morning call with the media, but said they needed further clarification from the state's nonpartisan Legislative Fiscal Bureau before they're able to finalize the package.
Key to the discussions are the recent $2 trillion stimulus package passed by the U.S. Congress that directs about $2 billion to Wisconsin. Evers has the authority to allocate most of that money on his own, but the Legislature will still need to meet to approve a number of other measures.
Second package
Following his more than $700 million proposal, Evers unveiled a second legislative package that would make investments in health services, and provide support for essential workers and businesses.
Among other things, the package includes $274 million in added funding for Medicare providers via supplemental payments and rate increases, and $150 million in state dollars to provide grants for small businesses and workers. Republican legislative leaders signaled they may be open to such a proposal, in some form. Grants to small businesses are distributed by the Wisconsin Economic Development Corp.
"The longer that these businesses are asked to operate in a very limited fashion, it's going to be difficult for some of them to come back," Fitzgerald said. "That's why the federal dollars, and what's coming out of D.C. right now, if it could be targeted correctly to small businesses, really could have an effect on the entire situation."
In addition, Evers wants to provide $30 million to help reduce health insurance premiums by defraying costs for COVID-19 related services.
The package would also provide $26.7 million to increase the earned income tax credit for low-income families, and provide back pay to workers who lost out on unemployment benefits as a result of the state's one-week waiting period. Evers also proposed using state dollars to pay for unemployment insurance benefits to prevent businesses from experiencing a significant unemployment tax increase in the future.
It would allow employers to continue to partially pay laid-off employees without an effect on eligibility for unemployment insurance.
The package would additionally include grant funding for food assistance and meal delivery, banning utility providers from disconnecting customers, waiving interest and penalties on delinquent property taxes, and providing funds to prevent foreclosures.
Through his first and second pieces of legislation, Evers wants to set aside $150 million in funding for small businesses to allow for a maximum of $20,000 over two months to cover payroll and rent expenses.
The second package comes after a $700 million proposal Evers shared with lawmakers last week to address health care needs and other issues related to the outbreak. In that package, Evers proposed extending the statewide public health emergency indefinitely until revoked by the Legislature, waiving the state's voter identification requirement for the April 7 election, extending the online registration deadline and waiving the witness signature requirement for those voting absentee.
Evers' first legislative package would also allocate up to $200 million over the biennium to the Department of Administration and $300 million to the Department of Military Affairs to fund costs related to the coronavirus response. Both departments also would have the ability to request additional dollars from the Legislature's budget committee, if necessary.
The proposed legislation also would allow for the addition of 64 new employees at the Division of Public Health at a cost of $10 million; provide $17 million in grant funds for local public health agencies; prohibit the cancellation of insurance policies during the pandemic; and allocate $20 million in local government emergency assistance.
Evers also has proposed expanding funding to programs that assist child care providers, those unemployed as a result of the pandemic and organizations that assist the homeless.