Over the din of honking horns, cheers and cooking pots turned into drums, hundreds in Downtown Madison celebrated Saturday as Joe Biden was projected to become the next president of the United States.
Many of those celebrating the former vice president's victory over incumbent President Donald Trump said they had experienced a rollercoaster of emotions in the past several days as large numbers of pandemic-prompted mail-in ballots were counted in key states, eventually pushing Biden over the Electoral College threshold for victory.
As Sam Rhyan walked up to join the growing crowd, the 31-year-old said he was feeling "a sense of excitement."
Rhyan, who "enthusiastically" voted for Biden and his vice presidential running mate, California Sen. Kamala Harris, said he's looking forward to what he expects will be a fundamentally different approach to governing.
"The first stark difference we're going to experience tonight when (Biden) speaks and on Day 1 is representing the better part of who we are," he said. "Just restoring character to our country, restoring decency, bringing people together, I think is just simply unity and not division."
"Relieved and elated" was how 26-year-old Paul Hermann said he was feeling after the call was made.
Chris Leslie, 35, of Middleton, played "The Stars and Stripes Forever" from a battery-powered speaker strapped to his chest. At the same time he stood at State and Mifflin streets waving his grandfather's American flag.
"It's a song of victory," Leslie said over the sounds of the John Philip Sousa march and the constant sound of car horns. "Today, America and justice won."
Angela Maloney, 19, was hiking at Pheasant Branch Conservancy in Middleton when she learned the race had been called for Biden. An hour later, she stood on the concrete base outside the Capitol that had held the "Forward" statue removed by protesters earlier this year.
"I think this is a great step forward," said Maloney, a UW-Madison sophomore. "We now have someone in the White House we can negotiate with and work with to fight for equality for all and freedom for everyone."
The road ahead
Around mid-morning at Capitol Square — before major media outlets had called the race — a few dozen people attended a rally put on by labor unions and political advocacy organizations where speakers were already talking about what they want to see accomplished under a Biden administration.
As Awais Khaleel, with the Wisconsin Muslim Civic Alliance, addressed the crowd, he broke away from his speech.
"I have the privilege of sharing something with y'all. I was just notified that CNN has called this election," Khaleel said as cheers went up.
Soon, more and more Biden supporters — and some Trump supporters — began to trickle onto Capitol Square. The revelers, many of whom were wearing facemasks, swelled into the hundreds by early afternoon.
A line of cars circling the Capitol and honking horns turned into clogged streets of cars, motorcycles and bicycles carrying Biden supporters cheering in the heart of the Democratic stronghold.
Rally for Trump
About a block away from those celebrating Biden's victory, a group of about 100 supporters of Trump gathered at the South Hamilton Street entrance to the Capitol. They waved Trump flags, wore red MAGA hats and gave speeches about what they say were fraudulent votes, even though no solid evidence of malfeasance has been shown.
Rolf Lindgren, 56, of Middleton, who moments earlier had spoken to the crowd through a bullhorn, said it's too early to declare a winner.
"The Electoral College hasn't even met yet so how do we know who is going to win," Lindgren said. "The media doesn't call elections in the Constitution."
Alex Bruesewitz, 23, co-founder of a Washington, D.C.-based political consulting company, led some of the speeches and told the crowd through a bullhorn that he didn't believe there were more voters for Biden than Trump.
"There's zero percent chance that Joe Biden legitimately received 74 million votes," Bruesewitz said.
Troy Johnston held a "Stop the Steal" sign with other Trump supporters protesting the outcome of the election.
Johnston, a trucker from Texas who took the day off as he was passing through the area, called Biden a "criminal" and said he believed the election was marred with fraud — similar to unsupported claims Trump has made.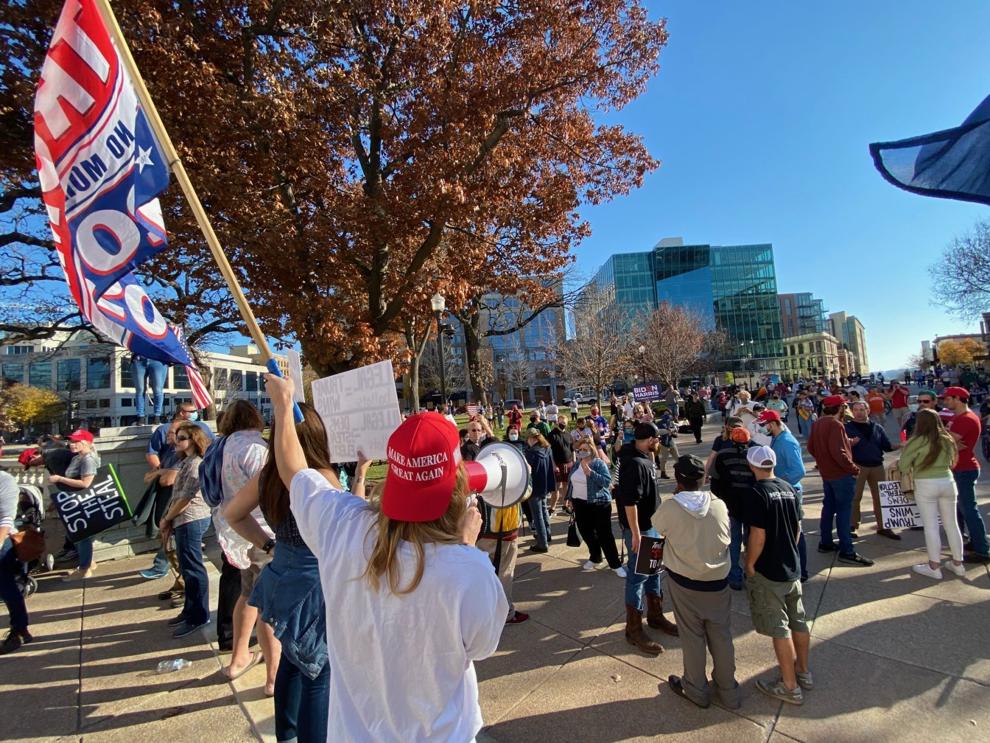 Biden supporters
Patrick Sajbel, 60, of Madison, recently retired as a chemical engineering consultant, a job that took him all over the world. He was relieved that "credibility is back" for the country because he felt Trump's approach was damaging.
"It's just delightful to finally see a change," Sajbel said. "It was an experiment for four years, OK, (but) it's over."
Catherine Erhard Olson, 39, and her husband, Patrick Olson, 41, were watching the rally from the Capitol lawn while their 3-year-old son, Theodore, ate a slice of Ian's mac n' cheese pizza.
Erhard Olson said she hopes the new administration will pursue progressive policies, especially around combating climate change, which she said is needed to ensure a healthy planet for her child.
"I hope that climate change is the No. 1 thing they are receptive to and actually take action on climate change," she said.
Michael Knoedel, 27, who lives on the city's West Side, said he and his girlfriend were eating outside of Heritage Tavern on the Square when honking and cheers started.
"It's a big relief, that's what it was," he said. "It's just been a big stress the past couple of days."
Caution persists
Carol Hermann, who's lived in Madison for 20 years, had a more tempered perspective.
"I still don't 100% trust the Trump administration to play fair, quite frankly," she said. "Given the comments he's made about not committing to a peaceful transition of power and just his general way of comporting himself, I still feel the need to be cautious. But I have faith in the democratic process."
Hermann said she had been hopeful Wisconsin would back Biden this time after Trump claimed the state in 2016.
"In Madison, we tend to live in a little bit of a bubble, and we're not necessarily in touch with what's going on in the rest of the state," the UW-Madison research administrator said. "I had spent some time in the northern part of the state not too long ago and there were about 50/50 Trump (to) Biden signs, and so I figured that was a good sign."