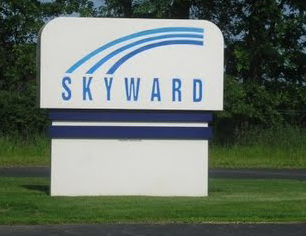 Newly released records show a Stevens Point company accepted an offer of tax breaks contingent on it winning a state contract, appearing to contradict earlier claims from Gov. Scott Walker's administration that no firm commitment had been made to the company.
Documents provided to The Associated Press under the state's open records law Monday show the chief executive officer of information systems company Skyward signed an acceptance of the $11.7 million tax break offer on March 26, four days after it was proposed.
The signed agreement with the quasi-private Wisconsin Economic Development Corporation makes clear that its provisions are not binding until a final contract is executed. No such contract was prepared before the offer was rescinded, WEDC spokesman Tom Thieding said.
"This was a soft offer," Thieding said. "It's an agreement to agree."
The offer was contingent on Skyward winning a $15 million contract to implement a new statewide student information system. Skyward has threatened to leave the state if it doesn't get the contract.
A day before the bids were due last month, Walker's administration announced it was suspending the process because of concerns about the propriety of the tax breaks offered to Skyward.
Walker's Department of Administration, which manages bidding on state projects, said the offer violated the spirit of the process. Democratic critics have questioned whether it amounts to illegal bid rigging.
When DOA announced on June 18 that the bid process was being suspended, it said Skyward had been made a "soft offer of economic development assistance."
In a June 19 email, DOA spokeswoman Jocelyn Webster described the so-called "soft offer" this way: "To be clear, Skyward did not receive any firm commitment, monetary awards, or tax incentives from WEDC."
The documents provided to AP show the company had accepted the offer. But nothing would be finalized until the WEDC board approved the deal and Skyward signed a contract, Thieding said. Even then, no money would have gone to Skyward until it met certain investment and job-creation goals.
"We get a lot of those where nothing ever transpires," Thieding said. "We get a number of commitment letters or soft offers that never get executed into a contract. Really it's just an agreement to agree on the initial terms of the offer."
One email provided under the open records request came from David Volz, WEDC's government affairs director. It included a list of companies for Walker to call immediately following his June 5 recall election. The email, dated the day of the recall, makes clear that Skyward "accepted WEDC offer of $11.7M in enterprise zone tax credits."
The email provided for Walker said the tax credits were offered to Skyward "to assist in the event the company wins" the state contract.
Walker announced last week that he was shaking up leadership of WEDC, just a year after it replaced the Department of Commerce. Walker appointed his deputy chief of staff Ryan Murray to the No. 2 position at WEDC to improve communications and work more closely with other state agencies.
WEDC leader Paul Jadin has stood by the Skyward offer, saying he believed it was legal because his agency isn't bound by procurement laws that forbid bid-rigging. Even so, Walker said no such offers will be made again and companies talking to WEDC will be asked to sign a document saying they are not bidding, or planning to bid, on state projects.
Democratic members of the Legislature's budget committee sent Jadin a letter Monday expressing "serious concerns" regarding how WEDC is operating and its job creation efforts. The letter refers to Skyward and what Democrats called a lack of specificity and details about WEDC's plans to spend $25 million in economic development credits.
The lawmakers said the Joint Finance Committee must take additional steps to ensure the agency is working correctly and called on Jadin to address the issues WEDC spends any money.
Rep. Robin Vos, the Republican co-chair of the committee, said he hadn't seen the Democrats' letter, he thinks WEDC has been doing a "wonderful job" and concerns over what happened with Skyward were overblown.
"I don't even think it was that big of a deal," he said.
It's possible that Skyward will still get the state contract.
The company was allowed to submit a bid once the process was restarted, but Walker's administration hasn't said who turned them in by the July 10 deadline.
Skyward employs about 270 people statewide, with most of them at its headquarters in Stevens Point. The company sells management software to track grades, attendance and other information for schools and serves 220 of Wisconsin's 424 districts. The tax breaks offered were to help Skyward with a planned $20 million expansion of its headquarters and the hiring of more than 600 workers.