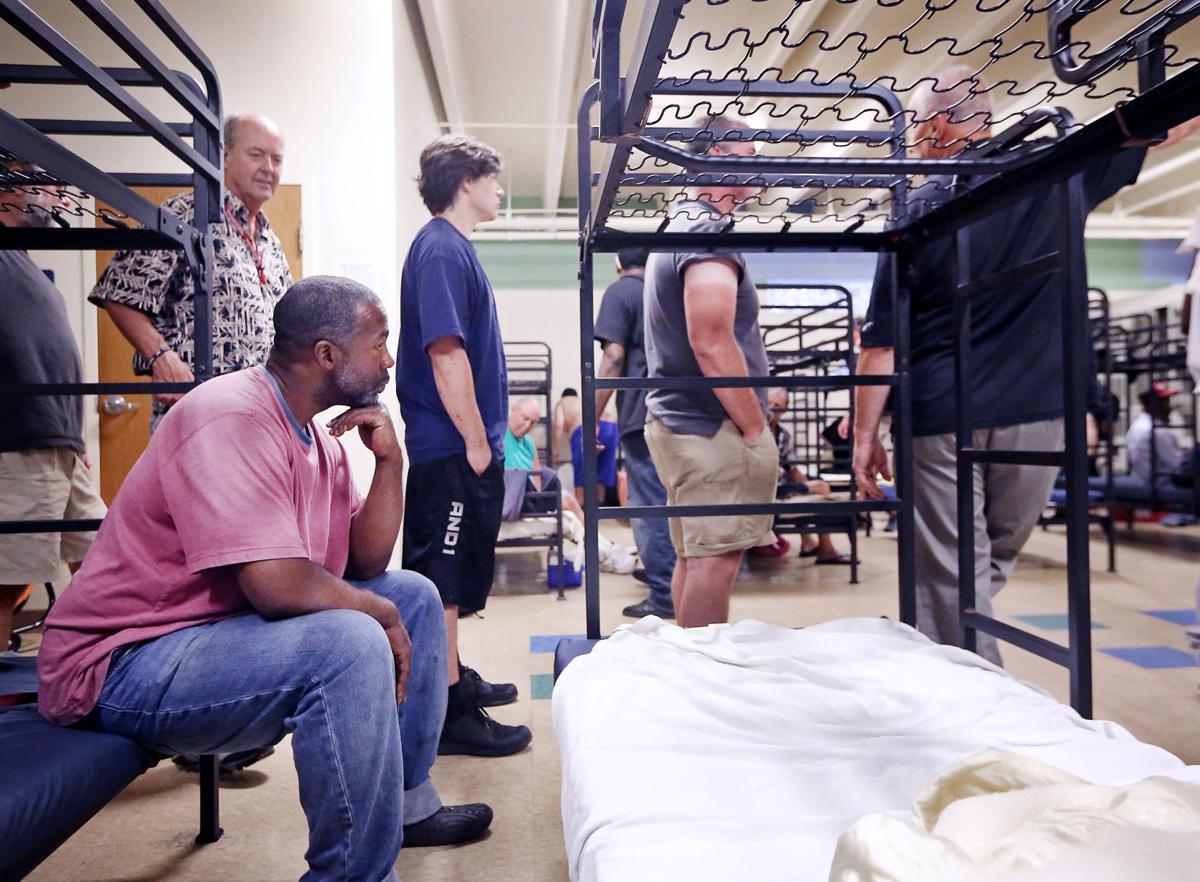 Efforts to address homelessness continue to evolve. Below is a list of responses in an effort to make homelessness rare, brief and non-recurring, and highlights of actions at the local and state levels.
Emergency shelter: Short-term, nightly shelter. Supportive services may or may not be provided. The number of total days allowed often is capped at 90 per year.
The men's shelter operated by Porchlight at Grace Episcopal Church in Downtown Madison is widely considered inadequate. A group met for months to study needs and gather information and the church has hired a consultant to build community support for a new shelter. Salvation Army of Dane County, which runs shelters for women and families at 630 E. Washington Ave., has proposed a $25 million project with a new shelter, transitional rooms, and income-based and non-subsidized housing in two new buildings on its site and adjacent property. The project has raised neighborhood concerns, especially about safety, and is under city review. 
The state provides funding through nearly 80 programs for emergency shelter and hotel vouchers, and funds 10 agencies for case management services at shelters. Bills before the state Senate would let the Department of Administration seek more funds from the Legislature's budget committee for the state shelter subsidy and homeless case management services programs.
Diversion from shelter: An approach rather than a program with the intent of helping households on the verge of homelessness find an alternative to emergency shelter. It requires a commitment to the approach, even if there's shelter space and a problem-solving conversation with the household to explore its own options and resources to avoid shelter.
In Dane County, diversion conversations are happening with single women and families with children who are seeking shelter. The only diversion program operates at the Salvation Army. The community is considering options for single men.
Currently, the state funds no diversion programs, but the new action plan to end homelessness calls for a start to such programming. A bill before the state Senate would let the Department of Administration seek funding from the Legislature's budget committee to create such a program.
Housing First: An approach in which homeless people are given immediate access to housing without prerequisites like sobriety or a willingness to participate in services. It typically is designed for people with complex needs and who are the least likely to be able to proactively seek and obtain housing on their own.
The Dane County Homeless Services Consortium began using Housing First practices in 2015. Madison and Dane County have housed 780 chronically homeless households and veterans since 2015.
The Wisconsin Interagency Council on Homelessness, created in 2017, adheres to a Housing First approach. Some strategies may be slightly adjusted for programs to house certain homeless sub-populations, but practices are guided by general principles of low-barrier housing.
Transitional housing: An interim step between emergency shelter and permanent housing for households with significant barriers to housing. It helps homeless people overcome trauma, regain stability and rebuild their support networks within 24 months. Services can include case management and rent assistance.
In Dane County, there's little happening with transitional housing. Over the last few years, such programs have been converted to permanent housing. The federal government no longer prioritizes transitional housing as a solution.
Is on the wane in the state after the approach fell out of favor at the federal level. Without federal funding, it was felt a small amount of state funding could be better used elsewhere. 
Rapid re-housing: A temporary program for homeless people who've lived independently before and don't need permanent supports. It seeks a quick turnaround, emphasizing housing search and relocation services and short- and medium-term rental assistance. Some participants have disabilities but most don't.
There are about 74 units set aside for rapid re-housing for families and 36 units for singles in Dane County. Based on the availability of rapid re-housing and number of people experiencing homelessness, the county needs about 1,078 more units to fully met needs.
Efforts are on the rise in Wisconsin because it's clear this is what the federal government wants. It works well for those whose homelessness is caused by an unexpected financial event. Rapid re-housing has seen increased funding primarily through the housing assistance program.
Permanent supportive housing: Assistance for people with the most complex challenges and most severe service needs. It targets people with chronic impairments and supports them on a permanent basis, with indefinite leasing or rental assistance.
Madison and a nonprofit partner opened the $8 million, 60-unit Rethke Terrace project for single adults and veterans in 2016, and the $11 million, 45-unit Tree Lane Apartments for families in 2018. Both projects have had challenges, especially with police calls and funding support services. The city has postponed seeking more such projects as it reexamines how to best provide units. The community, in more than 20 housing settings, has nearly 900 Housing First beds.
The state sees the approach as the gold standard of strategies to end homelessness, but the volume of units produced in Wisconsin falls far short of need. The Wisconsin Housing and Economic Development Authority is aggressive in allocating federal low-income housing tax credits, but the state has few other resources to assist in developing this kind of housing.