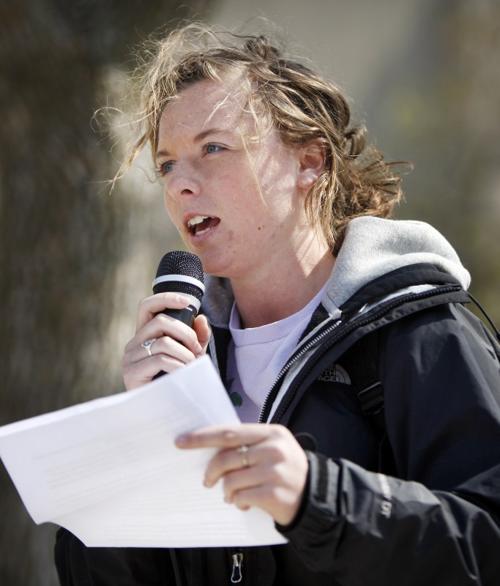 About 150 people gathered Tuesday on the UW-Madison campus to call for repeal of a state law that allowed a homeowner to claim self-defense in the March 3 killing of Bo Morrison, a 20-year-old from West Bend.
Morrison's shooting death came roughly a week after a neighborhood watch volunteer in Sanford, Fla., shot and killed Trayvon Martin, 17, in another disputed case of self-defense. Both young men were black and unarmed, which has ignited charges that the shootings were racially motivated.
Thousands have protested Trayvon's killing in Florida, Baltimore, Washington, D.C., and elsewhere, demanding prosecution of the shooter, George Zimmerman. At Tuesday's event on Library Mall, organizer Dan Suarez of the International Socialist Organization called the two deaths "lynchings."
"They were murdered because of the color of their skin," Suarez declared. "We have been taught in the United States to be afraid of young black men."
Morrison was killed around 2 a.m. March 3 while hiding from police on the back porch of a house in Slinger. The homeowner — who had called police earlier to complain about loud noise from a party — found the young man on his darkened three-season porch.
Washington County District Attorney Mark Bensen declined to issue charges, finding the shooting met the criteria for self-defense under Wisconsin's "castle doctrine" law, which took effect in December.
Morrison, who trained as a carpenter and had joined the U.S. Marines, is thought to be the first person killed under the law, which takes its name from the saying "a man's home is his castle."
The law allows use of deadly force if a person has illegally entered a home, vehicle or place of business and the owner reasonably believes the force was necessary to prevent imminent death or great bodily harm. Martin was killed under a more expansive Florida law known as "Stand Your Ground" that allows a person who feels threatened anywhere he is legally allowed to be to use force to prevent harm to himself or others
Morrison's friend Christine Bohn, a UW-Madison student, told the crowd she was there when the parent who owned the garage where the young people were partying told them to leave to avoid police.
"We were a group of kids who were forced to run to avoid underage drinking tickets," said Bohn, 18.
Bohn said Wisconsin self-defense law "unfortunately protected the wrong person that night." She called the law "barbaric and inhumane" and said it encourages those who feel threatened to kill as a first reaction.
Another friend, UW-Madison student Tiffany Schroeder, 21, described Morrison as "gentle" and "kind" and "my teddy bear." She exhorted the crowd "to do everything to make sure these guys did not die in vain."