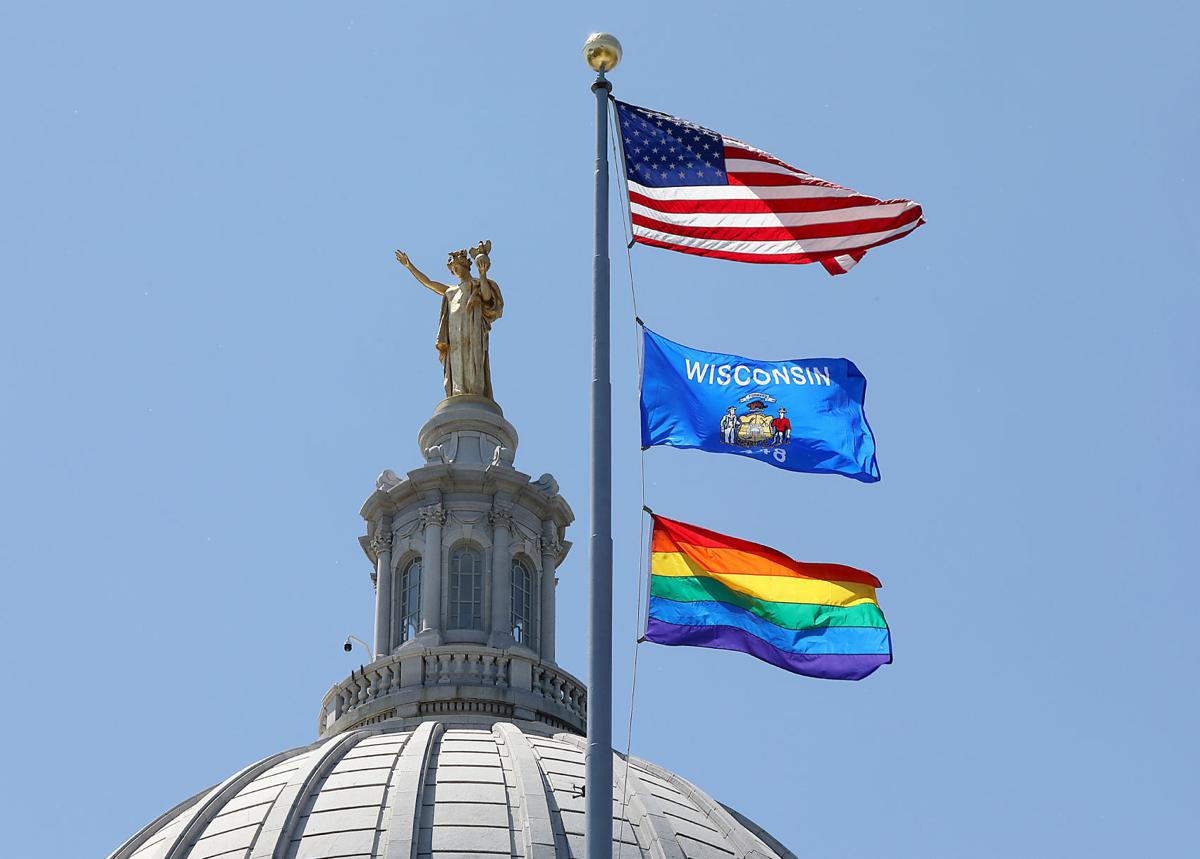 Democratic Gov. Tony Evers ordered a rainbow flag fly above the state Capitol for the first time in state history, a decision praised by Democrats for promoting inclusivity and derided by some Republicans who said it was divisive.
June is Lesbian, Gay, Bisexual, Transgender and Queer (LGBTQ) Pride Month and the flag will fly through the end of the month.
Evers' order also authorizes other state buildings to fly a rainbow flag this month.
"Publicly displaying the Rainbow Pride Flag sends a clear and unequivocal message that Wisconsin is a welcoming and inclusive place where everyone can live without fear of persecution, judgment or discrimination," Evers said in a statement.
Rep. Scott Allen, R-Waukesha, asked in a tweet if flying the pride flag over the Capitol was any more appropriate than a Christian flag.
Allen, who describes himself on his Twitter bio as a "Child of God/Family Man," did not return a call for comment Friday. He told The Associated Press that the rainbow flag "advocates a behavior or lifestyle that some Wisconsin residents may not condone. Therefore, it is divisive."
Sen. David Craig, R-Big Bend, called Evers' action "a statement to advance a cause."
"The only cause that the Capitol flags should represent is fifty states united in one republic," Craig wrote on Twitter.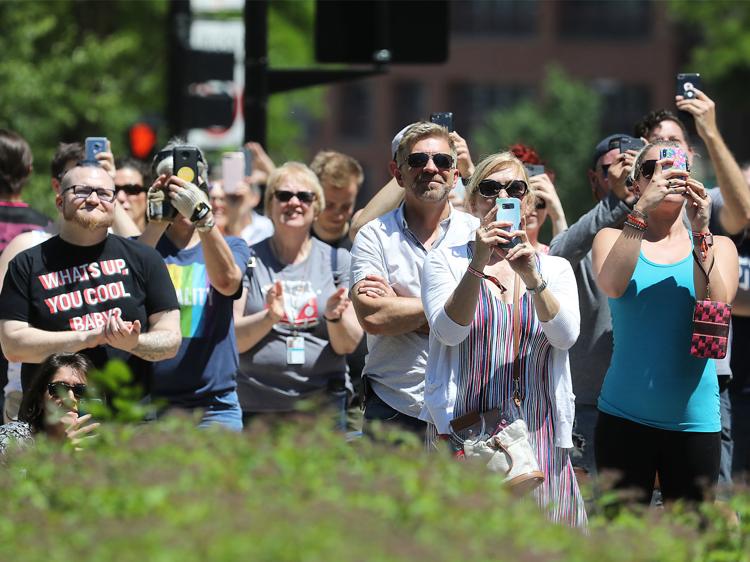 The U.S. flag, the state of Wisconsin flag and a black-and-white flag recognizing soldiers who have been prisoners of war or missing in action typically fly over the state Capitol.
In a statement, Wisconsin Family Action president Julaine Appling called the gay pride flag "a flagrant abuse of gubernatorial power" and likened it to flying a Christian flag or a Nazi flag over the Capitol.
The action "is proclaiming one group of Wisconsin citizens as preferred over others," Appling said.
Appling also noted Wisconsin approved a constitutional amendment defining marriage as between a man and woman in a 2006 referendum that passed with 59.4% support. The U.S. Supreme Court struck down gay marriage bans in 2015.
A Marquette Law School Poll in 2016 found 64% of Wisconsinites support same-sex marriage, including 84% of Democrats and 43% of Republicans.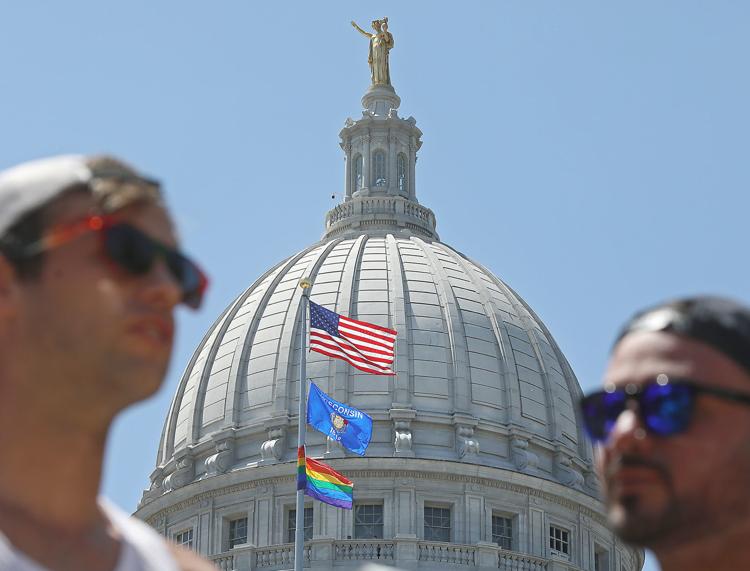 "This is a very welcoming sign to many of us and it signifies a new direction for Wisconsin," said Sen. Tim Carpenter, D-Milwaukee, the only openly gay state senator currently serving in the Legislature. "We are showing that we are a welcoming and inclusive state and that means a great deal."
U.S. Rep. Mark Pocan, D-Black Earth, who is gay, told reporters in a Friday news conference that conservatives criticizing the move may fundraise a few dollars, but their "old, antiquated" stance is not mainstream, even among Republicans.
"There's some people who always profit from hate, right?" Pocan said. "It's good to raise money on. It's good to put that out there every now and then and get that part of the base excited and send you a few bucks."
U.S. Sen. Tammy Baldwin, D-Madison, the first openly gay person elected to the Senate, praised Evers' leadership in a tweet.
Madison Mayor Satya Rhodes-Conway, the city's first openly gay mayor, raised a rainbow pride flag over the Madison Municipal Building earlier this week. The building will also be lit in the evening with rainbow colors throughout the month.
Several dozen people watched the ceremony.
"So beautiful," Hilda Riva Cepeda whispered to her partner, Naomi Cepeda Riva, as the flag rose.
The Madison residents married last year in a Long Beach, California, ceremony and said they have not experienced specific acts of discrimination in Wisconsin.
When they heard the news about Friday's flag raising, they hurried over to the Capitol to witness it.
"It's a big accomplishment for our community," Riva Cepeda said. "And it shows a lot of support from our government. It means a lot to me."