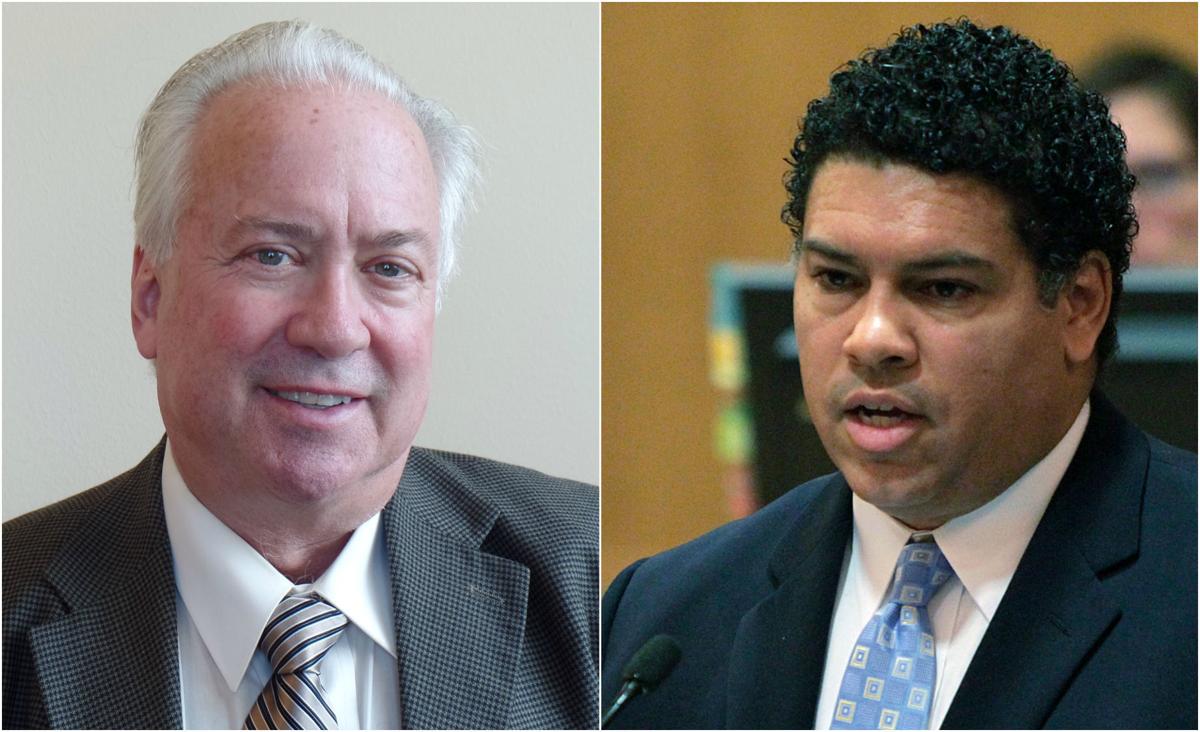 Amid the sharp rhetoric that has come to dominate the race for Dane County district attorney, there is some agreement between the incumbent, Ismael Ozanne, and the man who wants his job, Assistant District Attorney Robert Jambois.
Both favor more opportunities for diversion from prosecution, especially for young people committing their first crimes or people who have overdosed on drugs.
They want programs that will offer treatment and keep the names of those people from getting into the state court system's internet database, which diminishes their chances for employment and housing.
But the fight has sometimes become personal, veering at times into race.
"I'm just astonished at the things he does and the things he doesn't do," Jambois said. "It's as though he likes the title of district attorney but he doesn't like the job of district attorney."
Ozanne said Jambois is ignoring the programs he's helped build to prevent crime, enhance public safety and attack racial disparities in the criminal justice system, all as Jambois downplays the challenges heaped on the office by a state Legislature that won't fund pay raises for prosecutors or hire more of them.
"If we can't expect this person to be truthful and honest about this public safety issue, what can we expect him to be truthful and honest about?" Ozanne said.
He has also accused Jambois of engaging in dog-whistle politics by intimating that he is lazy. Ozanne is black; Jambois is white.
"I'm not the first person of color, the first leader of color, to have that thrown out there," Ozanne said. "He said I'm not coming to work. He said I'm basically not doing anything at work."
Ozanne said Jambois kicked off his campaign in May by saying, without evidence, that he doesn't show up to work. Ozanne said key card records and his calendar both show, to his wife's frustration, that he rarely takes days off.
Jambois said he's never described Ozanne as lazy, and said he was offended that Ozanne would interpret his words to have racial connotations.
"It's offensive that he would categorize it in this fashion," Jambois said, noting that he and his wife were foster parents for 25 children, many of them African-American, and adopted one of those children. "But I think there's a history there, that he characterizes every problem that's confronting this office in those terms, and those are not the problems facing this office."
Both are Democrats, seeking the nomination in Tuesday's primary. With no Republican opponent for the Nov. 8 general election, the primary will determine the winner.
Ozanne, 45, was an assistant district attorney for about 10 years before joining the state Department of Corrections, rising to its number two job. Then-Gov. Jim Doyle appointed him to the DA job in 2010, the first African-American to hold such a post in Wisconsin.
Jambois, 64, was the district attorney in Kenosha County from 1989 to 2005, when he became chief legal counsel for the state Department of Transportation. He opened a private practice in 2010, then was hired by Ozanne last year to help an office in need of experienced prosecutors.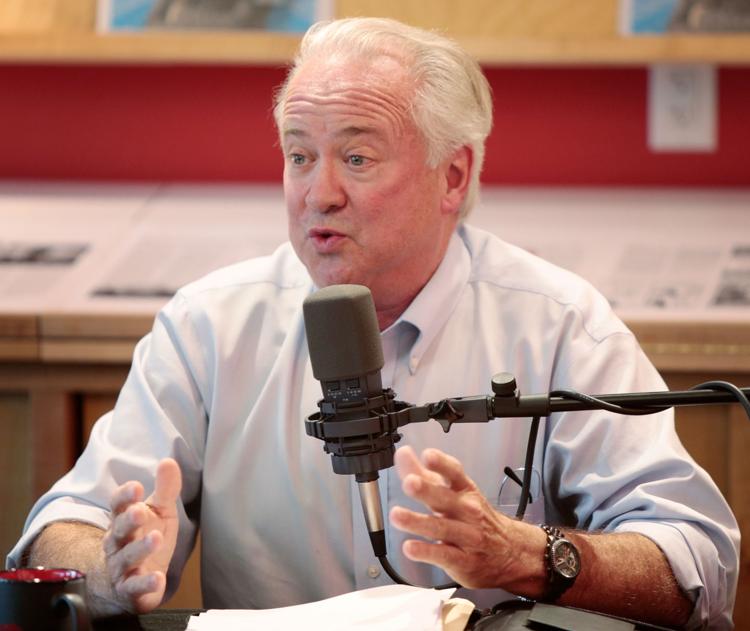 But after arriving, Jambois said, "I could see that there were some very, very, very serious problems within this office," including how it is perceived by law enforcement, defense lawyers and judges.
"Within a matter of weeks of coming into the DA's office I did tell the incumbent that his office is profoundly demoralized, profoundly dysfunctional and exceedingly disorganized," Jambois said.
Chief among Jambois' complaints is that Ozanne doesn't carry a caseload like other prosecutors and should be pitching in during staffing shortages. Not trying cases also means that Ozanne isn't mentoring young lawyers, he said, vital to their development as prosecutors.
Recently, Jambois called attention to what he said was Ozanne's failure to take part in crucial segments of the process to create new court policy for bail hearings. That resulted in letters from Dane County judges critical of Ozanne's handling of the change in procedure.
"Ismael Ozanne does not go to court," Jambois said. "Ismael Ozanne does not go to the judges meetings. Ismael Ozanne does not implement new policies, doesn't have any discernible effort at planning for these changes."
What persuaded Jambois to run, he said, was a meeting in May of lawyers in the DA's office in which he said Ozanne "demoralized" staff by calling attention to offensive file notes, without being specific about what the notes said or who wrote them. Jambois said he tried to get Ozanne to explain, but he wouldn't.
"Why are you insulting all of us because of file notes that may have come from one or two people at most?" Jambois said.
Ozanne said the file notes were written in what appeared to be African-American slang or dialect, something that he said absolutely cannot happen.
"I was addressing implicit bias and explicit racism," Ozanne said. "I believe the community expects me to do so. If that demoralizes Mr. Jambois, so be it. At times when we are having these most difficult and uncomfortable conversations, but necessary conversations, I can make people uncomfortable. It is not my intention."
Ozanne said that before the meeting he had also been told about a comment made by another staff lawyer, who was heard asking whether implicit bias training would be required if he or she showed up in blackface. Ozanne didn't bring up that comment in the meeting, he said, but that was on his mind going in.
"I'm not saying I handled myself in the best manner, but those were the issues that we were dealing with in that meeting," he said.
Ozanne said both lawyers were made to go through implicit bias training. "We addressed it and we're moving forward," he said.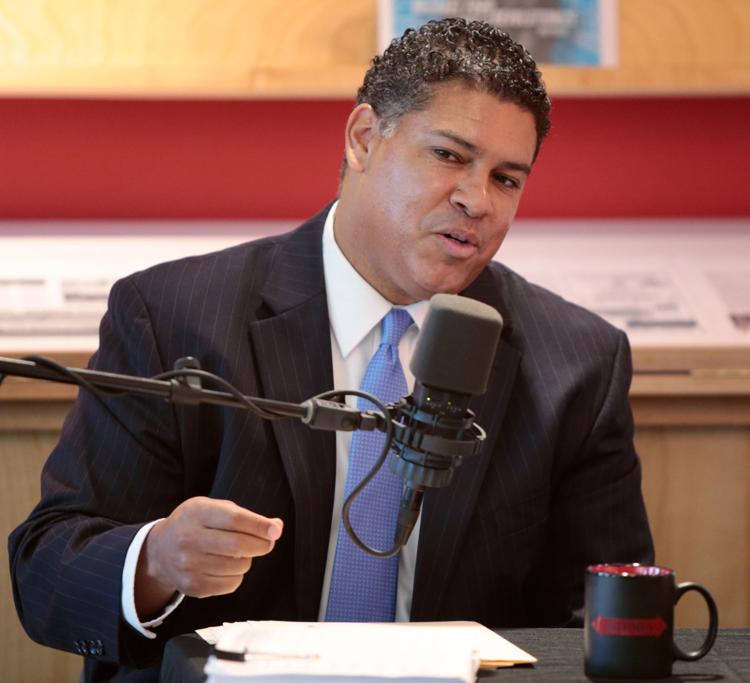 Ozanne said that, contrary to Jambois' assertions, he has tried cases while DA, including homicide and child abuse, and said he fills in as the representative of the DA's office during drug court sessions. But most of his work keeps him outside the courtroom.
"There's lots of stuff I do that doesn't have me in the courtroom," he said. "If the court dictated to me my calendar and I had a full caseload, I couldn't be pushing for systemic change. I couldn't have gotten done what we've accomplished with the community restorative court, with our child abuse initiative. These things were needed."
The child abuse initiative is aimed at retraining parents so they don't abuse children and can avoid future criminal charges, which helps address racial disparities in the justice system. When the initiative started, Ozanne said, 54 percent of those referred to it were people of color.
The prison population, he said, is full of people who read at a sixth grade level or below, have mental health or drug addiction issues, or came from childhoods riddled with abuse or neglect. He said he is looking for ways to change that dynamic and save money in the process.
Jambois also blames Ozanne for the turnover of 20 of the office's 28 lawyers over the past two years. He said it's not just a lack of pay progression that makes lawyers leave, but Ozanne himself.
"They were leaving because of a lack of leadership," Jambois said. "They're being made to feel disrespected and unneeded, as though they're part of the problem instead of being part of the solution."
Shelly Rusch, a former assistant district attorney now with DOJ, wrote in a statement supporting Jambois that "the DA's office is in shambles. I left my position a year ago not because of a lack of pay progression, but because for the first time in my career, I worked in a DA's office that was disrespected."
In an interview last year with the State Journal for a story about departures from the DA's office, however, Rusch didn't specifically blame Ozanne, but decried the workload and pay structure as her reasons for leaving. None of the departing prosecutors interviewed for that story mentioned Ozanne's leadership as the reason they left. One of them, Deputy District Attorney Matthew Moeser, has since returned to the office.
Deputy District Attorney Corey Stephan, a 21-year veteran, is leaving in August but said Ozanne had nothing to do with his departure. He's going to work for the U.S. Attorney's Office in Madison, a good job with better pay, but he said he regrets having to leave the DA's office.
"I'm actually quite sad about leaving the office as well as the team that we have," Stephan said.
• Tuesday's primary will decide some races. C1
Get Government & Politics updates in your inbox!
Stay up-to-date on the latest in local and national government and political topics with our newsletter.