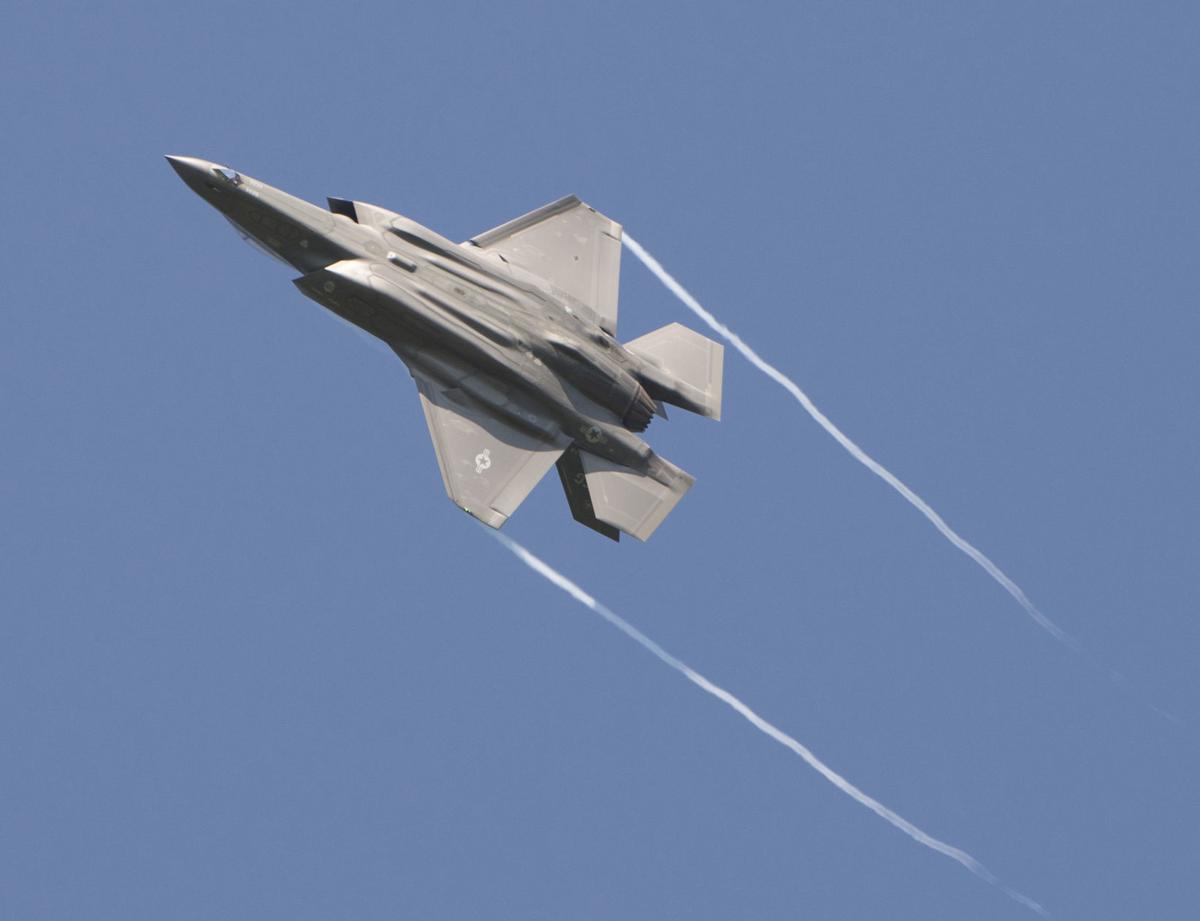 The U.S. Air Force has approved a 30-day extension to the public comment period for the proposal to add a squadron of F-35 jets at Truax Field.
U.S. Rep. Mark Pocan, D-Black Earth, who earlier this week requested the extension, said it was granted following a call Thursday with John Henderson, assistant secretary of the Air Force for installations, environment and energy.
"We are very happy that the Air Force is extending the public comment period for another 30 days until November 1, giving Wisconsinites a chance to make their voice heard," Pocan said in a statement. "We also hope they will reconsider conducting a take-off and landing test to more accurately assess the noise impact of the F-35s."
A statement from Air Force spokeswoman Ann Stefanek said the extension was granted "in support of community concerns, and to ensure ample opportunity for the community to provide comments."
The original deadline for public comment was Friday.
"This happened because people have been raising their voices," said state Rep. Chris Taylor, D-Madison, who earlier this week called for a 60-day extension to the F-35 public comment period. "I think it's an absolutely critical extension."
Stefanek said Thursday that extensions to public comment periods are not uncommon and she doesn't anticipate this will alter the proposed timeline. A final decision by Acting Air Force Secretary Matthew Donovan is expected in February, 30 days after the final environmental impact study is released.
Meanwhile, a Tuesday letter to Pocan from Donovan states that a proposed F-35 squadron at Truax Field would not include nuclear weapons storage. The letter also provides some clarity on the sound and frequency associated with the new planes.
"I think some of the questions still remain about what that sound will actually mean to people and their homes, especially around the term of 'incompatible for residential use,'" Pocan said Thursday.
The Air Force has identified Madison and Montgomery, Alabama, as preferred sites for two squadrons of the new $90 million jets. Many residents have voiced their opposition because the Air Force's 1,099-page environmental impact statement concluded the jets will cause increased noise for nearby neighborhoods — including some schools — and have a disproportionate impact on low-income residents and people of color.
Supporters of the jets have pointed to the 64 new jobs, accounting for $1.8 million in annual economic activity, associated with the jets. They also have said securing the new planes would add security to the more than 1,650 jobs and $99 million in annual economic impact already supported by Truax.
Zach Brandon, president of the Greater Madison Chamber of Commerce and supporter of the project, said in an email he remains confident in the case for Truax as the best location to base the jets.
"This extension is also an opportunity for the Air Force to correct the tremendous amount of misinformation being shared by a few opponents," Brandon said.
The Air Force's draft environmental impact statement estimates about 1,000 additional households around the airport would be subject to an average daily noise level from the jets above 65 decibels, or about as loud as a nearby vacuum cleaner.
But that represents an average of all airplane noise in the area over 24 hours. During the few seconds the jets take to pass overhead, the noise can reach 110 decibels or more — about 16 times louder than a vacuum cleaner — the equivalent of being at a loud rock concert or standing next to a car horn.
In the letter, Donovan said areas surrounding Truax identified in the report as being "incompatible for residential use," does not mean they possess non-livable conditions.
Donovan said 65 to 75 decibels is considered "moderately loud." Just over 550 people, or 229 households, already reside within a 65- to 70-decibel area.
In the letter, Donovan said it's expected the F-35 jets would result in "slightly more events expected than there were previously," or about two more flights per day, and the aircraft would be louder than the current F-16 jets at Truax.
Pocan said he has sent the Air Force two additional letters seeking information. He also has requested a demonstration of the takeoff of an F-35 and F-16 to allow residents to compare.
"The easiest way to make it understandable is to actually have the planes come in and make a landing," Pocan said.
Stefanek said Pocan's request is under review.
Nuclear weapons
In regard to questions on the storage of nuclear weapons at Truax, Donovan said that while F-35 jets could eventually become nuclear-capable, the squadron being considered in Wisconsin does not include nuclear weapons storage.
Pocan said he interpreted that response as a "hard no."
Both the Madison City Council and Madison School Board have asked the Air Force to potentially reconsider Truax Field as a preferred location and 15 Dane County supervisors have signed a letter opposing the jets.
U.S. Sens. Tammy Baldwin, D-Madison, and Ron Johnson, R-Oshkosh, former governors Scott Walker and Jim Doyle and several state lawmakers have expressed support for the F-35 squadron.
More on PFAS
Earlier this week, the Madison Water Utility Board requested the Department of Defense and Air Force complete an ongoing well contamination investigation near Truax before the addition of F-35s.
A Tuesday document from the board cites a recent Department of Natural Resources study that found PFAS in a well near Truax.
PFAS, or per- and polyfluoroalkyls, are a group of chemicals found in firefighting foam, food packaging, non-stick cookware, water-resistant clothing, carpeting and other products. The long-lasting compounds may increase people's risk of cancer and affect cholesterol levels, childhood behavior, the immune system and the ability to get pregnant, according to studies.
"The Air National Guard Base has been identified as a major source of PFAs contamination," the board document states. "While an investigation is underway, steps required by the Wisconsin DNR to further investigate the extent of the contamination have not yet been taken, and the Department of Defense has not considered this a priority site for mitigation."
The board also echoed comments made by the city's planning division earlier this month that the Air National Guard cannot safely and legally perform planned construction activities — needed to base the F-35 squadron — without a site investigation that defines the extent and nature of the contamination.
'Not acceptable'
The board argues the investigation should take place before an F-35 transition.
"This is not an acceptable position for Madison and its residents, who rightfully expect to have clean and safe drinking water available to them without bearing the high cost of additionally treating or replacing productive drinking water wells," according to the water utility board.