About a dozen tents and tarp enclosures flapped in the blustery wind at McPike Park Sunday afternoon — the last day for homeless campers to sleep in the East Side park after the city of Madison ordered them to leave.
After months of city and nonprofit outreach efforts to try to shelter people, the tents were largely empty as of about 3 p.m., except for one makeshift shelter that seemed to have a fire burning inside. The scent of campfire smoke filled the park and surrounding area.
A few people combed through piles of items — clothes, shoes, tarps, blankets, plastic bags, barrels, sleeping bags, cardboard boxes, rotten food, beer bottles and discarded food containers — left wet or muddied from the melting snow.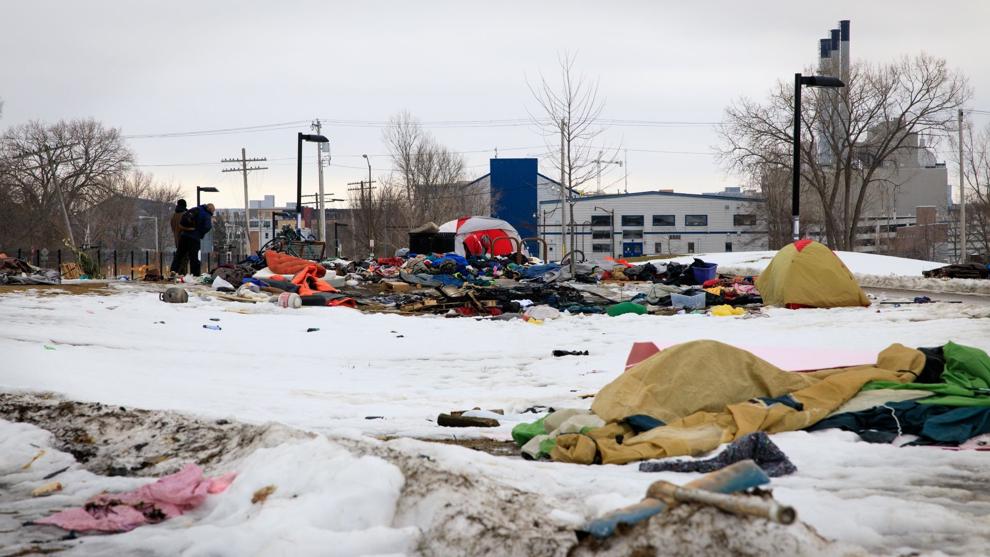 Kevin Meave, 51, stopped by to pick up his bag after camping in the park the night before with Aaron Avid, 41. Both are experiencing homelessness and were looking for a place to stay. They said they didn't regularly sleep at the McPike encampment, but hung out there during the day sometimes and had friends who camped there.
"Everybody knows that they have to be out," Avid said. "I think for the most part it's pretty much abandoned now."
At its peak, roughly 40 people were camping at the western end of the 9.2-acre park, tents of all colors, shapes and sizes dotting the grounds 10 blocks from the state Capitol.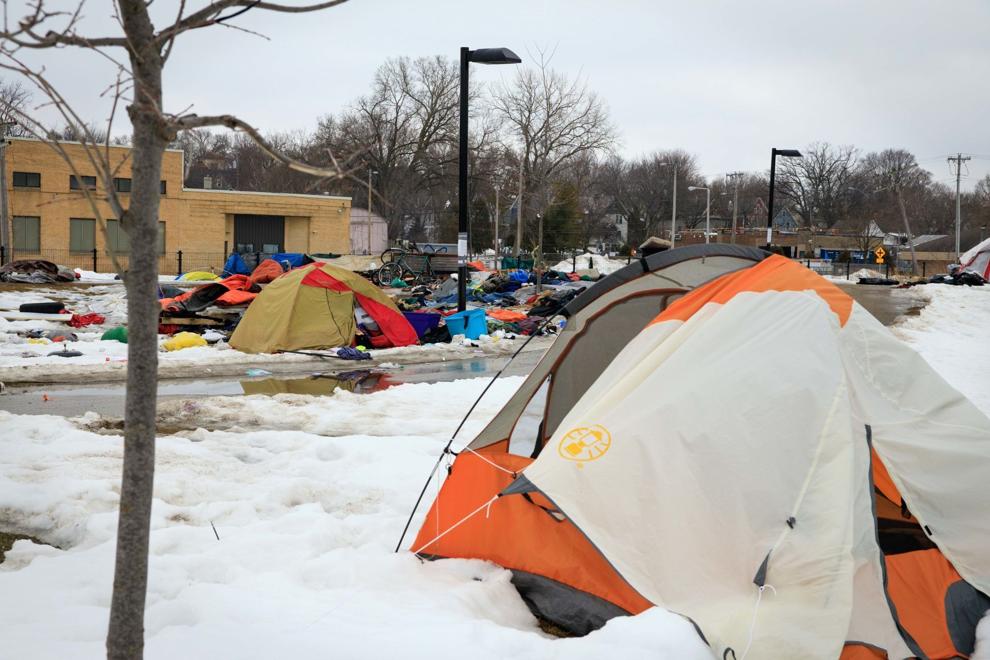 The encampment was never sanctioned by the city, but up until now the city was letting people stay there, while also aggressively working to find them other options for shelter during the winter.
Ald. Marsha Rummel, 6th District, which includes McPike Park, said many neighbors brought food, clothes and other supplies to help those camping, but some were frustrated with the smoke from the campfires that drifted into the neighborhood and the city's inaction.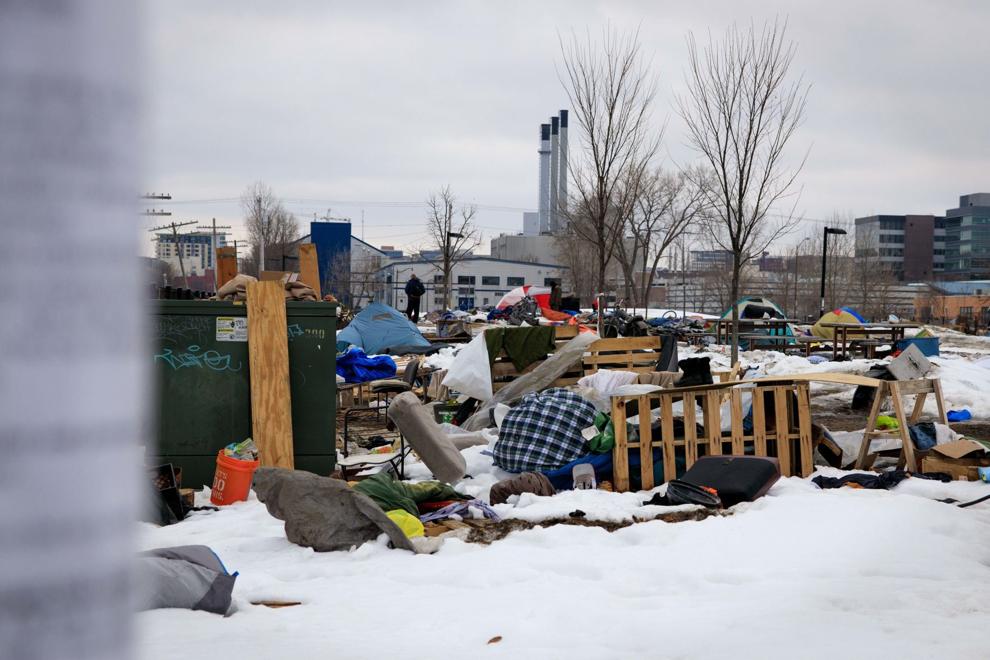 City community development director Jim O'Keefe said there are now "few if any people" using the park for camping. Most have found some sort of indoor shelter and a few have even found permanent housing because of the efforts of many local organizations and volunteer groups, along with city outreach staff.
"We've been working really hard to make sure that people have a place to go," Rummel said.
Although there are still two parks where people are allowed to camp temporarily, O'Keefe said the city doesn't want to just shuffle people from one campsite to another, but instead find safer — and warmer — solutions for people.
"We're not promoting camping as a longer-term alternative to shelter or other housing," O'Keefe said.
Some homeless people who were at McPike moved to hotels, the city's temporary men's shelter at the former Fleet Services Building on the East Side, the Salvation Army's women's shelter and a new "tiny hut" village, also on the East Side, O'Keefe said. Others are sheltering for the short term with friends or family.
As of Thursday, more than 300 people were being supported in hotels, O'Keefe said. The men's shelter sees an average of 115 to 120 men a night, and the women's shelter sees around 40 to 45 women a night. Another nearly 40 are staying in Occupy Madison's tiny hut and tiny house villages.
"I've been very proud of our efforts to work with each person (at McPike Park) to find a solution," Rummel said.
A small number of people are still staying outside in tents, cars or the street, where they are frequently monitored, according to the city and county.
Now that the McPike encampment has been officially closed, O'Keefe said the city plans on Monday to start the cleanup process, something he expects will take several weeks.
"It's not like everything will be cleared out of there in a single day," O'Keefe said.
City outreach staff have been communicating with those who stayed in the park regularly to determine what items they want to keep. He said many items will be catalogued and stored with the city for at least 45 days.
"If we don't get a clear signal, we'll probably err on the side of caution and retain and store items," O'Keefe said. "We don't want to throw away belongings that people may want."
But many of the items don't belong to anyone because they were donated, unused and have now been ruined in the snow, O'Keefe said.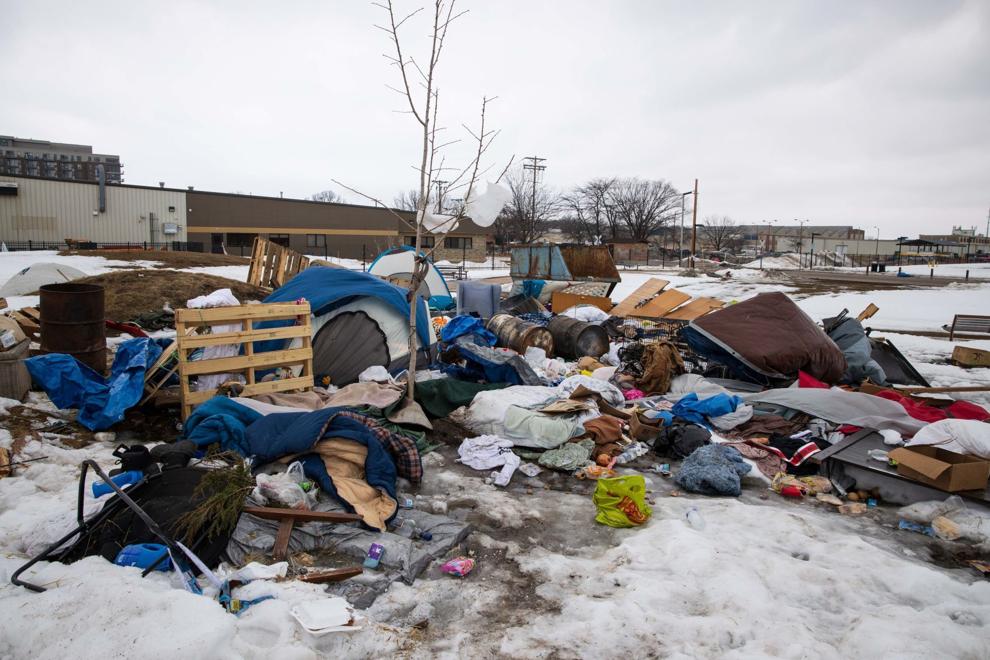 A sign at the entrance of the park advises "generous community members" to not leave donations at the park, but instead bring them to nearby nonprofits that can get items to those who need them.
O'Keefe said the goal is to prepare the park for public use by the spring.
Although Rummel is proud of the city's work to house and shelter people, she's worried about the ongoing housing crisis that has been exacerbated by the COVID-19 pandemic. She said evictions may be looming for people who have lost jobs during the pandemic, leading to more homelessness.
"We just need to look at ways to find more options for people," she said. "We need to make sure they're safe."
---
PHOTOS: TINY HOUSE VILLAGE