WASHINGTON — President Donald Trump signed a bill Thursday renaming the Sun Prairie post office after a firefighter who was killed in an explosion last year.
Capt. Cory Barr, a 15-year veteran of the Sun Prairie Fire Department, was killed by an explosion last July while responding to a natural gas leak. The explosion destroyed his family tavern, The Barr House, along with several other buildings in the city's downtown.
"The renaming of the post office is important because it would be a long-term, permanent remembrance of the captain," Sun Prairie Mayor Paul Esser said. "It's a place where his widow, Abby, and his two daughters might, over the years, go and they'll think of him and think of what he gave for the community."
Firefighters were credited with evacuating more than 100 people from the affected area before the blast, which was caused by a contractor hitting a natural gas main. Six buildings were destroyed and nearly a dozen additional buildings required repairs. The Sun Prairie Fire Department estimates the damage at several million dollars.
Some buildings, including an old Sun Prairie city building, have yet to reopen.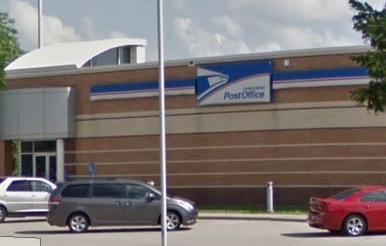 In addition to Barr's death, two firefighters were injured.
Sun Prairie Fire Department Assistant Chief Thane Westermeyer, who joined the fire department in the same class as Barr, said his late colleague had a desire to be a firefighter at a young age.
"Prior to turning 18, when he was still a high school student, he would have firefighter SPFD stickers and logos inside his locker at the high school," Westermeyer said. "It was something that he had a desire and drive to do and as soon as he did turn 18, he put his application in."
The Barr House, Westermeyer said, was Cory's passion and he had a dream at a very young age of owning a bar. Cory and his wife, Abby, opened the business together in 2016.
The renaming of the post office, he said, finally allows people to not move on, but instead move forward.
"Now, we have a renewed sense of purpose and this validates what we do as first responders," Westermeyer said.
U.S. Sens. Tammy Baldwin, D-Madison, and Ron Johnson, R-Oshkosh, introduced the bill in April. The Senate passed it in July. Companion legislation was introduced in the House by Rep. Mark Pocan, D-Black Earth, and was passed on Oct. 16.
"Captain Barr is a hero and I am proud to honor his public service and commitment to protecting others by officially designating the Sun Prairie building in his name," Baldwin said.
The fire department has also commissioned a statue of a firefighter that will display Barr's number. After the renaming of the post office, the installation of the statue, Esser said, is the final piece in commemorating Barr.