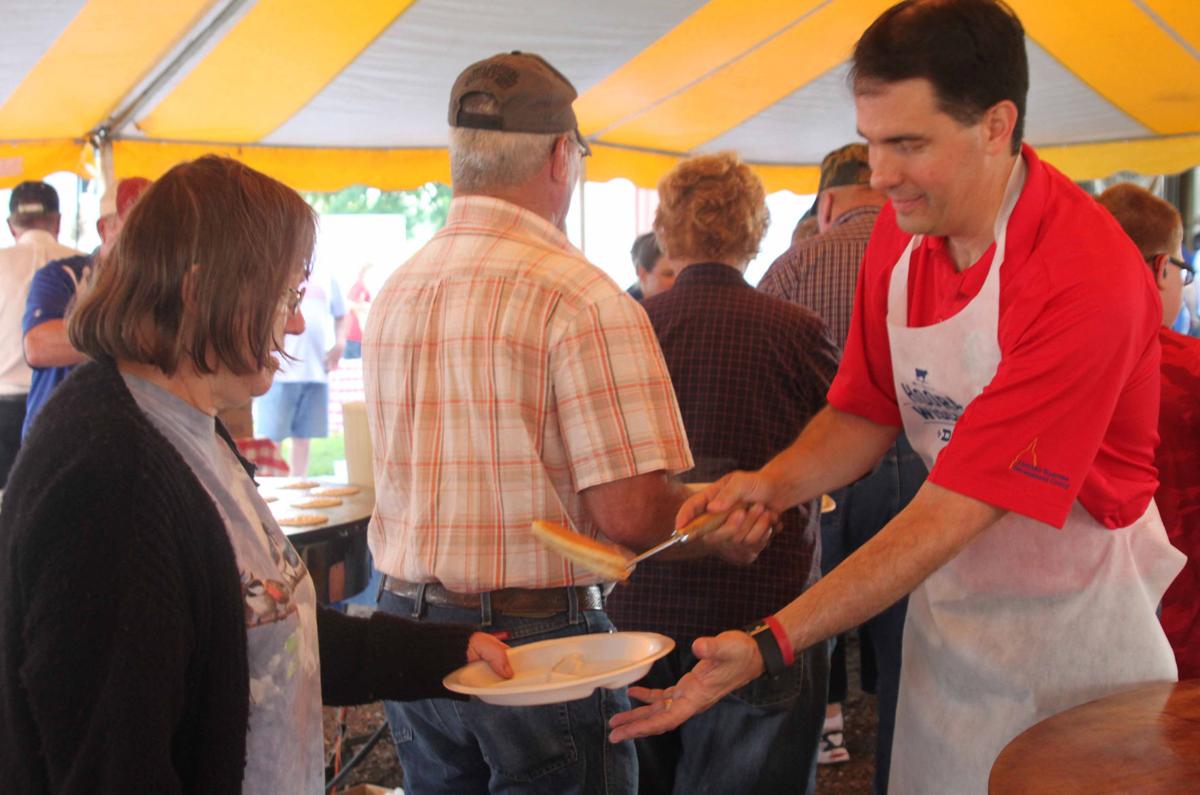 Gov. Scott Walker's approval rating in the state remains among the 10 lowest in the nation, according to a Morning Consult poll released Wednesday.
The online poll — conducted from April 1 through June 30 among 326,051 registered voters in all 50 states, including 6,691 in Wisconsin — found 42 percent of Wisconsin respondents approved of Walker's job performance while 50 percent disapproved. The margin of error in Wisconsin was 1 percentage point.
That was the ninth-worst showing among the 50 governors and third-worst among governors seeking re-election — only Illinois Gov. Bruce Rauner and Alaska Gov. Bill Walker were rated lower. It also hasn't changed much over the past three quarterly polls.
The poll comes as Walker's campaign has spent more than $2 million and Americans for Prosperity spent almost $1 million on ads across the state touting the governor's record, according to research by liberal advocacy group One Wisconsin Now, which tracks campaign ad spending.
In 10 TV ads released by his campaign, Walker has called himself "the education governor" for increasing K-12 education funding to a record in dollars not adjusted for inflation and highlighted the state's record-low unemployment rate. The ads have also featured Wisconsin residents talking about the benefits of various job training and education programs.
Walker's campaign declined to comment on the poll.
The poll differs slightly from recent Marquette Law School Poll results that have found Walker's job approval rating has improved, for the first time in years, showing more respondents approving (47 percent) than disapproving (45 percent).
Marquette poll director Charles Franklin said Morning Consult is "a serious outfit, doing good statistical work with online samples," though he noted online polls should be taken with a grain of salt.
Walker encourages Flynn to drop out
Also Wednesday, Walker called on Democratic gubernatorial candidate Matt Flynn to drop out of the race after the Republican Party of Wisconsin chastised other Democratic candidates for not calling on Flynn to do so given his past representation of the Milwaukee archdiocese during the priest abuse scandal.
The party released a letter on Monday showing Flynn discussed abuse allegations in 1993 with a priest who was later defrocked, and advised him not to do anything unless the alleged victim filed a complaint. Flynn has maintained he never represented priests and advised the archdiocese to report abuse allegations to the police, but that didn't happen until nine years after Flynn's two meetings with the priest. Flynn acknowledged the meeting but said the characterization of what he said then was false.
State GOP executive director Mark Morgan held a press conference to note six of the other seven Democratic candidates have pledged to support the nominee, whoever it is. He accused them of "286 days of repeatedly failing to stand up for what's right."
However, Walker hadn't called on Flynn to drop out either until after Morgan's press conference. Walker encouraged other candidates to join him in stating that "Flynn's actions disqualify him from serving."
Among the other Democratic candidates, only corporate lawyer Josh Pade called on Flynn to drop out Wednesday, saying his "vehement defense of his actions show a complete disrespect and disregard for victims and their families."
Flynn gave no sign that he plans to drop out, saying Republicans "don't want Scott Walker to run against me, because I will eviscerate him on the debate stage. They are used to having milquetoast, bland Democratic candidates; not a Navy veteran and excellent attorney with a spotless ethical record."