Republican Gov. Scott Walker is tied with Democratic nominee Tony Evers in Wisconsin's race for governor, and the U.S. Senate race between Democratic Sen. Tammy Baldwin and Republican Leah Vukmir has tightened considerably, the latest Marquette Law School poll shows.
Among likely voters, the poll finds both Walker and Evers with 46 percent support.
Meanwhile Vukmir, R-Brookfield, has closed the gap on Baldwin, D-Madison, the poll finds. It is the first since last week's primary election, which made Evers the Democratic nominee to face Walker in November, and Vukmir the Republican nominee against Baldwin.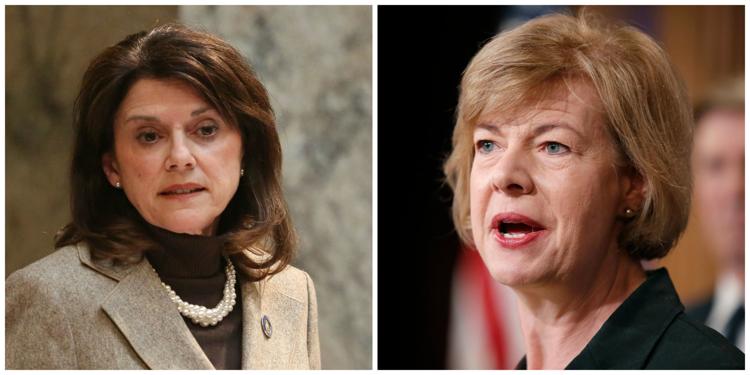 The new poll has Baldwin with 49 percent support and Vukmir with 47 percent support among likely voters. The margin of error is plus or minus 4.5 percentage points. The poll interviewed 601 voters by landline or cellphone from Aug. 15-19.
Those findings could be a wake-up call to some Democrats nationally who have seen Baldwin as poised to comfortably win re-election.
Collectively, the results reinforce that both statewide elections could be very closely contested.
Among registered voters — a larger sample at 800 respondents — Baldwin's lead over Vukmir expands to 51-43 percent. Walker has a 46-44 lead on Evers among those voters. The margin of error for the results is plus or minus 4 points.
Republicans enjoy a slight edge over Democrats in enthusiasm, with 69 percent of GOP registered voters saying they're very enthusiastic about voting, compared to 67 percent of Democrats and 56 percent of independents.
This contradicts most previous evidence, including other polls, special election results and admissions by various Republican candidates, that Democrats enjoy a considerable enthusiasm edge this cycle.
The poll finds President Donald Trump's approval/disapproval rating at 47 percent/50 percent among likely voters and 45 percent/51 percent among registered voters. In July, the poll found Trump had 42 percent approval and 50 percent disapproval among registered voters.
The partisan makeup of respondents to the poll favors Republicans, particularly among likely voters. In that sample, 48 percent of respondents said they identify as Republican or Republican-leaning, compared to 42 percent as Democratic or Democratic-leaning. Nine percent identified as independent.
In the race for governor, the likely voter sample finds 6 percent support for Libertarian Phil Anderson. Two percent of those voters said they have no preference.
The governor's race results are similar to what the poll found at this point in the 2014 cycle. The August 2014 Marquette poll showed Democrat Mary Burke with a 2-point lead over Walker among likely voters, but Walker leading by about 3 points among registered voters.
The previous Marquette poll, conducted in July, focused on the primary races and didn't look at general election matchups.
In June, the poll found Walker leading Evers 48 percent to 44 percent, with a margin of error of plus or minus 4 percentage points.
Other polls in July, conducted by NBC News/Marist and Emerson College, found Evers leading Walker.
Past polls showed Baldwin leading Vukmir, though they were conducted during the competitive GOP primary between Vukmir and Kevin Nicholson. The June Marquette poll had Baldwin leading Vukmir 49 percent to 40 percent with 8 percent undecided and 4 percent saying "neither."